Are you looking for a 2 in 1 laptop but you do not know what to look for? There are essential factors to consider if you want to buy one. You have to consider flexibility, screen size, graphics power, and portability. It should run on the Windows operating system and make sure it has an Intel brand processor.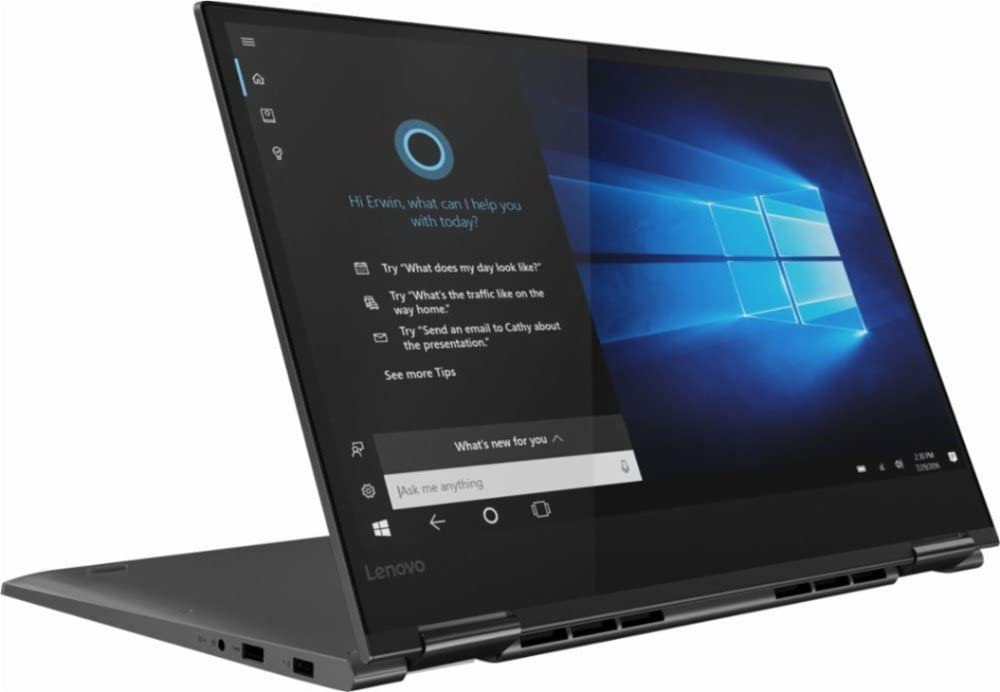 Portability
You need to consider portability when you want to buy a 2 in 1 laptop. It has to be super thin, light, handy and compact. No-one would enjoy carrying a heavy laptop instead of a light one. If you are a student, you do not have to walk around with a backpack containing a computer every time. Sometimes you just feel like carrying it and rush to your lectures. If you are a business person, you can choose to be that traditional business person who uses a computer. Or you can convert it and use it as a tablet depending on your mood and audience. For example, if you are meeting the board of directors, you can just use your 2 in 1 laptop as a laptop. Still, if you are meeting a younger group, you may convert it into a tablet. If you travel a lot, you would not want to add a few grams into your travelling bag. You want your baggage to be as light as possible. That's the charm of these devices.
Flexibility/ Hinge Mechanism
It is what makes a 2 in 1 laptop fascinating. It can be so flexible that you do not have to strain yourself. It can be a laptop, it can be a tablet, and it can be both. It allows you to fold the screen back 360 degrees to use it as a tablet without taking out the keyboard. It sits nicely on your desk, whether in a laptop mode or tablet mode. It is the 360-degree functionality that makes it convenient and attractive. Some do have a watch-band like material which flexes but you would need one with a keyboard which rests behind the display as it will not distract visibility. The best thing to do is to walk in a few shops and experience the hinge mechanism for yourself. It also has to contain optional viewing modes. The same way you can convert your laptop to a tablet is the same way you should change the presentation mode. Your purchase should be because the computer excites you not just for the sake of buying.
Screen Size
Screen size is a matter of your personal choice. The same way you decide on inches when you want to buy a plasma is the same way you determine the size of your 2 in 1 laptop. One of the factors you would consider is the size before you get one. In this case, you need to pay attention to the inches whichever way you are going to purchase your laptop. However, you have to balance usability and portability. Larger screens are useful if you are home-based, but if you travel a lot, I recommend you to go for a smaller screen. If you want a bigger screen, you can as well adjust it.
Graphics Power
You need to consider the power of graphics contained by your 2 in 1 laptop. Your graphics cards control everything that takes place in your computer, meaning the choice you make will determine the efficiency of your computer. Your computer should be able to display better graphics and allow for higher resource usage.
Make Sure It Has an Intel Brand Processor
Some processors do not sustain complex and resource-heavy processors hence the need to avoid lower-end Intel Celeron processors and consider an Atom or Core processor. For you to make the right choice, you need to consider your usage.
It Should Run on the Windows Operating System
Most users would want to look for an official Windows OS when buying a 2 in 1 laptop. Windows 10 is the ideal operating system when using a 2 in 1 laptop. It is lighter and faster. If well set up, it offers excellent virus protection and functionality. You also have the option to customise so that it is easier to operate. Android-based systems are increasingly popular. They bridge the gap between mobile operating systems and what we are accustomed to on large screens.
Ports
Everyone counts how many ports a laptop has before buying. Three ports are the standard, and any less of that does not attract people. You cannot afford not to charge your phone because you are using a flash drive or an external hard drive. Old laptops usually contain few ports whereas new 2 in 1 laptop do contain many ports. It does not help you in any way if you buy a computer with the same ports as the one you have already. USB Type-C ports are quite useful as they allow you to carry data and electricity over a single wire. It will enable you to power your laptop, output video to external monitors and copy files with the same cable. Who would choose an old model laptop over this 2 in 1 laptop?
RAM
An 8 GB has become the standard nowadays, and it helps you in multitasking. Anything less than that makes your computer perform poorly, which reduces productivity. You need to check the RAM before you buy. An 8 GB allows you to do your research whilst you are on Facebook, listening to your music online, editing an email and watching a movie at the same time.
Long Battery Life
In as much as any 2 in 1 laptop can be convenient, light and handy, one cannot afford to have a computer which quickly loses power. Since it allows you to multitask, you should be able to use it for a more extended period before it dies on you. It would be quite refreshing to play a movie or play a game on your way from school or work. You cannot have a clueless ride after a busy day when you have a 2 in 1 laptop.
Having a convertible gives you several advantages. That does not stop one from considering other useful and essential features that come with a 2 in 1 laptop. We have covered a lot of them in this article. The final thing to mention is the importance of brands. The brand names do not necessarily guarantee the superiority of products. The top brands usually come with aftercare and some form of warranty. It may be worth paying a little extra for that peace of mind.
Also read: How to Set Up a Wi-Fi Router to Use With Your Laptop?