As a radical audiophile, getting a pair of Beats headphones was something I never remotely thought of doing. But, when Apple offers you a deal to buy a new MacBook Pro and get a free Beats wireless headphones – you can't resist. So here's my review!
Beats Solo2 Wireless On-Ear Headphone – The External Review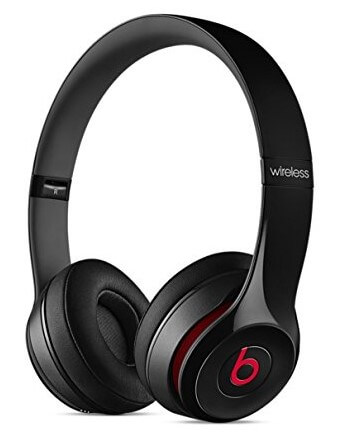 Beats, although are known for garbage sound quality, have a great reputation for build quality and design. I can't disagree with that. Right out of the box, you are presented with a simple, stylish pair of headphones that don't intimidate you with countless, difficult features and small bags to cover everything.


Inside the box, besides the headphones neatly put into its fluffy (but protective) carrying case, is a literature packet with a sticker covering the micro-USB charging cable which matches the color of headphones you get and another color-matching cable for wired listening that doesn't use any battery. There's also a carabiner if you want to clip the carrying case onto a backpack or anything. Too bad I can't carry any of this stuff along with the headphones in its carrying case since there's no pouch for it in there.
The headphones themselves are weighted very nicely and feel nice to hold. Their shape is easily recognizable and makes the pair easy to place around your neck. This is helpful because along with its great wireless capability, you can comfortably have them placed around your neck while you're walking.
While they're around your neck, they won't go all over the place since the earcups only have a few degrees of omnidirectional swivel as opposed to a full 90-degree turns on certain pairs. Don't fret, however, that you can't lay the earcups flat on a flat surface. The plastic that covers the headphones is strong and scratch-resistant.
The design here is really beautiful. On the left side there are built-in, flush media controls for pausing/playing, picking up/ending a call, and volume controls. These are present on an in-line remote on the audio cable, too. On the left side also is the audio input, and on the right are the power button, charging port, and battery gauge.
When on your head, the headphones clamp onto you nicely. It's just strong enough to not fall off when you shake your head, and they don't push on it so much you'll feel strain quickly. After some time, however, I found that my ears hurt a lot because of the on-ear fit. That's different for everyone, since even wearing glasses and my over-ear headset causes pain for me. Regardless of that, the leather ear pads are actually very soft and comfortable alone. They're strong, too.
Beats Solo2 Wireless On-Ear Headphone – The Internal Review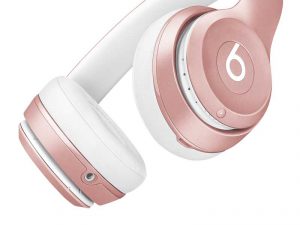 The main part of any pair of headphones is the sound that comes out of them. Beats, like stated before, is another company that is known for over-pricing their products and provides lesser-than-average sound quality for its price range. Since Apple's acquisition of Beats, the company has grown in this regard.
Immediately after playing some of my favorite songs on the set, I was blown away by the fact that I'm actually enjoying the sound that's coming out of a pair of Beats. In previous generations of the Beats Solo lineup, the sound quality was extremely lacking and unbalanced. That was not the case at all with the Solo2 Wireless.
The sound is well balanced with controlled and non-overpowering bass (Woah!), clear-enough high tones, and just enough mid-tones. The bass leaks into the mids a bit and is hard to distinguish at times. But overall, the listening experience is enjoyable and has a fun vibe to it.



The Bluetooth connectivity is pretty good, too. There's a chime that plays every time a transmitter device is connected or disconnected, letting you know whether you're actually going to receive any sound or not. I had no issues connecting devices to it. There's a very little delay, too. The sound quality doesn't seem to diminish at all when using a wireless connection. On my iPhone I could see the battery life of the headphones in my phone itself.
Beats Solo 2 – Pros, Cons, and Conclusion
Beats Solo 2 Pros
Great build quality.
Great wireless connectivity.
Balanced and surprisingly clear sound.
12-hour battery life with micro-USB charging.
Wired mode that doesn't use any battery.
Strong carrying case with carabiner.
Everything's color-matching!
Battery life gauge.
Beats Solo 2 Cons
Price may be unjustifiable for some, but I think it's reasonable.
Conclusion:
Oh boy, a pair of Beats headphones that I actually love wearing and enjoy listening to. From an audiophile, that means a lot. Yes, the price is high – but if you consider the fact that they're Beats and that they're so useful and actually high quality, it may actually compete in its price range. The audio quality is balanced, and the headphones will be comfortable for most people.
You can purchase these headphones now for $200 on Amazon or $300 at the Apple Store today!
Thanks for reading! Please comment below if you have any suggestions or questions, and don't forget to check out the rest of our website and social networks.