Congratulations!!! Your search, for not only just efficient but reliable as well as secure JPEG Repair software at the same time ends here. Fortunately, you do not have to go through those sad stories that your photos have lost been forever. Now, with Stellar Phoenix JPEG Repair software, you can easily repair your Corrupt or Damaged JPEG Files. The software repairs JPEG image files saved on hard disk of computer, memory card, or any other storage media. This tool scans the storage media thoroughly and repairs even the severely corrupt JPEG image files without modifying the original data of the JPEG image file.
Brief Outline
A few days back due to corrupt header and invalid JPEG file structure, all my precious memories of a San Francisco trip became inaccessible. A day before this incidence, I showed all these files to my friend without any hassle. At first, when I faced the issue I got completely blank. Later on, on a friend's (professional photographer) recommendation, I evaluated the Trial version (tech-wonders.com/recommended/jpeg-repair.exe) of this software, and it amazed me. All thanks to its Preview feature, that evoked me to purchase without any hesitation and I got my priceless JPEG Files back.
Here are the steps I followed.
First Come First
I downloaded, installed, and registered the software. After that, I started with the repair process.
JPEG Repair steps:
I launched the software and clicked on the Add File icon to insert the corrupt JPEG Files.
After that, I clicked on Repair button.
I Previewed my selected files.
Lastly, I clicked on Save button to restore the repaired photos.
With these four simple steps, I got my JPEG Files back.
Here is a simple video, which will guide you about how to repair corrupt or damaged JPEG Files with Stellar Phoenix JPEG Repair Software.
https://youtu.be/eh6_Zp4aP0U (Opens in a new tab)
Why I recommend Stellar Phoenix JPEG Repair software?
For me, this software is a top-rated choice. The perfect repair solution has a bunch of positive features, capabilities, and several other aspects to ensure optimal functionality, high-quality, utmost precision, and complete security. To support the same, a lot of positive user reviews are also over the leading Review Sites. CNET, Softonic, Techtree, and Softpedia are few to name.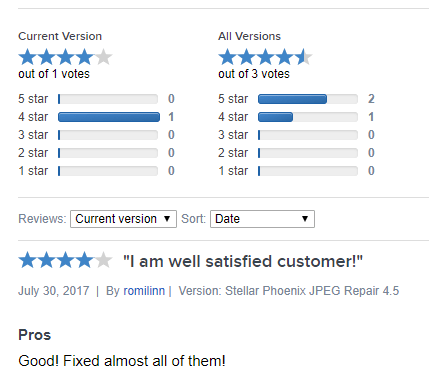 About the Stellar Phoenix JPEG Repair Software
Basic Details
| Package Details | |
| --- | --- |
| Name | Stellar Phoenix JPEG Repair |
| Version | 4.5 |
| Version Launch | May, 2017 |
| Do-it-Yourself Software | Yes |
| License Types | Single User License (Can be used only on a single system) |
Pre-requisite Required to Install the Software
| System Requirements | |
| --- | --- |
| Processor | Pentium Class |
| Operating System | Windows 10, 8, 8.1, 7, Vista & XP + macOS Sierra 10.12, 10.11, 10.10, 10.9, 10.8, 10.7, 10.6 |
| Memory | 1 GB Minimum |
| Hard Disk | 50 MB Free Space |
Language Support Offered by Software
| Language Support | |
| --- | --- |
| Software Interface Available In | English, German, French, Italian & Spanish |
Stellar Phoenix JPEG Repair Software Pros and Cons
| Pros | Cons |
| --- | --- |
| Self-explanatory | Repair only JPEG Image Format |
| Easy to use and manage | |
| Safe and secure | |
| Fast and reliable | |
| Try before Buy | |
| Money-back guarantee | |
Significant aspects of Stellar Phoenix JPEG Repair that impressed me are:
Interface




One of the most critical consideration point. I must say it is very user-friendly and intuitive. You can easily navigate. Whether you are novice like me or professional photographer like my friend, you can easily use it without any effort. The main screen itself explains everything. You just have to select the desired option and follow its systematic process.
Performance
Another key trait of prime importance. This software is capable enough to handle any level of corruption. Apart from invalid file structure and header corruption, I also tried this software for blurred photos and fortunately, it worked like a charm. The distinguishing point is its ability to repair without any editing or modification on original image formatting.
Speed
On the whole, the speed of the software is considerably good. It depends entirely on the size and volume of files and drives. But, the positive point is, it does not stops you from carrying out other task. If you want to run it in the background, you can do so.
Simple-Yet-Impressive Features:
Repairs Multiple JPEG Files: One of the most flexible features of the software. I used it to repair several files at one go. To fix all the corrupt photos in a single cycle, just add all the files and just click on repair option.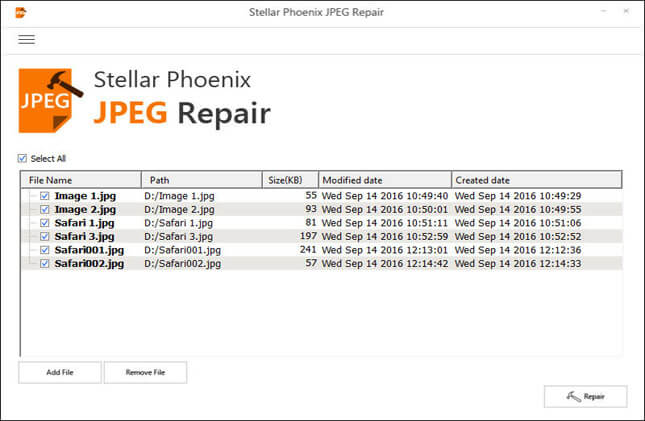 Extraction of Thumbnails: Though I repaired a large portion of files with great ease using this professional JPEG repair software, yet it urged close monitoring. It is because of their corruption level beyond repairing limit. At starting I thought, how I am going to repair them but all thanks to its "Extract Thumbnails of Corrupted Files" feature; I also repaired all those files without any visual fidelity compromise issue.
Preview facility for Repaired photos: The key trait of the software. With hands on this, you can easily ensure that whether photos are repaired successfully or not.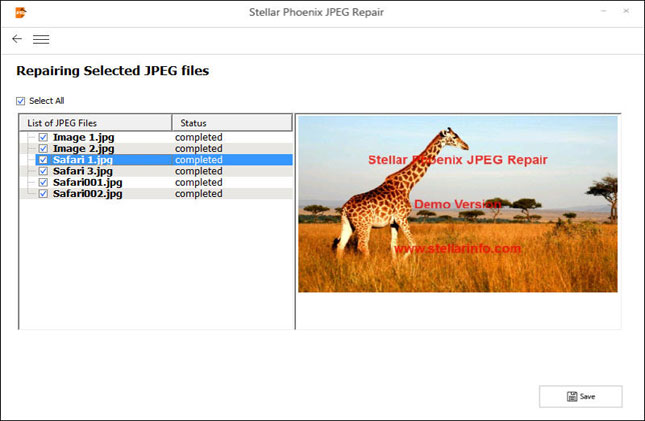 Save file at any location: Your file, your destination! This JPEG photo repair software comes with flexibility to save the repaired files at the desired location. You just have to specify your preferred destination.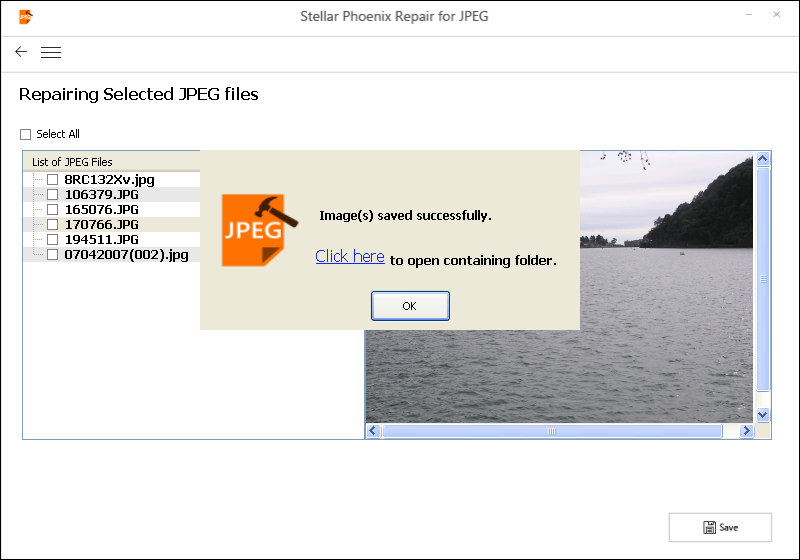 Verdict
While on one hand JPEG Files are admired for high contrast, sharpness, brightness, and large compression ratio, on the other hand, these are well-known for corruption. But, now you don't need to worry about it. Just shake hands with Stellar Phoenix JPEG Repair software (https://www.tech-wonders.com/recommended/jpeg-repair.exe) like me and relax. This software is fully featured packed. Moreover, the best point is, it comes with 30-days money back guarantee.
Alternate Software
Picture Doctor
Picture Doctor is a JPEG repair software by SoftOrbits that can restore damaged JPEG and PSD files. It can fix JPEG markers errors and damaged JPEG metadata like corrupted Huffman table. If the JPEG image is completely damaged program will try to restore the thumbnail preview for it. Picture Doctor repairs split, distorted, pixelated, and blurred, JPEG and PSD files that was damaged due to hardware fault, virus or unsuccessful recovery by another software. The software is compatible with Windows 7, Windows 8, and 10. Program is free to try, you may try to recover your files and preview results before purchasing.