Why choose Oculus Rift?
Nowadays, VR is a new concept, many youths like it, or say, they like playing VR games. To play VR games, you need a virtual reality device. Many companies developed their VR products, such as Google, HTC, etc. Oculus Rift acquired by Facebook since 2014. Oculus Rift virtual reality headset has many users too. Of course, it has many highlights and advantages. Many people like its designing and the price is OK. Above all, they trust Facebook that choose Oculus Rift.
Why need Oculus Mover?
Oculus Mover is a third-party app, not released by Facebook Oculus Rift officially, why we need it? Because Oculus Rift hasn't such app while we need this app. Generally speaking, Oculus Rift is not perfect. Its new downloaded and installed apps can only be stored in Oculus Rift installation directory, and the directory folder usually is in system partition(C: drive) originally. As we know, C drive is easy to be full. Then it will influence the experience of using Oculus Rift. Oculus Mover is able to move Oculus Rift installation file from traditional place to another new place to get more free space that you don't need to re-install.
How to use Oculus Mover?
Oculus Mover is a Windows software. Download it from AOMEI website, install and run. You see, it has only one main interface. The program has already detected Oculus Rift installation location. You need to do is browse destination – target location even can be an external hard disk. But make sure that won't change the partition label once connected to your computer. Then click Start Move button to commit the transfer task.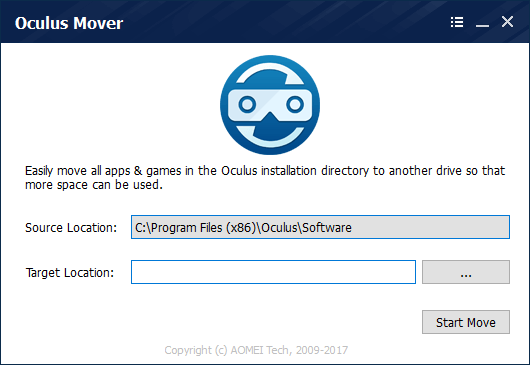 Oculus Mover is so simple that it has no spare features and buttons. The right top dropdown menu is an About box. The size of Oculus Mover is very small, 4.16 MB. Wait a moment, the task will be finished. Oculus Mover ensures that your Oculus Rift will work normally after migrating. It is safe.



More about Oculus Mover
Oculus Mover is a freeware of AOMEI Technology. The current version is 2.0, supported operating systems are Windows 10, Windows 8.1/8 and Windows 7, both 32 and 64 bit. By the way, AOMEI has other two famous tools: AOMEI Partition Assistant and AOMEI Backupper. AOMEI Partition Assistant has migrate OS to SSD function. I think that's why they develop Oculus Mover is no difficult, move data without data loss. What's more, AOMEI's another free Oculus tool is vrBackupper, obviously, it is a backup software work on Oculus Rift. Which is released last year. All-in-one backup utility AOMEI Backupper enables to universal restore, so does vrBackupper. If you also want to backup Oculus Data, you can download vrBackupper at the same time. Since vrBackupepr supports Windows 10 64 bit only and Oculus Mover has no backup feature, we suggest you own them together. Oculus Mover can be said upgrades of vrBackupper.
Summary
With the help of Oculus Mover, you don't need to open "Command Promote (Admin)" and type in mklink commands to move Oculus data any more. Oculus Mover helps us a lot and solves low disk space problem.