Most users may have suffered at least once from data loss. The loss might resulted from system upgrading, accidently deleting or formatting, and perhaps nothing at all. Instead of preventing unpredictable trouble from happening, it might be more practical to backup your files in case of any possible accidents. Windows has built-in software to do the backup work, which, however, is not as useful or functional as expected, just like other default software. In this case, AOMEI Backupper Standard might be of much greater help, which is capable of backup for system, partition and disk, it is also able to do disk cloning and so on.
AOMEI Backupper Standard: Free and Easy-to-Use Backup Software
The interface of AOMEI Backupper Standard is simple and understandable enough, making sure no one gets confused. In AOMEI Backupper Standard 3.2 version, there are 5 options of backup in total you can choose from. The system backup will automatically select your system partition and boot partition to backup. The second to the forth selections mean backing up exact data as shown.
There is also a Backup Settings option in which users can do some detailed settings for the backup. For example, users can click to make a highly compressed image file which will take more time but less storage space, or they can choose to backup only the used space or the whole disk/partition including the free space. Besides, it is also applicable to click schedule to set scheduled backup task, freeing users from bothering to remember to do the latter backup work.
System Restore Using AOMEI Backupper Standard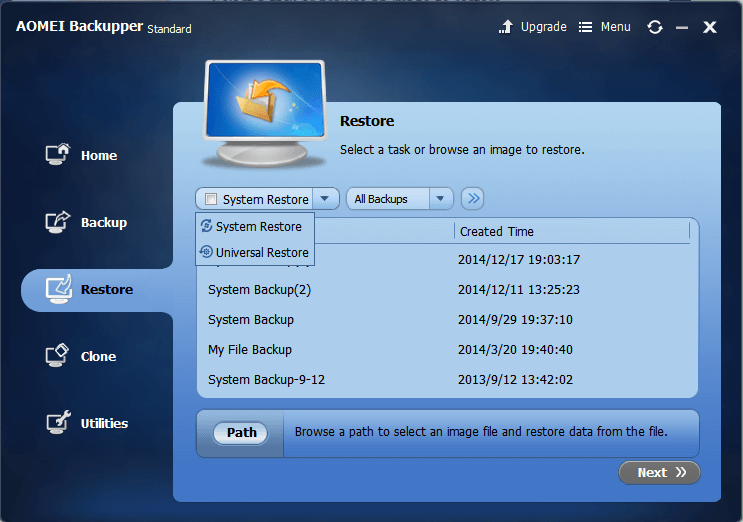 The Restore panel provides several filters for users to fast locate the exact image file they want to restore. Image files are classified according to the date and their source file. For those who prefer CMD, AOMEI Backupper 3.2 now supports restoring and cloning using CMD.
About Clone in AOMEI Backupper Standard
Clone allows users to clone a disk or partition/volume from one to another, migrate OS from HDD to SSD, which is of great use when users need to move their data to an upgraded device. To enable System Clone, users need to forward a given piece of message or directly upgrade the software to AOMEI Backupper Professional edition.
Other Utilities in AOMEI Backupper Standard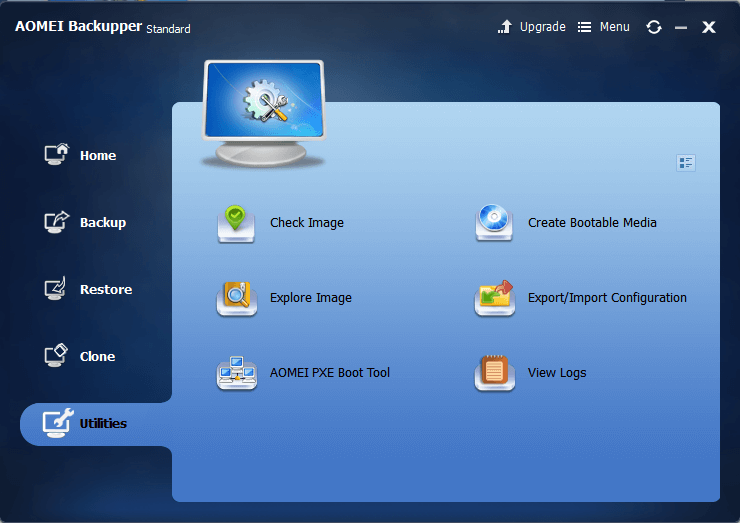 Check Image
Create Bootable Media
Explore Image
Export/Import Configuration

Users can use this PXE Boot function to boot multiple computers by using one of them as a server and others as clients, thus booting the latter through the LAN. Network is required.

View Logs
AOMEI Backupper Standard OS Support is Windows 10/8.1/8/7/Vista/XP (all editions, 32 & 64 bit). File Styles it supports is NTFS, FAT32, FAT16, EXT2, EXT3, exFAT and others file styles.
Considering it is a totally free backup software, AOMEI Backupper Standard has shown more than enough capability of handling all sorts of data problems that normal PC users may come across. It can backup your system and your important data so that it can free you from worries from possible data loss. Now the newest version of AOMEI Backupper supports more languages: English, French (Français), German (Deutsch), Japanese (日本語), 简体中文 (Simplified Chinese) and 繁體中文 (Traditional Chinese). And added some new functions: 4 kinds of backup schemes, command line clone and command line restore. For more features, I hope you download it and try.