It has a wide variety of meanings for those of you who are still clueless about what an avatar is. According to the dictionary, avatar means God in Hinduism, who appears on Earth as a person. However, in modern technology, an avatar is just like a profile picture but it doesn't represent an actual image of the owner. Avatar can also represent you in online games, chat rooms, and other social media platforms.
It might sound not very easy at first, but with the help of the internet, we can easily make our avatar online. Here are the best avatar makers that make it to our list this 2022.
ImagetoCartoon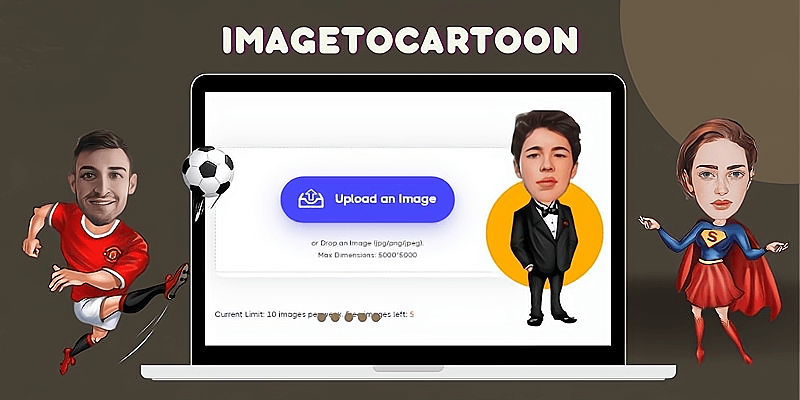 Imagetocartoon is a free website to make cartoon avatars online. Powered by artificial intelligence, it can process stunning cartoon effects in seconds. Once uploading the image to this website, you need to do nothing but wait for AI's auto cartooning progress. Using imagetocartoon, you can get over 20 high-resolution and free-watermark cartoon images as your social media profile portraits.
Choose a single photo with a clear face in it. Upload it to imagetocartoon. Preview the cartoonized images and pick your likes. That's all! It is easy and simple to use this app.
Key Features of ImagetoCartoon
AI-based application. Cartoon your face fast and free.
Over 20 interesting and personalized cartoon effects.
You can save an image with transparent background.
Secure running environment. Your info won't be stored by the team.
Simple and friendly layout. Anyone can use it to make an avatar without any problems.
Regular update. The team updates the cartoon effects regularly to ensure you can get new and funny avatar templates always.
Use ImagetoCartoon to Make Avatar: Step-by-Step
Come to imagetocartoon's official website.
Drop or drag your photo to upload it to the website.
Wait for AI to turn your photo into cartoons.
Enjoy the generated 20+ cartoon images and choose to save the pics you love.
See Some Before-and-After Effects: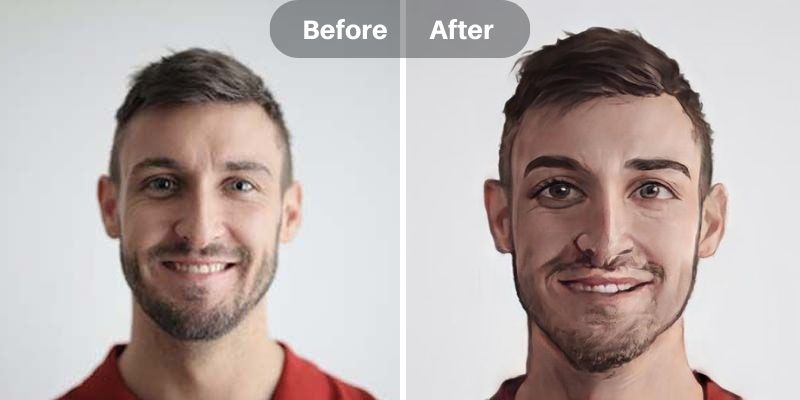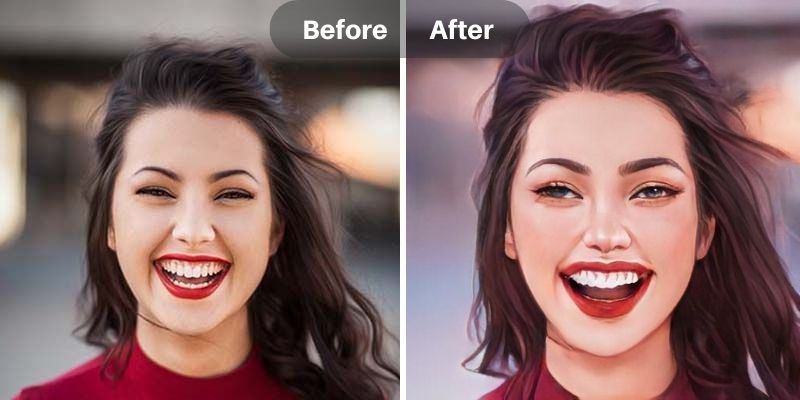 Best ImagetoCartoon Alternatives to Make Avatars Online
Avachara Avatar
Avachara Avatar is a free avatar maker website where you can create your avatar characters like portraits and anime characters. When it comes to your avatar's looks and clothes, this website offers a variety of options for you.
To use Avachara Avatar, you will start by putting your whole face together by choosing your preferred look including skin color, the shape of your eyes, etc. After that, you can now choose clothes and other accessories for your avatar.
Pros: It offers a wide variety of choices when it comes to making our avatar, from the shape of our face, eyes, and even skin color. It also has enormous options for fashion.
Cons: It doesn't offer a landscape type of background.
ReadyPlayer.Me
Ready Player Me is a cross-platform avatar system for the metaverse. It is used in over 800 applications. You can create a 3D avatar using your selfie and incompatible apps and games.
It is very easy to make an avatar in Ready Player Me. You can use your selfie and start customizing it.
Pros: There are over 500 customization options available. You can use the avatar in other apps and games.
Cons: It doesn't work in iOS 14.3 and newer versions.
Charat.me
If you're into cute chibi characters, then this is best for you. It has an easy interface for creating anime avatars. You can use this tool by going to their website and clicking the start button. It will show you a pre-made avatar that you can customize, or you can just make your own.
Pros: It's very easy to use, and you don't have to install anything.
Cons: You need to use Google Translate to use it as it is in the Japanese language.
Cartoonize
This is another option where you can make your avatar. From its name, you can make everything here looks cartoony. To start making a cartoon avatar, go to their website and click start making your avatar.
Pros: You can download your avatar and share it on your own social media websites.
Cons: Some features are not for free.
Face Your Manga
This is another avatar maker that creates an avatar close to what you look like in real life.
Go to their website and click create to start creating your avatar. You can customize it by choosing the given choices.
Pros: It is very easy to use.
Cons: It isn't supported with Adobe Flash right now.
Marvel Superhero Avatar
Turn yourself into a superhero by making your avatar on this avatar maker site. You can even choose your superpowers.
You can create your superhero by visiting their website. Then you can customize it by using their tools and adding superpowers.
Pros: If you're a marvel fan, you will love this site.
Cons: Some features are not free.
Portrait Illustration Maker
This site lets you make an avatar that you can use for your blogs or websites. It has a lot of features that you can use for free.
You can check them out by visiting their website. It's very easy to use, and you can try a different style for your avatar.
Pros: Simple to use; even newbies can access the website.
Cons: Some tracing and escapes are different from the other options in the list.
Conclusion:
There are so many avatar makers available on the internet. Some are free, while some features require you to pay money. Whatever your options will be, more important is why you want to have an avatar version of yourself. It can be for fun, and it can also be for privacy purposes. That will depend on you, so have fun and enjoy making avatars.
Having your avatar is cool in this modern world where technology has grown tremendously. But that's not just the case why people prefer to have their avatar instead of posting their real photos on their social media sites and other apps where they communicate with their friends and family. One of the reasons we prefer using avatars instead of our real photos is that we want our privacy to be protected.
In this article, we walk you through many online avatar makers. For each tool, we also introduce its key features, pros & cons. If you prefer a free and easy cartoon avatar maker, choose imagetocartoon with no hesitation. It is one of the most user-friendly applications on our list to help you create funny avatars. If you like to play a game and want an attractive avatar as your role's profile, marvel superhero avatar or readyplayer.me suits you most. Anyone, whatever you want the avatar to be used for, you can get a good tool to make it by using the avatar makers we mentioned in this article.
You might also like