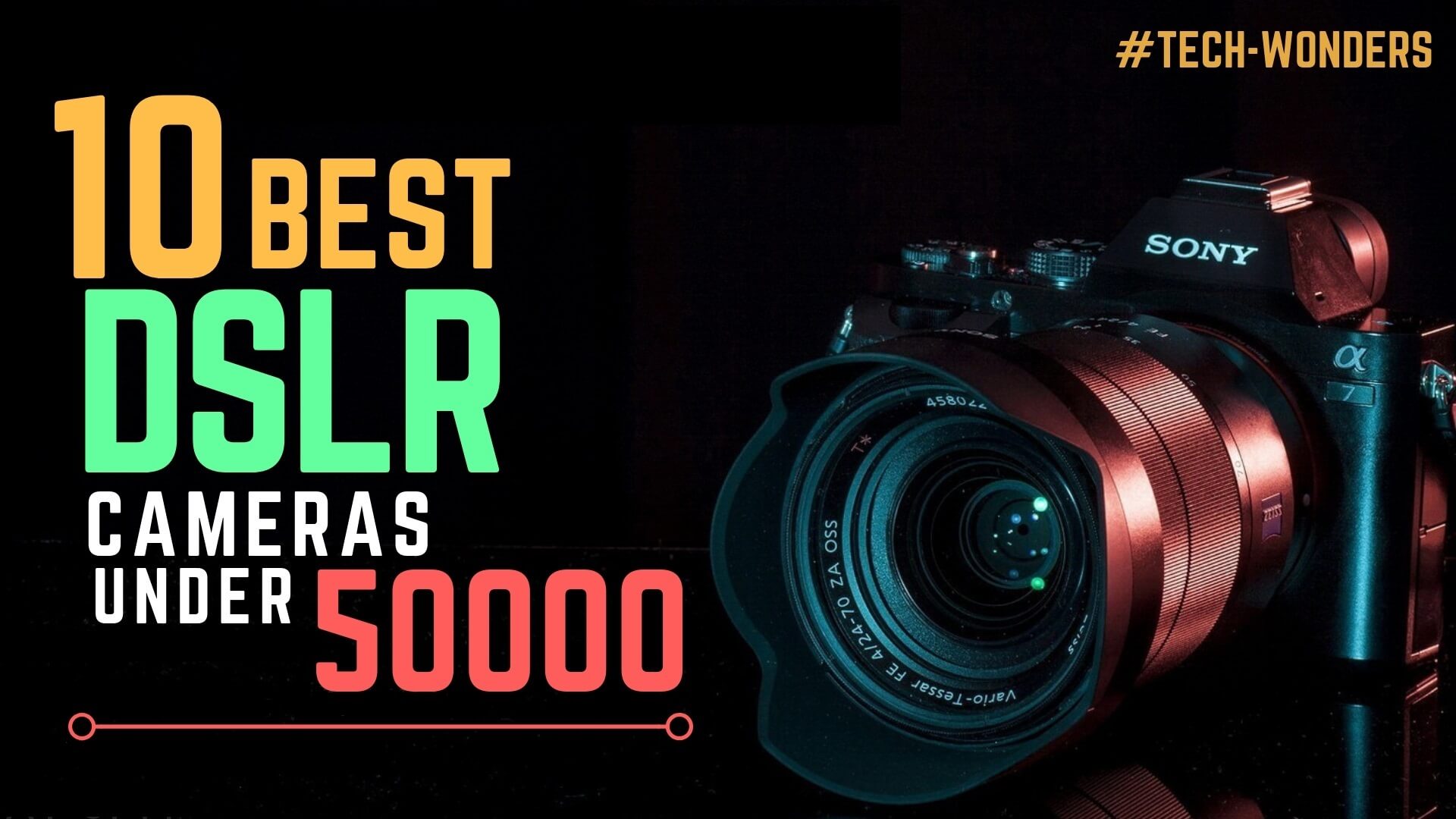 In this tech age, everyone is claiming to be a photographer. Ask anyone around you to show some photographs now, and I bet, the majority will show you some of their fascinating selfies behind a sizzling tourist destination. They introduce themselves as photographers. But they are just narcissist who loves nothing other than themselves. A real photographer sees things that a normal person don't. They patiently wait for the right moment with nothing, other than a great camera and an unbridled imagination. They abandon the conventional way of life and explore the world through a difficult path. If you've such quality to see the invincible beauty or aspire to capture the best nature has to offer put your mobile aside, you are all set to go to the next level of photography.
A secret route map to reach the creed of photographers
How ever sophisticated your mobile is, to set foot in the photographers' world you need a camera. So, the next big questions are which brand? And what are the features your camera should possess? The latest cameras not only impassively capture whatever you click, but AI integrated cameras have a brain of their own. They detect faces, they autofocus. Although manufacturers bestowed such features in a camera, what a professional photographer look up on the camera doesn't significantly changed over these years. Not only a professional, but any typical photo maniac looks three primary things in a camera that is ISO, Aperture and Shutter Speed. I call these features a map to reach the creed of Photographers.
Although the latest cameras do everything on their own, to enlighten the beginners, I'll sprint through those three essential features and its implication on a photographer's life. Since you have decided to explore the world, it is crucial that you have got a map handy with you. So you can lay back and enjoy the ride.
An ISO is related to the brightness, it is represented by ISO numbers and starts anything from ISO 100 to 360,000. The higher the ISO number is, the brighter the picture will turn out, even at a low light atmosphere. In case of a brilliant atmosphere, you can bump down the ISO number to the lowest point so that you'll not get an overexposed picture.
Aperture controls the opening of the IRS lenses, and it can control the light entering through the lens. Hence reduce the overexposure. The f-stop number says how far the lens is open. Ironically the smallest f-stop number indicates the lens is fully open, thus get more depth of field. Though the plain is two dimensional, the picture will leave a three-dimensional look. And a higher f-stop number indicates that the lens will narrowly open.
Shutter speed is another imperative that determines the quality of the picture. This feature helps you to capture a rushing car without any blur. For that matter, by setting the shutter speed to 1/4000, you can even capture the wing flutter of a hummingbird without blurring.
Why buy a DSLR?
Now you are aware of the primary things to look in a camera. But which categories to choose from the whole bunch. There are compact, bridge, mirrorless and DSLR, which one you should select? The truth is it's your purpose that determines your choice of camera. In this article, I'm going to give you a comprehensive picture about DSLR (Digital Single-Lens Reflex Camera) which I think is best to stir your creativity. However, I'll give you a bit of insight into the other cameras. The compact cameras are small and easy to carry, but they have poor sensors and lenses. The purpose of Bridge cameras is to bridge the gap between the DSLR camera and a compact camera. They are lightweight and easy to carry around and have a better lens with a better range of focus, than the compact camera. But their aperture does not allow more light to enter. Also, the lens is not portable, once you purchase the camera you have to live forever with one single lens. To fix this issue, you've got a mirrorless camera, mirrorless cameras are DSLR cameras, but their mirrors (it is the mirror that sends light to the sensor) are removed. As a result, digital view-finder replaces the optical viewfinder. That means unlike typical DSLR Camera the mirrorless DSLR entirely relies on the sensors to give you information about the picture. Although they've high-range sensors and portable lenses, the mirrorless technology is still in the nascent stage. Hence, it consumes a hell lot of power. Without a doubt, in future, all these shortfalls of the mirrorless camera will hopefully sort out. For now, the sensible choice is a DSLR. Presently, all cameras do a fabulous job, however, to kick-start your hunt I'll give you minimal information about some of the DSLR cameras that I think are the best amongst the best, available in the market.



Best DSLR Camera for Beginners
What is the best camera for amateur photographer? It should be a mid-priced camera body. A digital camera loaded with all professional features won't be much good in the hands of someone who doesn't know how to use it.
#1. Canon EOS 1500D (₹38,990)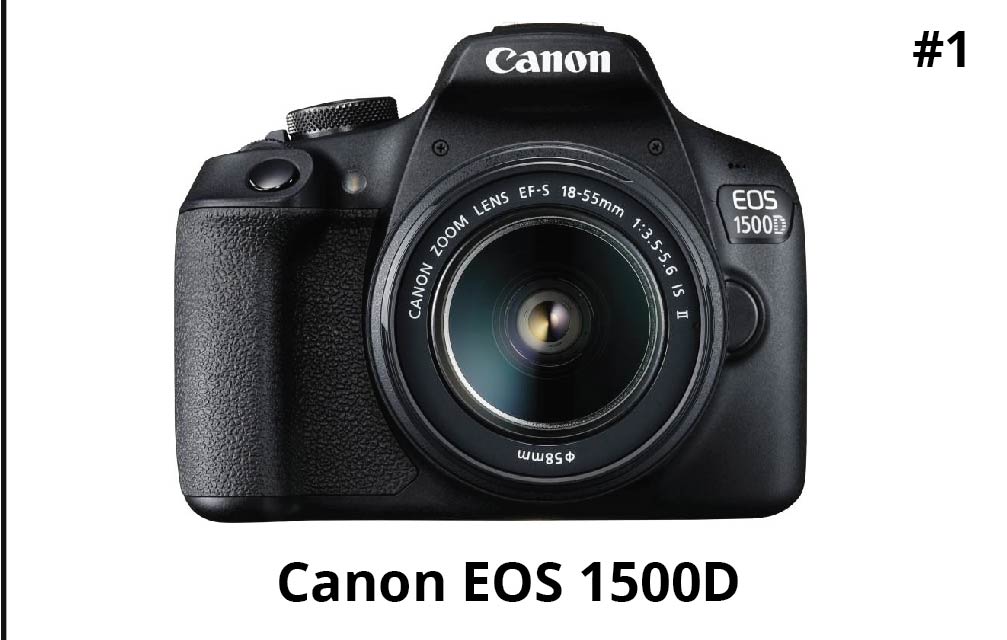 When you go to the showroom, the first thing you should look in a DSLR camera is the quality of their sensors. A camera feels the light and shadow through their sensors. With an excellent quality sensor, you can capture fabulous quality pictures. In this camera, Cannon used their 24.1-megapixel APS-C size CMOS sensors. Let us decipher what this means. One megapixel is one million pixels. So when you click on the shutter, a 24-megapixel sensor will capture 24 million pixels. Imagine each pixel as a bucket, that stored information of your atmosphere, which is in the form of photons. The more buckets the sensor has, the closer photo resembles with the reality. The sensor will send such information to Digic 4+ image processor (canon sensor). Depending on the type of image processor, the speed and efficiency of your camera will vary. With the ever-increasing pixel number, the last thing a photographer like is to wait eternally for processing the image. Released in 2014 Digic 4+ is not the latest but canon is claiming that this is better than their predecessor Digic 4 which is already quite popular in the earlier models. The ISO is expandable to 128,000. Short-range wireless connectivity with other external devices has been viable using NFC technology. This camera comes with 18-55 mm lens and 16GB embedded memory. Without any doubt, Canon EOS 1500D is the best camera for beginners.
Best DSLR Camera Under 50000 Rs in India (2018)
#2. Nikon D3500 (₹47,227)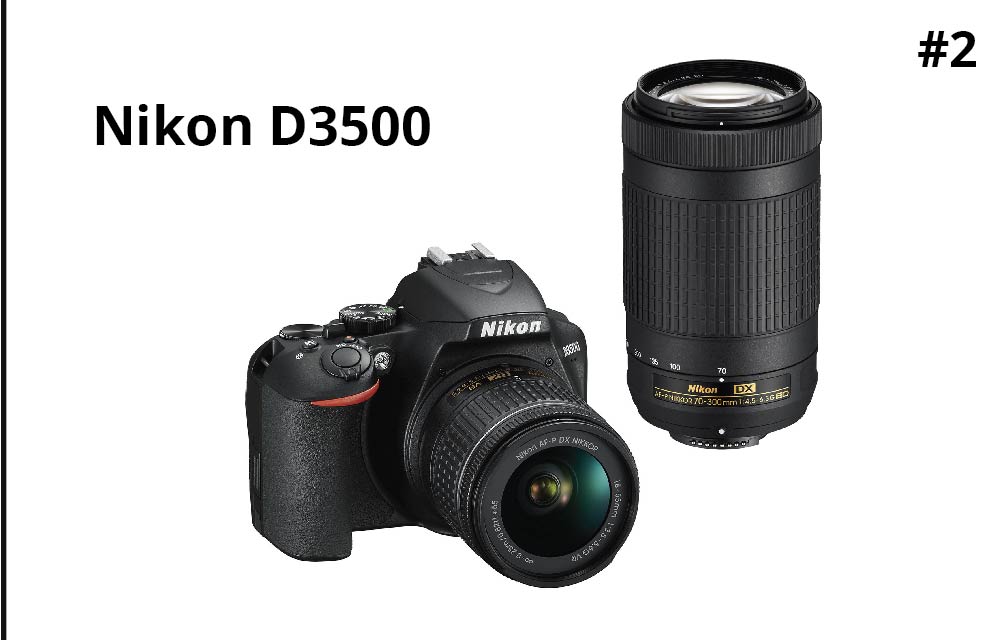 Attached with 24.2 megapixels DX-format CMOS sensor, has similar capabilities as of Canon. But Nikon has their own patented image processor christened as Expeed. The EXPEED embraced both multiprocessor system as well as a digital signal processor so that it will assure a deft response. Since handy with auto shooting mode, any novice can wake up from the sleep and start shooting Raw. All you got to do is turn the mode knob to the letter p (program mode, what I don't recommend is to put on auto mode, no matter what, the flash will pop up which is of terrible quality). In p mode, neither the shutter speed nor the aperture nor ISO has to set manually. Preferably, the camera will sense the atmospheric lighting and will do the math. Well, that is not a unique feature for Nikon. All major manufacturers are trying hard to put a human-like brain to the cameras, and this feature is the basics. By using cameras like this, a newbie can slowly learn manual photography. Although the latest camera has excellent image processing speed and better sensors they are not yet smart as humans. This light-weight-easy-to-carry camera also has other exciting feature called quick sharing. Download Nikon SnapBridge app to share pictures to any external devices in a matter of seconds. As if to mirror today's fast-paced life, yet another feature that emphasizes the deftness is frame per second. This camera can click five frames per second. The truth is, they are not as fast as the human visual system. Remember the human eye can process 10 to 12 frames per second individually.
#3. Sony Alpha A68K 24.2 MP Digital SLR Camera (₹46,990)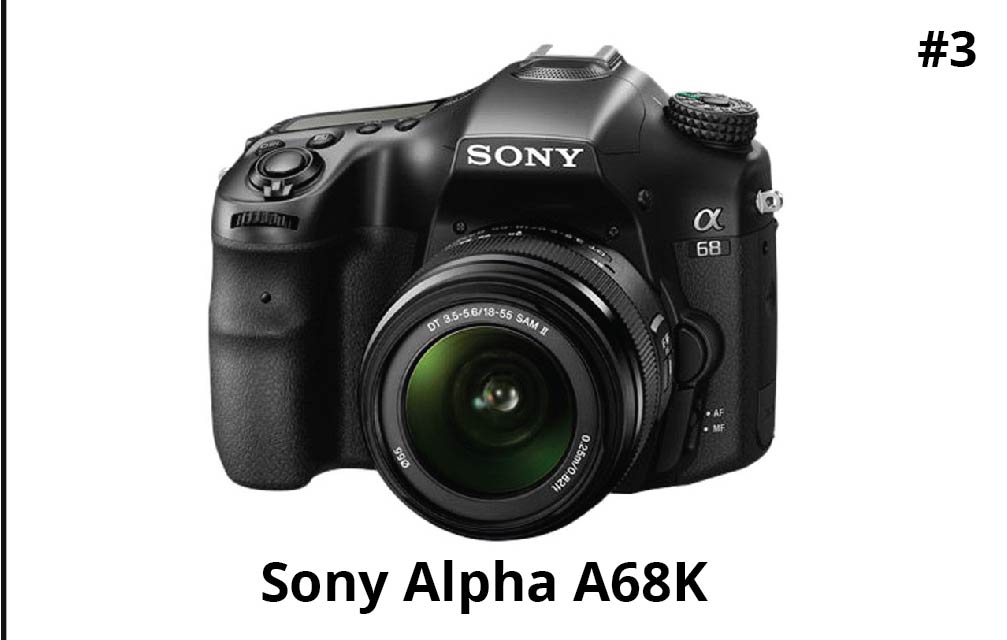 This Sony Alpha series has a 24.2 MP APS-C CMOS sensor. Okay, I agree you are hearing this for the third time, you may be wondering what it means? Well, to burn out your curiosity, APS means the Active Pixel Sensor, an image sensor that traps photon (light particles). The CMOS is a type of semiconductor embedded in this. In future, Quanta Image sensor (QIS) will replace APS. Rather than using the bit, QIS use jots, which retain more information than pixels. No matter what sensor, after you click the shutter button, RAW image data at the sensor will be sent to the image processor. In this Sony Alpha camera, the cutting-edge BIONZ image processor is used to convert data either to JPEG or RAW. The RAW image as its name suggests, retains every bit of information. Sony purposefully released A68K for Indian environment. Hence it captures bright shades and reds to give a vivid image. You can say that this camera is the best camera in the Indian market.
In regards to fps, this camera is way faster than the other two cameras discussed before. That is, this camera continuously clicks eight pictures per second. Autofocus is another exciting feature that makes our work so much easier. In the past, we need to lock the object of focus manually, now the camera itself will focus the object. The traditional manual focus is also available along with auto function. The Shutter speed is 1/4000s to 30s. The ISO range is 100-25600. If you are a beginner, you can look through an electronic viewfinder, whereas If you are already habituated with the optical viewfinder, you can use it, that way as well.
#4. Canon EOS 750D (₹47,600)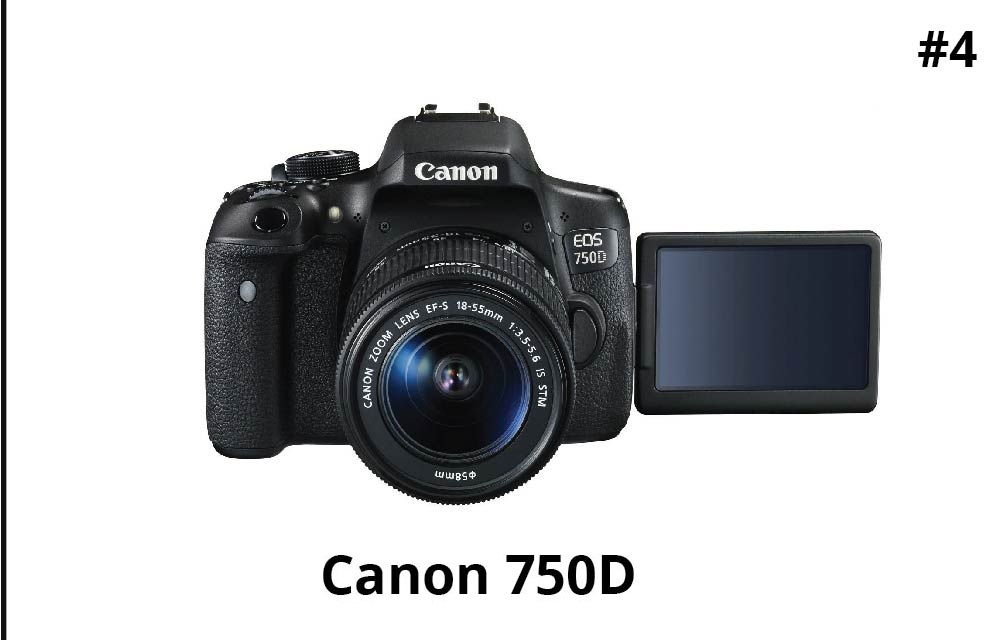 As Canon 750D incorporated with 24.2 Megapixel APS CMOS III sensor gives a great depth of field. The DIGIC 6 image processor makes this camera work without lagging. With this processor, you can click seven fps. This camera's auto mode, will sense the light and automatically choose the best ISO in between 100-6400. And that is the limit. ISO won't stretch beyond that. With this, you can record an excellent quality MP4. Along with this camera, you will get an 8 GB memory card, which of course is not enough for extended shooting. Unless you don't mind changing the memory card more often in between the shoot, please try using 32 GB card. So, you can go for a two-day trip without worrying about replenishing the memory card.
#5. Nikon D5600 (₹45,950)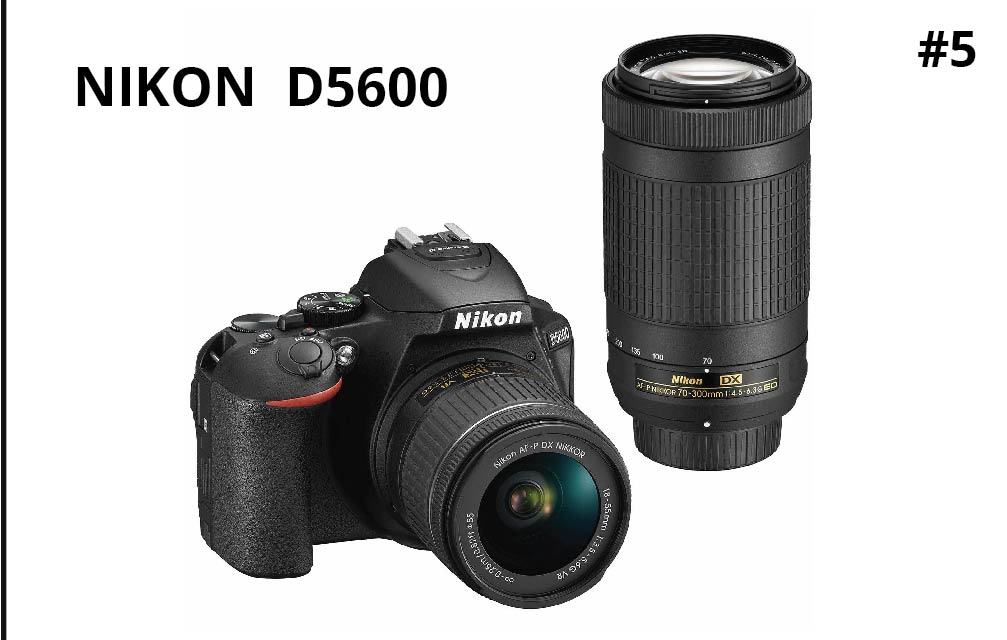 Once charged, you can continuously shoot 820 pictures with this camera. While Nikon D3400, can capture 1200 shots. That means this camera consumes a bit more power than D3400. So make sure you carry an extra battery along with you. I have good news for the wildlife photographers who took long angle pictures, as your wish touch screen can twist in any direction. As you are making a low angle picture, you don't have to lie down on the ground anymore, twist the screen a bit up. In this 39 autofocus points are there. Wherever your subject is in the frame, one of the D5600's 39 autofocus points will lock on and hold tight. The more autofocus points you have, the better the camera can track the target. A good quality microphone is an added advantage for YouTubers, who fiddles with videos. If needed you can also use an external mic. Connectivity is through Bluetooth, NFS and Wi-Fi. You can take five frames per second. The 24.2 megapixels sensor and EXPEED 4 image processor will capture a better image.
#6. NIKON D5300 (₹46,950)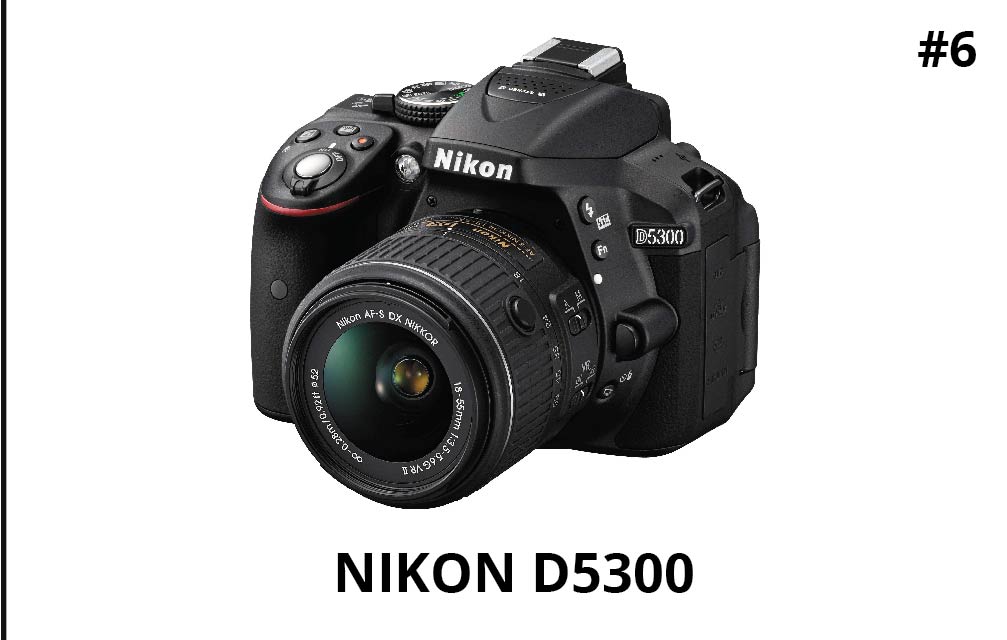 Geared with the usual sophisticated 24-megapixel DX-format CMOS sensor this camera is one of the best Nikon cameras available in the market. The EXPEED 4 image processor maintains the quality without affecting the speed. This camera is capable of clicking shots at a frame rate of five pictures per second. An embedded optical low-pass filter (OLPF) or anti-alias filter helps in capturing more minute details by reducing the moiré effect. ISO Ranges from 100-12800. You don't need to lock your focus manually; a 39 point AI autofocus will skilfully lock the subject in-focus. GPS enabled travel log function records the locations you are exploring, and that will evoke your sense of nostalgia for sure. They also have vari-angle monitors, which will make your shoot so much comfortable than any other camera.
The Nikon D5300 DSLR Camera has an excellent grip to hold. Auto mode is impressive. The other outstanding feature is the Miniature video. Also, they've got an excellent focus speed. If you wanted to eke out maximum quality, better select 14-bit raw rather than 12-bit. The 14-bit raw size makes your camera a bit slower, but when you try to edit a 14-bit image in Adobe Lightroom or Photoshop, you'll be able to pull out the maximum quality image.
Best DSLR Camera Under 30000 Rs in India (2018)
#7. Nikon D3400 (₹28,450)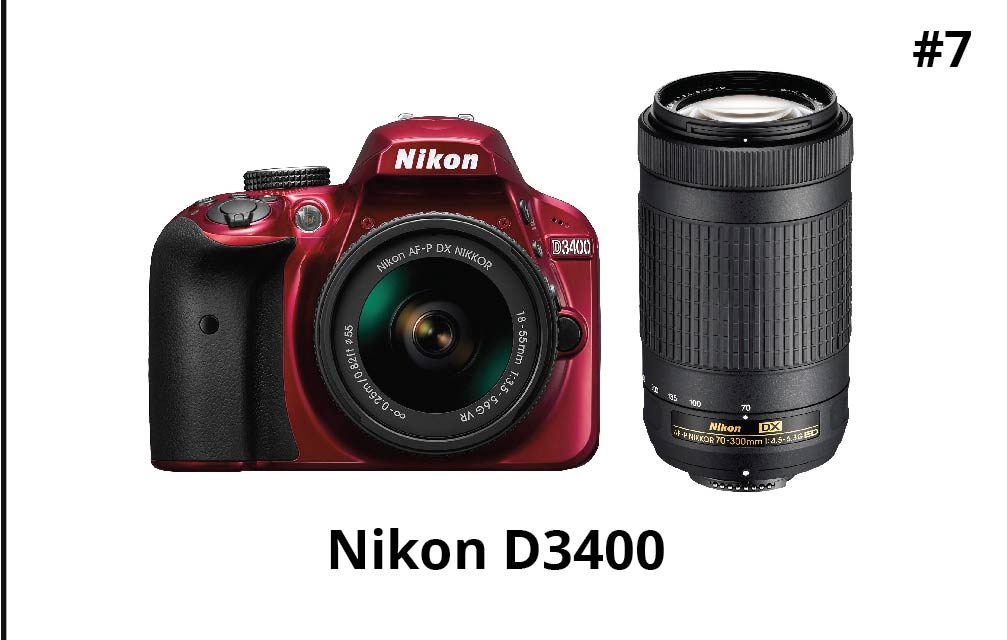 This lightweight Nikon D3400 has a 24-megapixel APS-C CMOS sensor. The image processor used in this camera is Expeed. Connectivity is through NFC and Wi-Fi. 16 GB memory card will come along with this. Be its telephoto or wide angle or standard, lenses on a camera are always an enticing factor. For most of us, a reason to pick a DSLR camera is their portable lens. Nikon will not disappoint you, as you'll get 18-55 and 70-300 VR (vibration reduction) lenses. For a beginner, this is the best bet. Since Anti-alias filters are taken off of this camera, it is the best camera for studio and landscape photographers who don't bother occasional moire on the image.
#8. Canon EOS 1300D (₹24,990) –

#1 Best Seller in Digital Cameras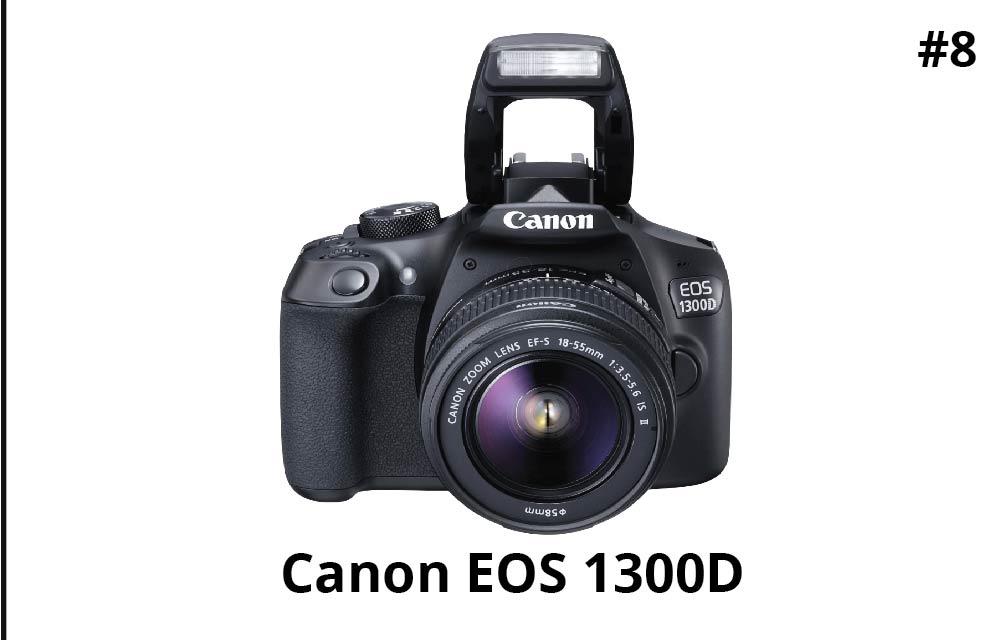 This camera uses 18 megapixels APS-C CMOS Sensor. The DIGIC 4+ image processor as you know will do a better job than the DIGIC 4. This lightweight camera is best suited for the beginners. Even on a gloomy day, the LCD screen will give off best-viewing light. There is no touchscreen in this camera, that of course, is a setback. But, an auto mode without a flash is a pretty good option for the beginner. Get ready to a preset food mode. You are all set to foray into food photography. That makes this camera stand out, and in addition to that like in any other typical camera, there are many preset modes, that will make you capable of shooting the best pictures right out of the box. It supports WiFi and NFC for quick and easy photo sharing. HDMI port is to connect to your TV. Standard ISO is 100 to 6400, expandable to 12800.
Best Professional DSLR Camera
If you are buying any budget camera, it does a better job than any other high-end pro models of the past. At the entry level, the latest sensors are doing a fabulous job, and it'll be more than enough to take a beautiful picture. Then why you need a high-end camera? A Professional aspires to shoot more photos in a short amount of time. So, more features make their work flow efficient and save a lot of their time. I will suggest two best cameras for the professionals.
#9. Canon EOS 5D Mark IV (₹2,71,995)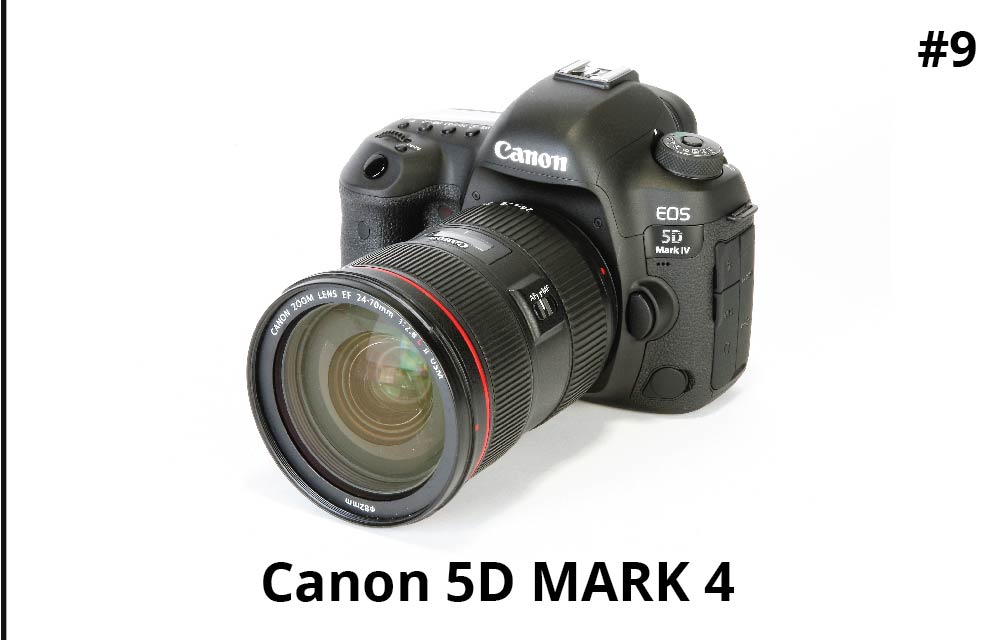 Canon has brought forth 30.4 MP full frame CMOS sensor. Fitted with the AA filter makes your image moire-free. The image processor is advanced and powerful DIGIC 6+. The Canon 5D Mark IV has an expandable ISO of 50-102400. They quickly click 7 fps. Along with that, 61-point autofocus system with 41 cross-points for expanded vertical coverage efficiently track the focus. They've 1CF slot and one SD card slot which is a traditional age-old technology. Having a Dual Pixel CMOS AF sensor is a big relief for the one who shoots a lot of videos. Also has a 3.2-inch LCD touchscreen, note that it is not possible to tilt in any direction. A joystick is there to adjust the focus point.
#10. Nikon D850 (₹3,49,950)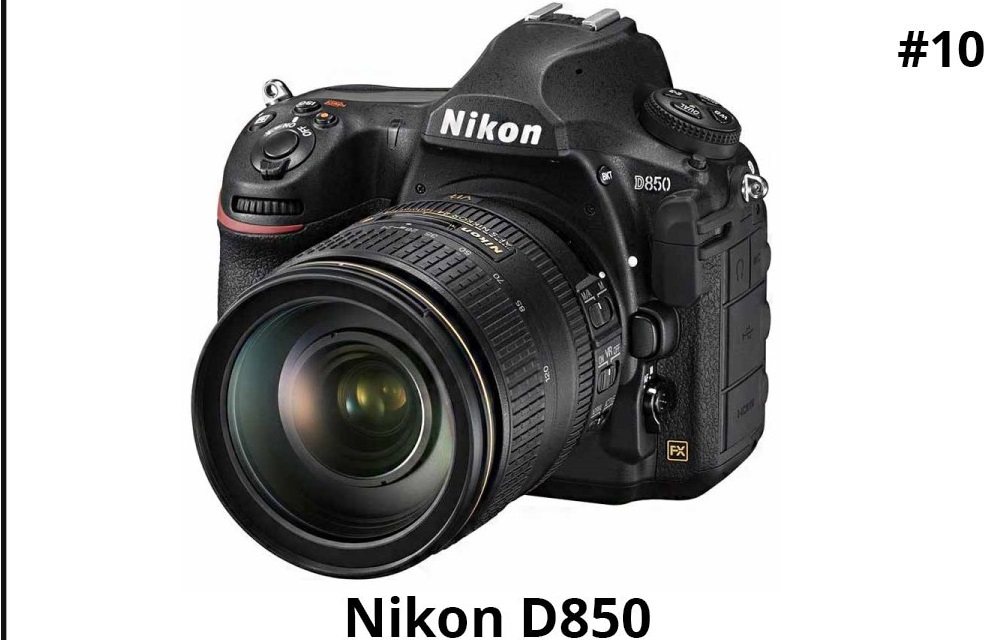 Nikon has used most advanced 45.7MP FX-format BSI CMOS sensor. They do not have an AA filter. The EXPEED 5 image processor by far exceeds the quality of the already better Nikon EXPEED processor. ISO is expandable to 32-102,400 mark. There is a complaint that Autofocus is lagging. They use face priority autofocus by utilizing contrast detection. Tallest viewfinder than other Nikon cameras, even your spectacles won't impede your workflow. Nikon has 3.2-inch OLED which can accommodate 2.36 million dots, and the screen can be tilted in any direction. Back-illuminated buttons are a real help when shooting at night or low-light situations.
Overview
You must have noticed all the DSLR camera we've discussed above, has its unique quality. According to your budget, you can choose not only these, but any other brands. Why I selected those brands is because they have excellent service in India and the product is durable.