Though the Apple Music service is still new in the media streaming field, it offers a lot of fantastic features which makes it one of the rapidly growing music streaming services in the market.
It provides its users access to exclusive songs, lyrics, customized playlists, music videos, and others. Its catalog of 50 million tracks allows users to enjoy their favorite songs easily.
Are you among those Apple Music lovers and want to get free Apple Music forever? Then you are at the right page! Here, we will show you two methods on how to get Apple Music free forever. Interesting right? So keep on reading to know more!
Part 1. Get Unlimited Apple Music Free Trial to Keep Apple Music Free Forever
Apple Music offers a free trial which you can enjoy for 3-months. This is the official way of getting free Apple Music though not forever. In this section, we are going to show you can sign up for the free 3-month trial of Apple Music.
Note that you can try the app on your mobile devices (iPhone, iPod Touch, or iPad Pro). You can also do this using iTunes on your Mac or Windows computer.
Below are the steps for signing up for Apple Music's trial using iTunes.
Open iTunes and choose Music from the category drop list at the top of the interface.
Find the For You menu and click on it. You will be offered a free trial. All you need to do is click on it.
Select your desired subscription type (College Student, Family, or Individual).
Enter your Apple credentials.
Verify the payment information and you can now start enjoying Apple Music for 3 months.
Remember that when you have signed up for the free 3-month trial, this means that you are subscribing to the music streaming service. After 3 months, you will be automatically charged with $9.99 a month without any notifications. So, to prevent unexpected charges, you need to cancel your free trial before it expires.
Now, to get an unlimited free Apple Music trial, you can sign out from your current Apple ID then sign up using a different ID and payment method. Once done, you can now sign up for the free trial again using the above methods.
Every time your free trial expires, just use a different ID and payment information to keep on enjoying an unlimited Apple Music free trial.
Part 2. Recommended Method to Keep Your Apple Music For Free Forever Once Your Trial Expires
Getting an unlimited Apple Music free trial is a great way of getting free Apple Music but canceling the trial and then registering using a new account again can be a hassle. And, even if you are already using the paid subscription, there are still some limitations. An example is when you are traveling to specific countries in Africa or Asia, Apple Music might not be accessible.
But, don't worry as there is still another way for you to get Apple Music free forever without limitations and charges. For this method, we recommend that you use DumpMedia Apple Music Converter to convert and download your desired Apple M4P music, playlists, and albums to formats like M4A, MP3, M4R, AU, AC3, MKA, and FLAC to enhance your music listening experience.
Apple Music files are DRM-protected so you will not be able to listen to them on other devices. With DumpMedia Apple Music Converter, you will be able to remove the DRM-protection for your chosen Apple songs so that you can listen to them anywhere. Below are the types of files you can convert using DumpMedia Apple Music Converter:
Apple Music songs
M4P songs you purchased using iTunes
Audiobooks in M4B format
Audible AA/AAX audiobooks
In addition, DumpMedia Apple Music Converter is a very powerful converter for Apple Music that offers 16x speed for faster conversion and can retain the 100% original quality of your files. Below is an overview of the features of this tool.
Features of DumpMedia Apple Music Converter
Users can convert thousands of Apple Music tracks and audiobooks from iTunes.
Users can listen to your favorite Apple Music songs on any device even when not connected to the internet.
Users can still play all of your songs even if you have already canceled your Apple Music subscription.
Users can retain your original songs' ID tags.
Users can customize the output files based on your needs.
How to Get Apple Music Free Forever with DumpMedia Apple Music Converter
Now, let us proceed to the steps on getting Apple Music free forever via converting your songs using the DumpMedia Apple Music Converter app.
Go to the Official Website & Download the App
Launch the Application
Import the Files to be Converted
Pick an Output Format & Destination Location
Begin Converting
Read more details about the conversion process in the next sections.
Step 1. Go to the Official Website & Download the App
The first thing you'll be doing is to download the DumpMedia Apple Music Converter application. The app has available versions for both Mac and Windows users. Check out the download links here. Once you have finished downloading, begin the installation process and activate the app. Enter the Activation Code you received on the registration page.
Step 2. Launch the Application
After activating the software, launch the application. Notice that all the Apple Music, videos, iTunes Music, and podcast files you downloaded will be uploaded on the app automatically. Check your songs on the Playlists area.
Step 3. Import the Files to be Converted
Look for the files you want to convert on the app interface's left side. You can choose a category to find your songs easier and then check the corresponding box for the songs you want to convert. Another way is by searching your songs through the search field and checking them afterward.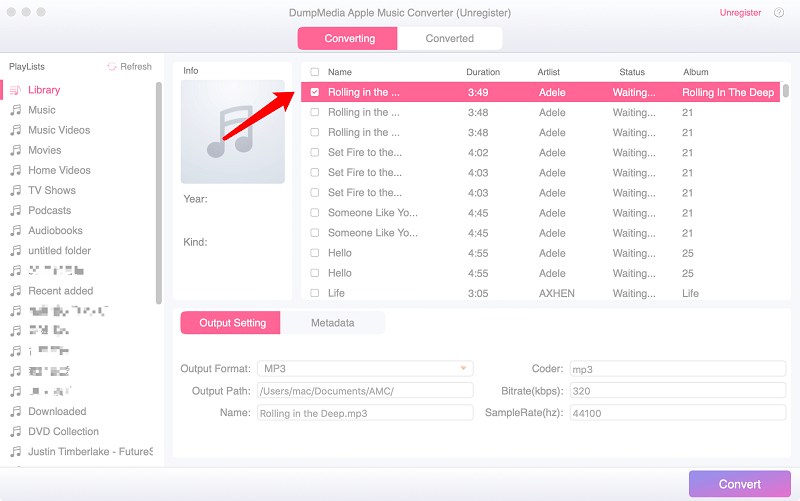 Step 4. Pick an Output Format & Destination Location
Choose the output format from the Output Settings drop-down list. For audiobooks you are converting, you can choose from the following output formats: MP3, FLAC, M4A, AU, AC3, M4R, MKA, and AIFF. If you want, you can also customize the default output parameters such as Codec, Sample Rate, Channels, and Bit Rate. Once you are satisfied with the parameters, choose a destination location.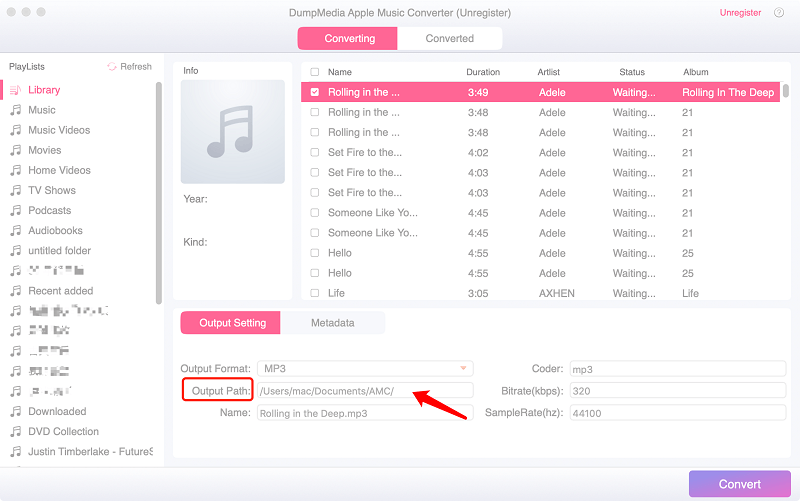 Step 5. Begin Converting
Click Convert and wait for the conversion to finish. How long the process will take will depend on how many songs you are converting.
Part 3. Wrapping It Up
In this guide, you learned how to get Apple Music free forever using two methods:
Registering to the Apple Music free trial using different accounts

Using DumpMedia Apple Music converter
Hopefully, this guide was able to help you enjoy your Apple Music listening experience more. You are free to use DumpMedia Apple Music Converter anytime. Let us know what you think about the app in the comments section below.
You may also like to read: