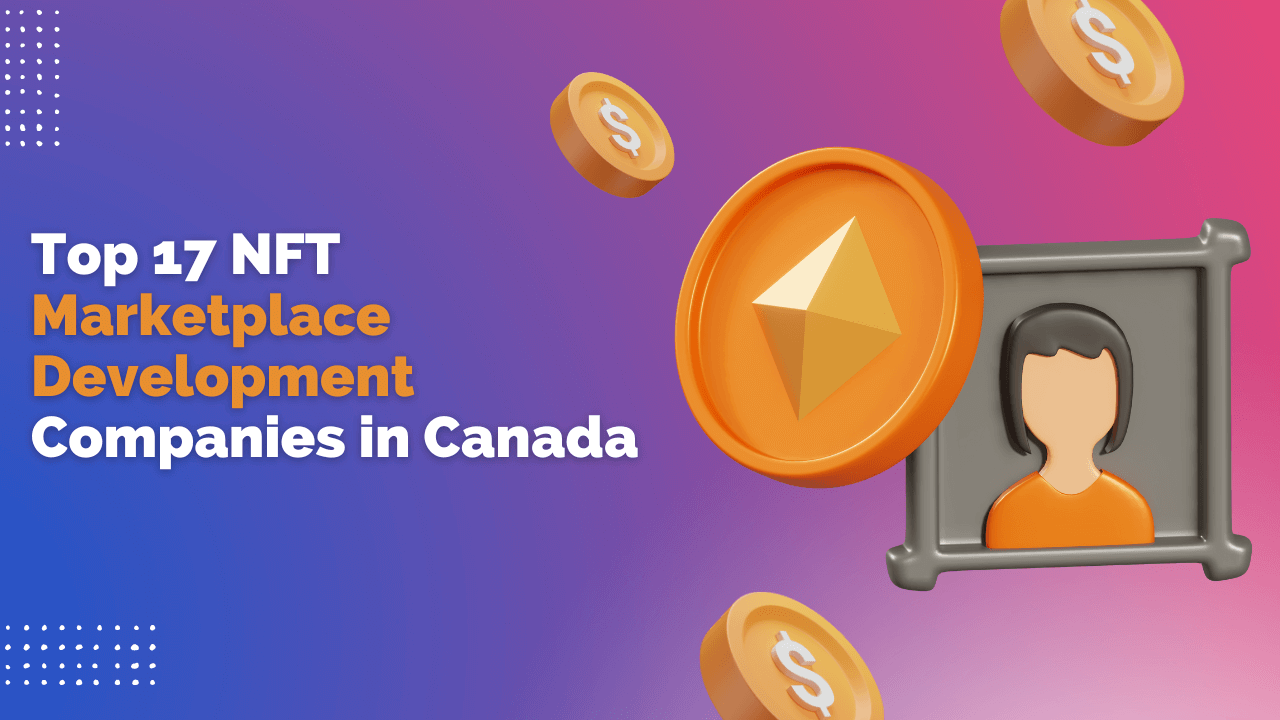 The NFT sector is growing! Non-fungible digital tokens (NFTs) are utilized on smart contracts on blockchains. NFTs provide a range of opportunities. Blockchain solutions have made NFTs a reality, and it provides a number of opportunities for businesses and investors. It allows people to sell virtual properties.
In this blog post, we have listed the Top 17 NFT Marketplace Development Companies in Canada:
Silicon IT Hub
Silicon IT Hub has been maintaining its reputation for many years now. With time, the company has expanded and provides services with the latest technology. To ensure the security of the platform, they take care of security and leverage cutting-edge technology for the same. Positive client reviews ensure that the company delivers what they promise.
The company has enough resources to carry out ambitious projects, and its NFT marketplace development services have gained rave reviews from its global clientele.
MoogleLabs
MoogleLabs is a subsidiary of Seasia Infotech (a CMMI Level 5 company). MoogleLabs is entirely dedicated to providing AI/ML, blockchain, DevOps, and Data Science solutions. The company has worked with big players in several industries and is known for providing custom solutions leveraging the latest technology. The tag line of MoogleLabs is "decoding innovation," which highlights the company's goal of innovating new products and areas of AI/ML services, NFTs, etc. MoogleLabs houses a team of 400 developers, testers, designers, and marketers. It is founded by seasoned professionals who are well-versed with the latest technological advancements in the industry and have hands-on experience in developing the latest products and services.
Infinite Block Tech
Infinite Block Tech is a leader in developing blockchain solutions, including NFT marketplaces. The company has clients around the world, and its services span a large number of sectors. Infinite Block Tech develops highly tailored solutions for numerous industries. The company has decentralized and automated processes, which reduces costs and saves time. Their offerings include smart contracts, NFT marketplace development, Hyperledger, etc. The company boasts of a highly diverse clientele and has worked with startups to large enterprises. Infinite Block Tech has in-house experts, including developers, business analysts, and marketing executives, that take projects to the next level.
Hyperlink InfoSystem
Hyperlink InfoSystem, established in 2011, is a reputed web and mobile development company in Canada, having offices in USA, India, UAE, and UK. The company is known for providing the best blockchain solutions to different industries. The company has developed the NFT marketplace for clients from various industries in the past. Hyperlink InfoSystem is well-versed in Big Data Analytics, IoT development, NFT marketplace, game development, etc. The company has around 500 developers that build solutions around modern technology. The company is known for offering eye-catchy and innovative apps and has worked with top clients around the world.
Inoru
Inoru is known for providing a high-end NFT marketplace. Inoru has worked on diverse projects, and it is known for providing quality solutions to clients all over the world. NFT marketplaces geared towards art, music, etc., are also developed by Inoru. The company was founded 12 years ago and has attained a 99% satisfaction rate from its clients, and has delivered 350+ projects so far.
Fort Group
The Fort Group was founded in the year 2000 and has a huge team. The company has well-trained managers for assisting clients as well as teams in managing complex projects. The company has been providing specialized services in the field of blockchain and tokenization since 2013. The company has a dedicated department focused on AI; Fort Group caters to the needs of government, private, small, and big enterprises.
LeewayHertz
LeewayHertz has built more than 100 digital platforms for small and big firms. The company has been in existence for over a decade and has profound knowledge of how to build NFT platforms. Their highly-skilled team is trained by Google and Apple experts; the company has been skilled in developing multiple blockchain-based applications for creating utility bills blockchain.
Zensar Technologies
Zensar Technologies, founded in 1991, offers one of the best blockchain services. The company has over 1000 professionals and has offices in around 20 countries. It provides services to some of the top players in the industry and has a global clientele. Zensar Technologies always ensure that its services are beyond excellent and customers are satisfied with the end result.
HData Systems
HData Systems is a Data Science company that is well-versed with analytical approaches. The company provides blockchain and NFT services to clients around the world. The company pays special attention to bringing new-age technologies to its clients. It also deals in providing quality solutions related to blockchain, AI/ML, and DevOps. The company has offices in Canada, India, and the UK. It is known for transparency and on-time deliveries.
Hashstudioz Technologies
The company provides a range of services under one roof. For NFT marketplace development, they have engineers, analysts, programmers, and developers, who are certified in their domain. Hashstudioz Technologies develops tokens by adding important features that are in well-known NFT marketplaces. It assists small, medium, and big enterprises in building blockchain solutions in record time.
Security Tokenizer
Security Tokenizer is a leading token development company. The company provides NFT marketplace development services, crypto-token development, etc. With an experienced team, the company has made its mark in such a short span. The company has innovative minds who know how to use technology to provide the best results to clients.
Konstant Infosolutions
Konstant Infosolutions is an NFT marketplace development company that has a team of 180+ highly qualified and experienced engineers who deliver the best technology solutions. The company has worked with industry leaders like Nestle, NASSCOM, etc. The company strives to create an environment for the team where they are motivated to learn and try new things. Since its inception in 2003, the company has continuously worked to build top-notch solutions for businesses.
SemiDot Infotech
SemiDot Infotech is a leading NFT marketplace development company that provides solutions to SMBs. The company constantly keeps improving itself and jumps on an opportunity to better its services. It has worked with clients from around the globe and has offices in the UK, Australia, Canada, and India. The company aims for excellence and exceeds customer expectations in every project. Client reviews of the company depict the positive work attitude of the company and how they go above and beyond to deliver nothing but the best.
Orion Solutions
Orion solutions is a company that specializes in various software services. It also provides NFT marketplace development services and has been in the business for over a decade. The company has successfully delivered 500+ projects to companies of different sizes. The company provides many ready-to-use software solutions that allow its clients to get their hands on the solutions faster.
Interest
Interest is a successful software development company. The company has expertise in developing blockchain development solutions and NFT marketplace development services. The unique point of the company is that it puts aside a substantial amount of time to communicate with clients on the project requirement, milestones touched, changes required, etc. It allows clients to be in charge of their project, and they can communicate if they want any changes or want to review the project, etc. The company serves clients from around the globe and manages to earn positive reviews from the clients.
Cleffex Digital
Cleffex Digital is a reputed software development company operating in Canada, the UK, and Australia. The company provides NFT marketplace development services and has some high-profile clients as well. It is one of the fastest-growing companies that has a pool of talented developers, testers, and designers. In the last decade, the company has immensely grown in popularity and has become a go-to solution for services like blockchain. The company has a remarkable portfolio and is getting positive feedback from its clients. It wishes to create an impact with its dedicated and highly secure solutions.
Innova Lab
Innova Lab is a leading NFT marketplace development company. It has been in the business for over 17 years, and it has maintained the quality of its services throughout. The company hires the best and most talented people to ensure clients get quality solutions delivered on time. It serves clients from all over the world and is respected for providing what it promises. The company aims to use the latest solutions for development and provide new-age solutions that are cost-effective as well.
Final Words
NFT marketplace development provides security and transparency. Since it's a decentralized marketplace, it allows its creators to make money directly from their own work, such as an artist selling his/her work; NFT eliminates the middlemen. NFTs can't be easily forged, they are unique, and only one of each can exist. NFT marketplace development is the buzzword; if you are looking forward to Building NFT marketplace, it's the right time to do so. It's beneficial to have a free consultation call with your chosen company and list your requirements in detail. It ensures that you get the best results from the development company.
You might also like