In recent times, employed people all over the world are complaining about having a difficult time making ends meet, despite how hard they work. If you find yourself in this type of situation, you might want to try some out-of-the-box business ideas to make more money. Here are a few unusual business ideas that can help you earn more this year.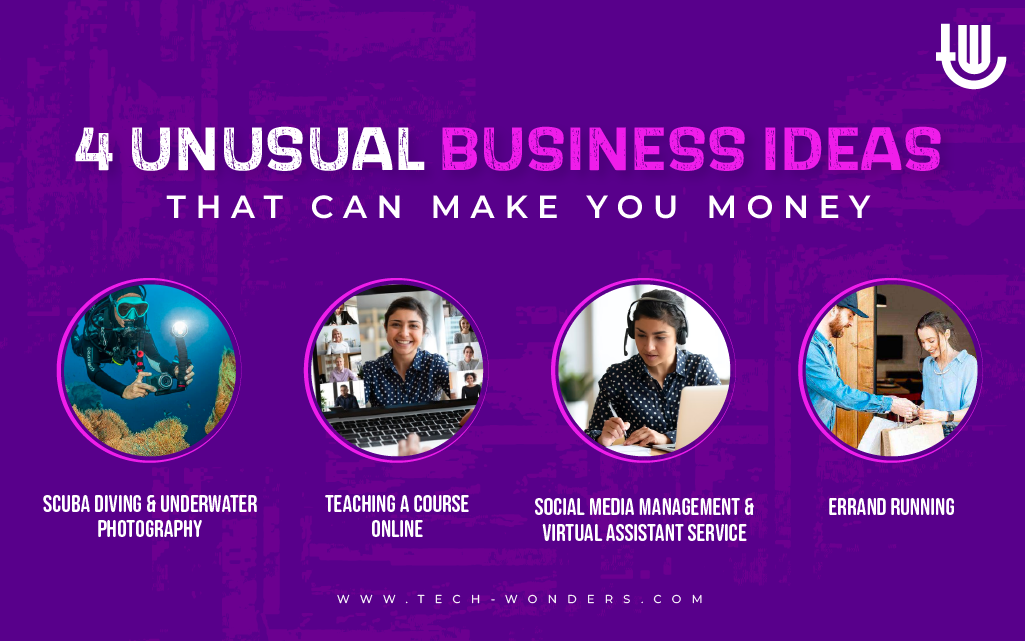 Scuba Diving and Underwater Photography
Thanks to advancements in underwater robotics, there's so much going on underwater. So much so that many people earn a good living from working underwater. These include underwater welders, underwater engineers, underwater restauranteurs, underwater models, underwater photographers, etc.
Underwater photography jobs often require certain technical skills not possessed by every photographer. Underwater photographers do not just take photos of aquatic life and underwater models; they also take part in scientific studies and surveys, capture underwater construction jobs, or work with environmental programs that require photography for data collection.
Underwater photography also requires a considerably high level of expertise, so you may have to get some scuba diving training. It is possible to take good underwater pictures while snorkeling or freediving; however, most expert-level photography is done while scuba-diving. This is because scuba-diving gives you the chance to hover motionless in the water and control your buoyancy, unlike free diving, where you have to take photos while in motion. According to Indeed Salaries, scuba drivers make almost $50,000 annually.
Teaching a Course Online
It's never too late to become a teacher. Even if you're not one to stand in front of a class to teach, it is possible to teach from the comfort of your home. Thanks to the internet and recent innovations in education technology, you can decide to impart your knowledge to any interested parties online for an agreed fee.
This type of teaching is easier for people who are passionate about a particular subject, e.g., music, cooking, photography, etc. If you know enough about any one subject to teach it, then you may be able to make some money off it. Since this type of teaching is informal, you do not necessarily need to have a degree in your chosen subject. All you need is knowledge of the subject and a willingness to make some money.
To make money off teaching online, you must invest a reasonable amount of time into it. Spend time creating good content that sets you apart from others offering similar services. Prepare your lesson plans in a way that encourages quick learning. Don't always try to invent your teaching methods and resources. Too much trial and error could lead to failure and discouragement. Rather rely on reusing tried and trusted teaching methods and resources and encourage your students to provide constructive criticism so that you can modify your course to cater to their needs. This will increase your chances of making money.
Finally, choose a fitting platform for your teaching service. Some popular platforms used by online teachers include YouTube, Blogger, Zoom, Skillshare, etc.
Social Media Management and Virtual Assistant Service
Just like people need help with their physical businesses, they also need help with virtual businesses. As a matter of fact, since the covid-19 pandemic, a lot of businesses need more help online than they do in their physical locations. For this reason, the businesses of social media management and virtual assistance have become very lucrative.
There are global marketplaces online where you can take advantage of these opportunities by offering to assist busy entrepreneurs. The duties of a virtual assistant include but are not limited to answering customer queries, hiring freelancers, sending and responding to e-mails, making business calls, booking appointments, etc. You can do all these without ever having to meet your employer physically. These jobs are often found on crowdsourcing sites such as Indeed, Upwork, etc.
Likewise, social media management, as the name implies, involves managing the social media pages of busy entrepreneurs or famous people. Since the 2019 pandemic, many businesses have had to go online to survive, and there is so much activity happening on these business pages that they'll often need to hire someone to manage their page. You can create a business out of this by learning how to manage busy pages and seeking out these kinds of clients.
Errand Running
If you're looking for a way to boost your income, you may want to consider errand running. It is easy to leverage contemporary technology and set up a website where people can send in their errands and have you run them. The type of errands you can expect to get tasked with include going grocery shopping, shoveling snow, cutting a front lawn, etc. This business is most suited for very young people with a lot of physical strength. It is also very easy to start as it requires little or no startup capital.