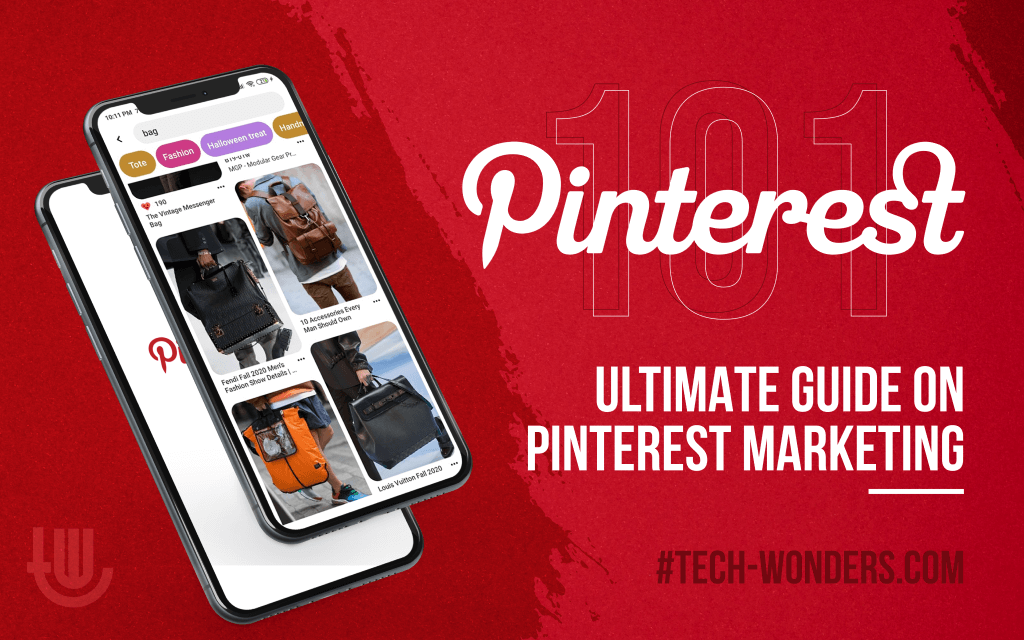 Have you ever heard about Pinterest? Like Instagram, it is also an image-sharing platform where one can share and explore visual content using pins. But, what makes Pinterest differ is its quality and enhanced visual content. More than 70% of visual creators share their creative works in Pinterest. For us, it's like an alternative to Google Images. In short, Pinterest focuses only on visual content and therefore people use it for getting inspiring ideas.
What is Pinterest Business account?
Like other social media platforms, one can create a personal account in Pinterest. If you are a professional and want to attract people with your products, then you can opt for a business account. Both personal and business accounts have their own features and benefits.
Note: You can neither talk business on the personal account, nor personal things on the business account. If you deviate from their guideline, no matter how many followers you have, your account will be revoked. Even the business account is not immune to noncompliance. Pinterest insists on sticking to the norms.
How to create a Pinterest Business account?
Pinterest business account is completely free of cost and you do not have to pay anything for starting an account. The primary difference between having a personal account and a business account is that the latter gives access to the analytics, so you can see the performance analytics of your pins.
If you already have a personal account, you can create a linked business account. Linked business account means you can use the same login credential for both accounts. This makes it easier to switch back and forth between both accounts.
Steps to create a Pinterest business account: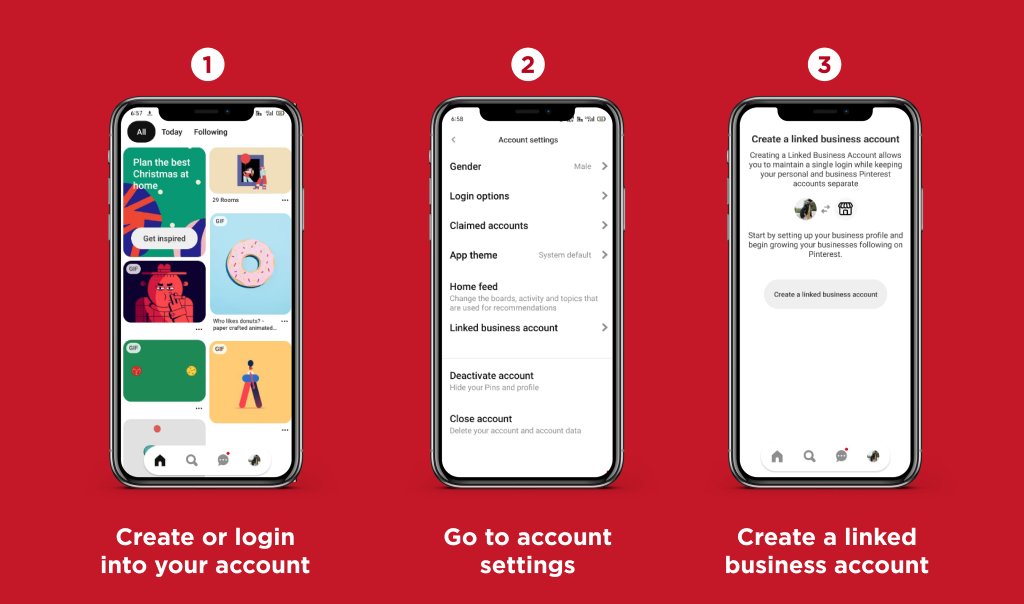 First create or log onto your Pinterest account
Go to Settings >> Account settings
Tap on "Create a Linked account" and follow the process
In case if you only want to use business pins without being too personal you can switch back to your personal account. To do that, just go to account settings and tap on "convert to personal account".
Like every social media platform, one has to upload a profile picture and give a display name. Also write a short bio and incorporate that into the description for better reachability. To get maximum reachability, try to add your niche related keywords.
How to monetize my Pinterest account?
Suppose you are a professional content creator and want to generate revenue from online, then Pinterest is itself a good choice. Here, Pinterest won't pay you anything, instead you need to take advantage from pins and audience. There are different ways in which you can earn passive income using Pinterest.
Ways to monetize Pinterest account:

Affiliate Marketing
Driving Website Traffic
Promoting Products
Becoming Virtual Assistance
Currently Pinterest has 442 Million active users. More than 60% of Pinterest users do affiliate marketing for generating revenue. Affiliate marketing is nothing but promoting and selling someone else's product and earning commissions.
While uploading pins, we have an option to add product links and hashtags. Make sure that Pinterest doesn't support redirect link, so just copy-paste the complete product affiliate link.
If you are new to affiliate marketing and don't know where to find affiliate links, then better you check these websites.
Affiliate Marketing Platforms:
Amazon Affiliate
vCommission
ShareASale
ClickBank
Rakuten
Case study:
Let me give you a step-by-step example, first you have to go to ClickBank or ShareASale website, endorse to any affiliate program. Let's say you selected Tailwind, (which helps you to be in line with Pinterest guideline). They will give an affiliate link, copy that to the relevant pin. Although Pinterest displays along with other pins, they give less priority to the affiliate pins.
So the recommendation is to set up a website and, create Affiliates pins and channel to the website, where you write reviews about the endorsed products. Not to mention you can also earn money by displaying ads on your website.
Now, the next question is how to add websites to Pinterest? For this
First, go to your account, click on the profile pic
Once your profile is open click on the settings
Under profile edit, just type in your website URL.
Pinterest has to make sure that the website is a legitimate one, for this, you need a provision to claim your website. Pinterest gives an HTML tag; add that to the source code of your website.
What are Pinterest Rich Pins?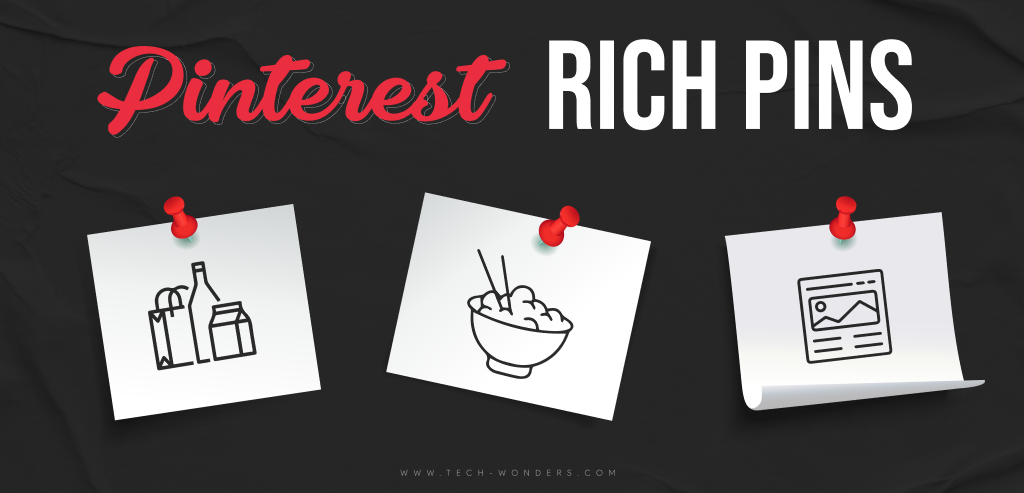 ‌If you are new to Pinterest account, you may ask! What exactly mean by rich pins? Rich pins are automatic connector of information from your website to Pinterest. Rich pin helps to show content metadata on your pin without manually typing on each and every pin. Pinterest says enabling rich pin increases engagement and improves traffic to your website.
How to enable Rich Pin on Pinterest?
When you enable rich pin, Pinterest takes the metadata automatically from the website content. For this, you have to undergo a one-time validation process.
Firstly, make sure to add metadata to the content page. You can use most common formats such as Open Graph or Schema.org metadata types.
Secondly, you have to verify your rich pin, for that, you must choose any page that contains metadata, paste that URL into the validator and click on apply.
Remember, it's a one-time process, you don't have to do it over and over again. Within one hour, your rich pin will be available on Pinterest.
Types of Rich Pins
There are product rich pins, recipe rich pins and article rich pins.
#1. Product Rich Pins
As the name indicates, it lets the followers know about the products that you are selling. Make sure to add the most recent price and stock availability. Besides, give a short and concise introduction of the product.
#2. Recipe Rich Pins
Recipe pin is associated with cooking, make sure to add cooking time, serving size, rating and list of ingredients.
#3. Article Rich Pins
Bloggers need to enable rich pins to better reachability. Rich pins allow displaying blog post details on the website. When you write an article on your website make sure to add more text and fewer images. Although Pinterest is a visual search engine and gives more preference to images, they don't support adding more images onto your website. So to rank on top of Pinterest result, make sure to flood your blog with unique words and put only necessary images.
How you can generate revenue using Pinterest conversation?
Recently, Pinterest offers users to send direct messages to the business owners. Select a few affiliate links you want to promote, type in any associate keywords on the Pinterest search. The search result gives a bunch of related pins, you have to select a few pins that look best. Send direct affiliate links to the owners, which will help them purchase the products they are looking for.
What is Pinterest Academy?
If you are a business owner and wants to learn more about what works and not, you can listen free tips from YouTube. The one we always recommend to watch are, videos created by Anastasia blogger, where she explains Pinterest marketing in an elegant way. Like her, there is so many other Pinterest marketing Guru's giving away their success strategies. Or else you have an option to sign up for the Pinterest Academy, which is a free Pinterest training program. For this, you need to have a free business account. The advantage is we don't have to listen to the contrary self-claimed success stories on YouTube. The Pinterest Academy gives you a platform to learn the real strategies that work on Pinterest. Knowing the full potential endows you with the freedom to create a unique idea that's suitable for your product.
According to Pinterest, 89% of people on Pinterest have buyer intention. They not only scroll through the pins, they are action-oriented. After getting inspiring ideas from Pinterest they buy things. Majority of the traffic comes from the United States, 83% of the users are from the US. Pinterest users confess that they have made purchases after they seeing inspiring ideas.
Pinterest Self-Made Tips
As we said, Pinterest has half a billion users across the world. On the other hand, there are the majority of people who buy stuff after reading pins. In order to reach a broad audience and to market the products, one has to apply few strategies before taking a step ahead.
Nowadays, Pinterest can easily recognise visual images that have pined before. So when you make a pin, make sure the pin is new and fresh. You can go to canva.com and make a fresh pin. The fresh pins are defined as the images they haven't seen before. It doesn't matter if your blog post is old or new, you can always link new images on Pinterest, so that your blog gets ahead in the search.
Katie Grazer an accomplished blogger and YouTuber suggest we should create at least 15 fresh pins per blog post. According to Tailwind, you can post 10 to 25 pins per day (This is based on the analysis of successful Pinterest users). Pinning more than the recommended number can expose your account for revocation. Use Tailwind, it works alongside with Pinterest, it helps you keep up with Pinterest guidelines.
Also, pinning the same pin repeatedly to many boards is not advisable, it is recommended adding a pin up to 3 to 10 boards. If you try to pin more than 10 pins the smart guide gives a warning saying that you are not complying with the guidelines. Using tailwind you can schedule the pining, they say you can pin the same image again to another board in 2 days apart.
As we discussed before Pinterest doesn't appreciate you sharing the same pin repeatedly, however, if you feel the pinning is necessary and relevant to your audience, you can share it once or twice a year. For instance, if created something for Christmas, the same can be shared for next year.
5 Simple Tools To Create Unique Pins
#1. Snappa
You don't have to be an expert in Photoshop to create a unique template pin, there are so many websites that help you to create the templates. Snappa.com is one of them. Just create a free account and get access to over 5000 templates and 3 million images and you can use them to create pins.
#2. Crello
Crello is another site, where you can find free templates and images, you either have to download their app or else you can use their web version on their website. They also have a pro plan which has no limits on the number of designs and templates you can download.
#3. Canva
Canva.com is completely free of cost where they offer ready-made stunning templates, and you can use them instantly to make unique pins.
#4. PicMonkey
PicMonkey is another great tool that can a provide number of free templates. Like Canva, you can set your account and can start editing. But, they provide only 7-day free trail for non-paid users. Once the trial period is over you have to sign up for any of their projects.
#5. Tailwind
As we are aware that tailwind helps to comply with the Pinterest guidelines, apart from that tailwind also offers an app to make free pins, where you can start making pin right away.
Pinterest Strategy for 2021:
Previously, Pinterest boosts the images with more pins. Now, they are preferring only quality content. You need to consistently produce unique pins. So, here we share our strategy to create perfect pins in 2021.
Create pins in 1000 x 1500 dimension
Add your website link with interactive description
Create an on-Brand colors and font style in all pins
Target a specific audience and make more money
5 Step Pinterest Strategy
#1 Attract – Don't directly jump on to a specific product. Let the people notice about your brand and create a general awareness.
#2 Engage – Once people found you, start engaging with products and then offer giveaways and freebies.
#3 Convince – Know the needs of audience and create a value to them. Start sending emails and upload tailored content.
#4 Convert – Now it's time to create a more loyal audience and convert them into customers.
#5 Delight – Finally, keep them happy so that they return and become fans and ultimately evangelists for your brand and your goods.
Pinterest Takeaway
If you do not have a strong plan in place, success on Pinterest does not come. Master organic production first before beginning with paid ads on Pinterest. How the platform functions are crucial to understanding.
To build a Pinterest marketing plan based on conversion, begin with the end in mind and figure out what you need to put in place to achieve the desired result. When designing your content and your boards, think like your client.
Remember that, Pinterest is not just a social media. Consider it as also a search engine where image SEO techniques work better. You can also opt for paid advertising in Pinterest, but organic traffic plays a major role.
Make sure, Pinterest is a long-term play where planning and patience are needed. If you are trying for fast results, then better go off. Hope, you like this article, kindly let us know your queries and doubts in the comment section. Also, let us know what we are missing and we'll add it!
You May Also Like: