We all grew up using mobile phones before smartphones. The breakthroughs in technology in recent decades have been amazing. Since then, the progress has been increasing exponentially. It is inevitable that technology will prevail in our lives, and there are many arguments about the negative effects of technology. However, it can change if we inspire Kids to use technology for good.
Each year, technological advancements invite many new inventions, and you might not be aware of many of the technological wonders that are created. For that, we have compiled a list of 6 Technological Wonders Your Kids will Love.
6 Technological Wonders For Kids
1. Sphero SPRK+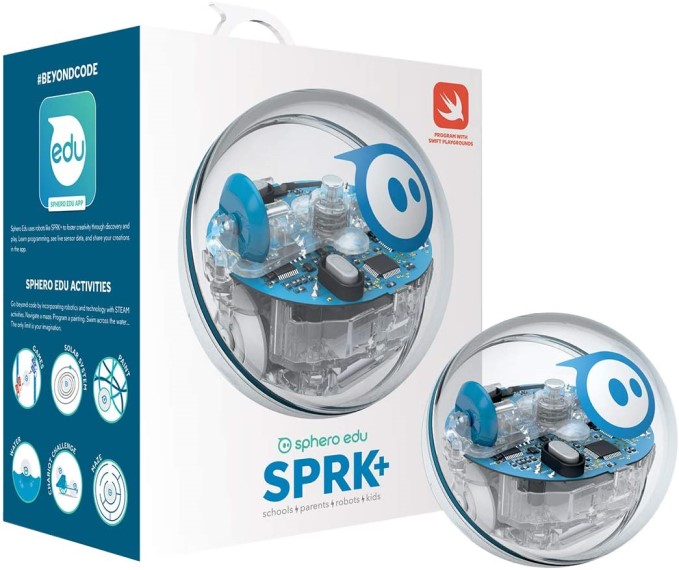 Sphero SPRK+ is a programmable robot ball designed to inspire creativity and curiosity in kids through coding and play. Designed for kids above five years old, Sphero SPRK+ helps them understand and learn how to program and operate the robot. The system is powered by its own Sphero Edu app, where you can share your creation with the community, receive feedback and learn through hands-on activities.
With Sphero Edu and SPRK+, you can collaborate with a growing community of parents, educators, and students all over the world. This educational robot is scratch-resistant, waterproof, charges inductively, and can connect with SMART technology via Bluetooth.
Product Features:
Featuring a polycarbonate shell that is scratch- and shock-resistant.
Sphero Edu is compatible with iOS, Android, Mac OS, Windows, Chrome, and Kindle.
LED lights and programmable sensors.
Inductive charging and Bluetooth Smart Connection.
Easy to learn, create, and code.
Get it on Amazon: Click Here
2. VTech KidiZoom Smartwatch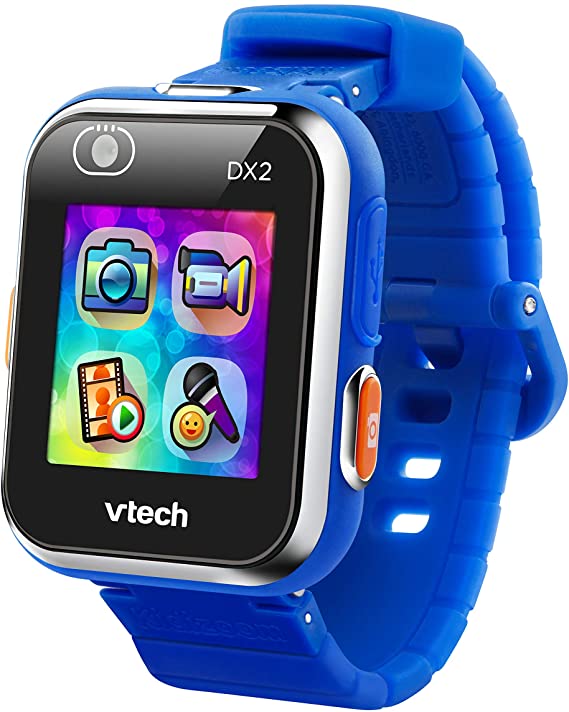 It's fun for kids to look at a smartwatch and see the time, and it makes them feel like adults. The VTech KidiZoom is an ideal smartwatch for kids. The device is kid-friendly, reliable, and lets kids play games, take pictures, and create high-quality videos. Silly Me app then lets you customize the photos and videos into watch faces by using funny filters.
Moreover, it includes games such as Monster Detector that use the camera and AR to help kids discover and capture monsters in the real world. There are motion sensors, a pedometer, and sound effects included for active play challenges. Parents can even download additional free games, watch faces, and camera effects to their kids' Multi-watches from Learning Lodge.
Product Features:
Kids-friendly design, splashproof, stylish, and secure.
Captures quality photos, selfies, and actionable video.
Customize photos with funny filters to make them watch faces.
Safety allows parents to upload photos and videos at their discretion.
The learning lodge offers free games, watch faces, and camera effects.
Get it on Amazon: Click Here
3. VTech Write & Learn Creative Center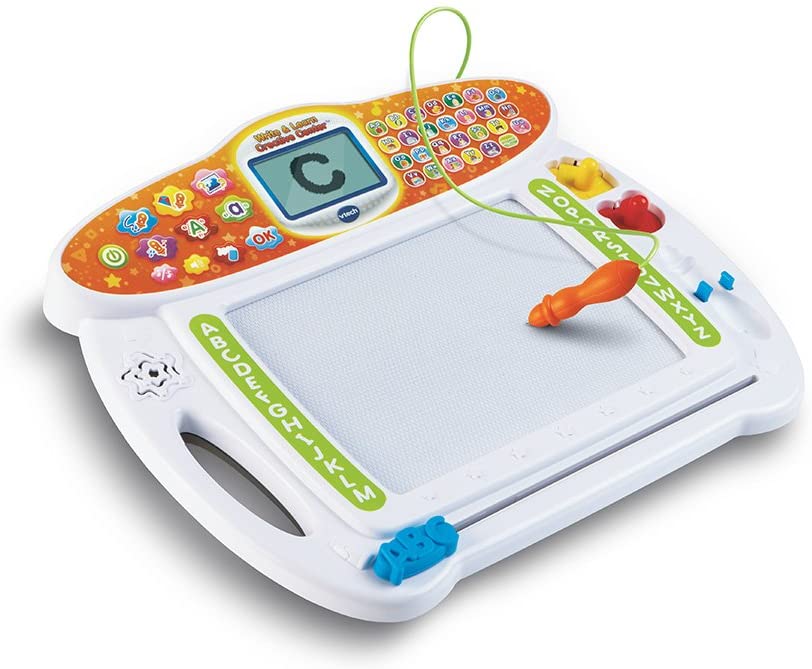 This is yet another product from VTech. By using the Write and Learn Creative Center by VTech, kids can learn how to write and practice their writing skills. It has animated demonstration that is very beneficial for preschooler kids to learn proper letter formation and differentiate uppercase and lowercase.
It is intended for kids in the age group of 3 to 6 years old. It's easy for parents to add their kid's name to the creative center, and it shows kids step-by-step how to write it. Afterward, your child can explore creativity by drawing a picture using the included stencils and stamps. In order to operate regularly, it requires two new AA batteries.
Product Features:
The product includes six activity modes as well as animated demonstrations.
Write and spell names, distinguish uppercase and lowercase letters, and draw basic shapes and objects easily.
This stencil toy helps children learn how to draw by taking them from lines and shapes to 26 different objects.
Boosts memory by allowing kids to recognize and memorize images.
Inspire creativity and interaction with cheerful music.
Get it on Amazon: Click Here
4. Osmo Genius Kit for Fire Tablet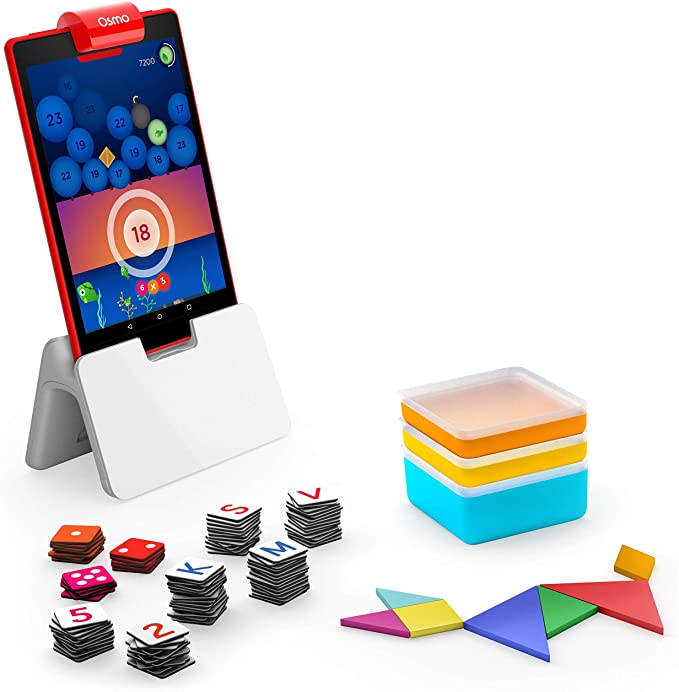 You'd love this other cool tech gadget for your kids. Kids can use Osmo Genius Kit to learn science, draw, and play interactive games together. The device is designed for teaching purposes, such as matching puzzle pieces to shapes on the screen, solving creative physics puzzles by drawing lines, or positioning objects.
Using an iPad, the kids can interact with handheld pieces. Since there are no Wi-Fi or internet requirements, you can bring the games with you wherever you go.
Product Features:
It consists of 5 Award-winning games transforming your fire tablet into a learning device.
It includes an Osmo base, game pieces, fire tablets, and stackable containers.
For kids 5-12, designed to grow with them.
Solve visual problems, solve puzzles, learn math, draw freehand, gain listening skills, learn about physics, and improve spelling and vocabulary.
Children learn through experiments and receive feedback in real-time.
It supports the new Fire HD 8 tablet, and requires a separate reflector adapter.
Get it on Amazon: Click Here
5. LittleBits Electronic Music Inventor Kit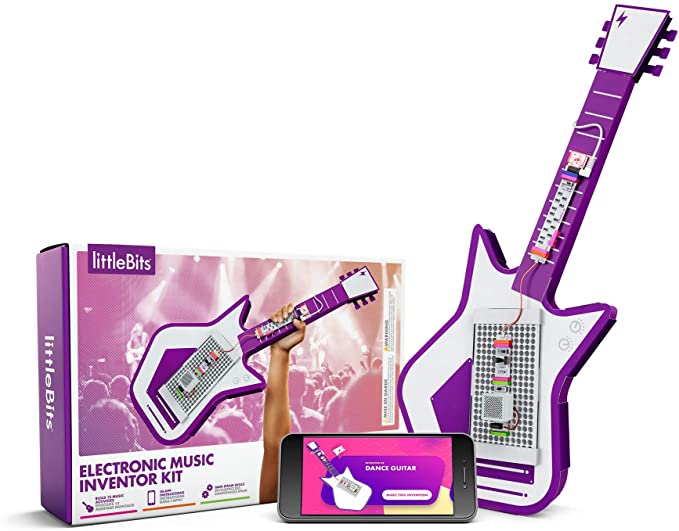 Children who love music and aspire to be musicians will love the LittleBits Electronic Music Inventor Kit. This electronic music inventor kit from littleBits empowers your children to create and invent music of their own. Your kids can learn from real-life inventors with its app, the littleBits app. The app also has 12 in-app activities that will allow you to teach your child how to play synth guitar and air drums.
Step-by-step instructions are included in the app, making assembly easy. The kit will give your children the opportunity to develop transferable musical skills and to understand the creative world around them. Littlebits app is compatible with the vast majority of iOS and Android phones.
Product Features:
Features a 9V battery to power Tech sensors, an oscillator, a keyboard, stickers, paper templates, and an inventor app.
Create your music easily with this easy-to-assemble kit.
There are multiple inventions in each kit, including a magic guitar, dance guitar, keytar, and air drum.
Real-life inventors with 12 activities within the app.
Assembling the pieces requires no adult supervision since the app includes a tutorial.
Get it on Amazon: Click Here
6. Botzees Coding Robots for Kids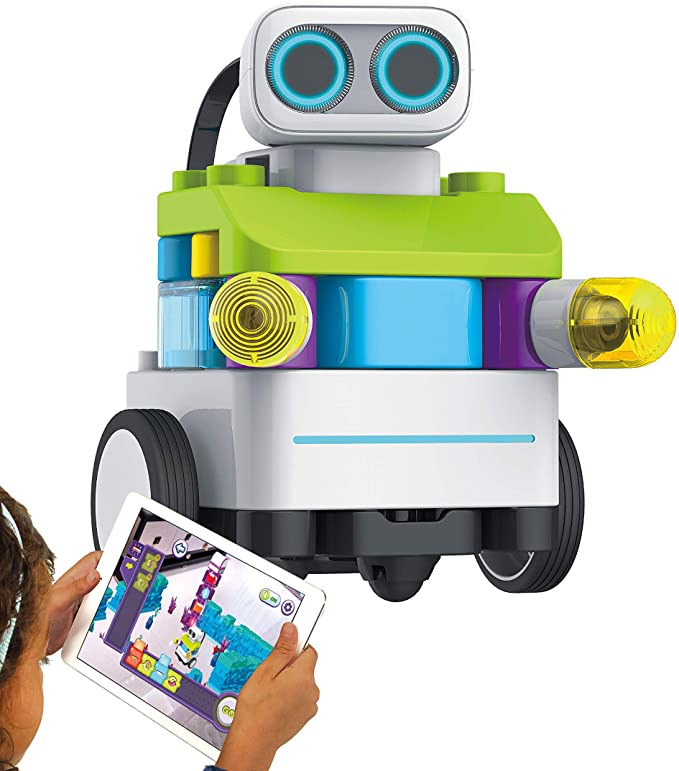 Botzees Coding Robots is a global brand and award-winning STEM toy. It is recognized by numerous organizations, including Purdue University, Toysagazine, Mothering Magazine, and more. The Botzees kit brings coding, creativity, and construction together for kids ages four and up.
The kids can code and program six different Botzees pre-designed or program their own. This free app lets you teach Botzees to dance, drum, make sounds, and light up. With 130 unique, easy-to-grasp, rounded-edged blocks to play with, the kids are encouraged to be imaginative with tactile, tangible play. Additionally, you'll have access to 30 interactive Augmented Reality (AR) puzzles with the compatible AR app that teaches additional coding concepts.
Product Features:
Botzees' robots can dance, drum, light up, and make sounds using its free Botzees Edu app.
The STEM toy introduces younger learners to coding and augmented reality.
Easy to Build a robot using motors, sensors, and shaped parts.
It contains 130 blocks of unique shapes, motors, a sensor, and each piece needed for endless imaginative play.
Botzees Edu app is compatible with most iOS, Android, and Kindle Fire devices.
Get it on Amazon: Click Here
Summing Up
From an early age, parents hand gadgets to their children. As soon as the child operates these devices, the parents are very happy and proud of their child. Kids and Technology may seem like the perfect combination, but if they remain unnoticed, it can have serious consequences. As a result, even with such advances in technology, the choice lies with the parents whether or not it's something their kids should implement.
We've provided you a list of Technological wonders that your kids will love. It is safe to assume that the gadgets listed above will contribute to your child's learning and building skills, as well as, your child will develop creatively as well as develop a sense of responsibility. Furthermore, by building together, you will be able to explore their creativity and curiosity and further strengthen your bond with them.
You May Also Like