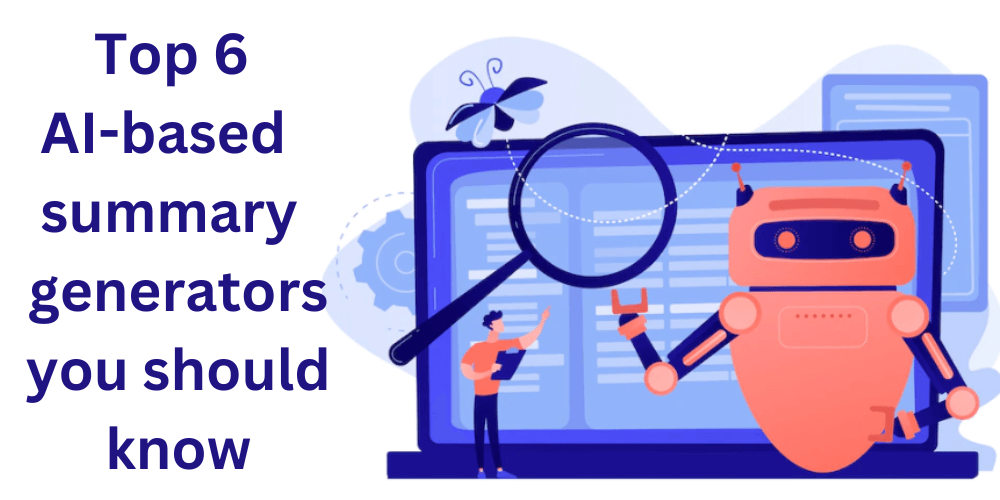 Condensing a lengthy text into a manageable length while maintaining all of the important informational components and the meaning of the content is known as summarization. Text summarization has significant uses in a range of NLP-related tasks.
Some researchers find it challenging to summarize, but it's crucial to strike a balance between providing too much information and not providing enough. We tested several of the newest AI-based summary generators with this context in mind.
Do you have trouble finding the time to summarize that lengthy article you just read? If so, you should look into these outstanding summary generator programmes. These programmes can help you complete your work quickly and effectively while also saving you time and energy. Let's take a look at six of the top text summarizers and summary generators available today.
What is a Summary Generator?
A great tool for creating an online summary of any article you read is the summary tool. The summary generator will give the reader the essential information about an article without going into excessive detail or including extraneous details.
It condenses a lengthy article into its main points and wraps up a text to a predetermined short length. Because of time constraints, there is a growing need for text summarization tools.
Use Cases of Summary Generator
There are many different applications and industries that use text summarization.
These consist of:
Using video editing platforms, create chapters for YouTube videos or educational online courses.
You will need to write numerous summaries throughout your research career for a variety of audiences and goals. The length and tone of the summary can be changed with a good text summarizer.
Corporate meetings can be summarized and shared to cut down on the number of attendees.
Using revenue intelligence platforms to automatically identify crucial call segments and flag them for follow-up.
The content is summarized using more words by a good summary generator. It does more than just rephrase important passages one at a time.
Dividing up podcasts and automatically giving listeners a Table of Contents.
Top 6 AI-based Summary Generators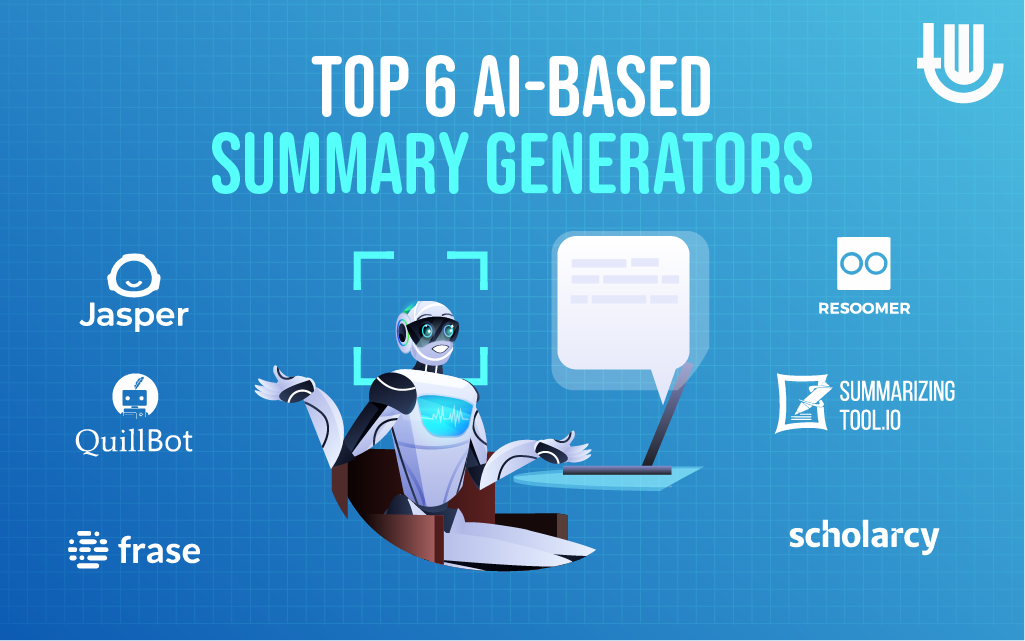 You can sum up any passage of text or a whole piece of content using a summarising tool without using the precise words and phrases. Let's look at the best choices!
Jasper.ai

Jasper's Text Summarizer is an excellent tool for experienced users looking to boost their productivity. You can write in the summarizer first, then edit the text to make it your own. For academic users who are looking for tools to aid in the writing process rather than just understanding, Jasper's Text Summarizer is fantastic. You can be sure that you're getting the most accurate and recent summaries because it uses artificial intelligence and is constantly learning and developing.
Features
A tool that is very versatile for any academic writer.
Enables you to overcome writer's block.
Help you narrow down a text to its core ideas, making it simpler to comprehend and remember.
Also make it easier to write essays or reports on the material by assisting you in identifying the main themes and ideas in a text.
It has a word count cap of 600.
QuillBot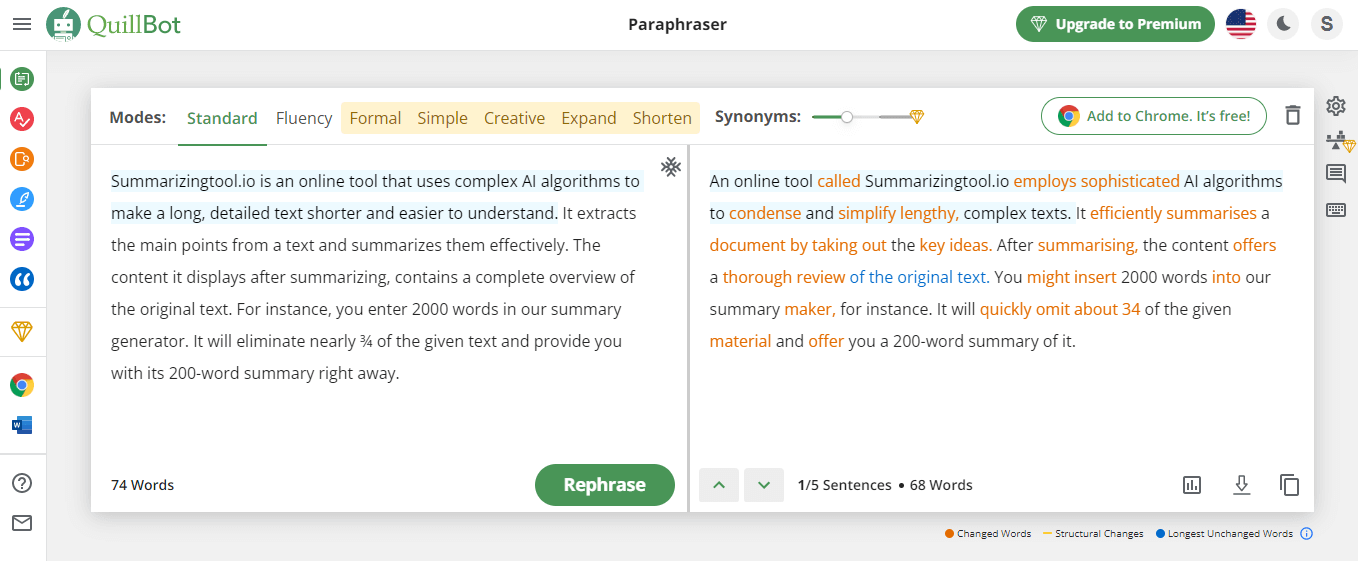 One of the best summarizing and paraphrasing tools on the list is QuillBot, which can quickly and accurately summarize any type of text, including articles, newspapers, research papers, and lengthy, difficult paragraphs. It locates the most crucial and pertinent information while preserving the original context by using natural language processing.
This AI-powered tool quickly analyzes a textual passage and produces a summary based on the most crucial sentences. Quillbot is powered by artificial intelligence, so the more you use it, the smarter and more accurate it becomes.
Features
Use its advanced settings to make their writing clearer and more cohesive while also enhancing their vocabulary, grammar, and spelling.
It has options for summaries that can be fine-tuned.
It can condense the content into one paragraph or just the most important bullets.
Up to 1200 words are included in the summarizer.
Scholarcy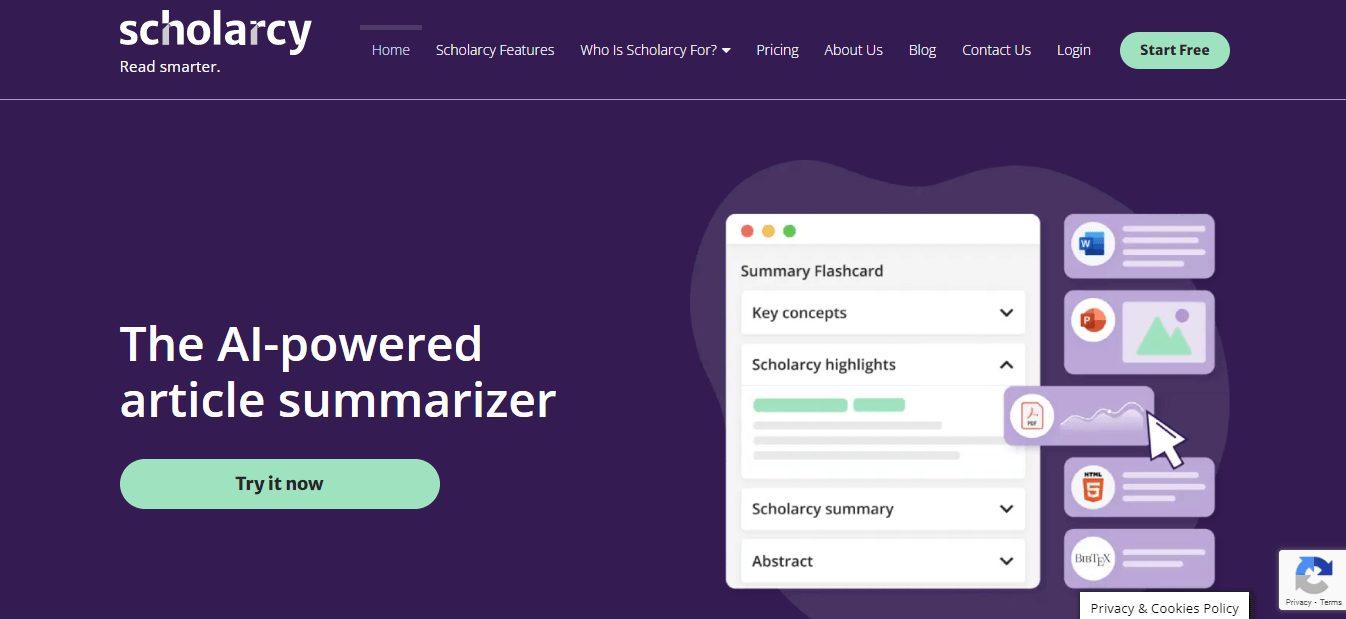 A web-based tool called Scholarcy reads your content quickly and divides it into bite-sized chunks for easier access and evaluation. With just a few clicks, students, librarians, and publishers can easily access information thanks to this AI-powered article summarizer.
Features
Helps you quickly read content at a faster rate, follow arguments, and remember the main points.
Creates and finds summaries for you, extracts tables and figures, and suggests background reading.
Specifically developed for academic users.
Summarizingtool.io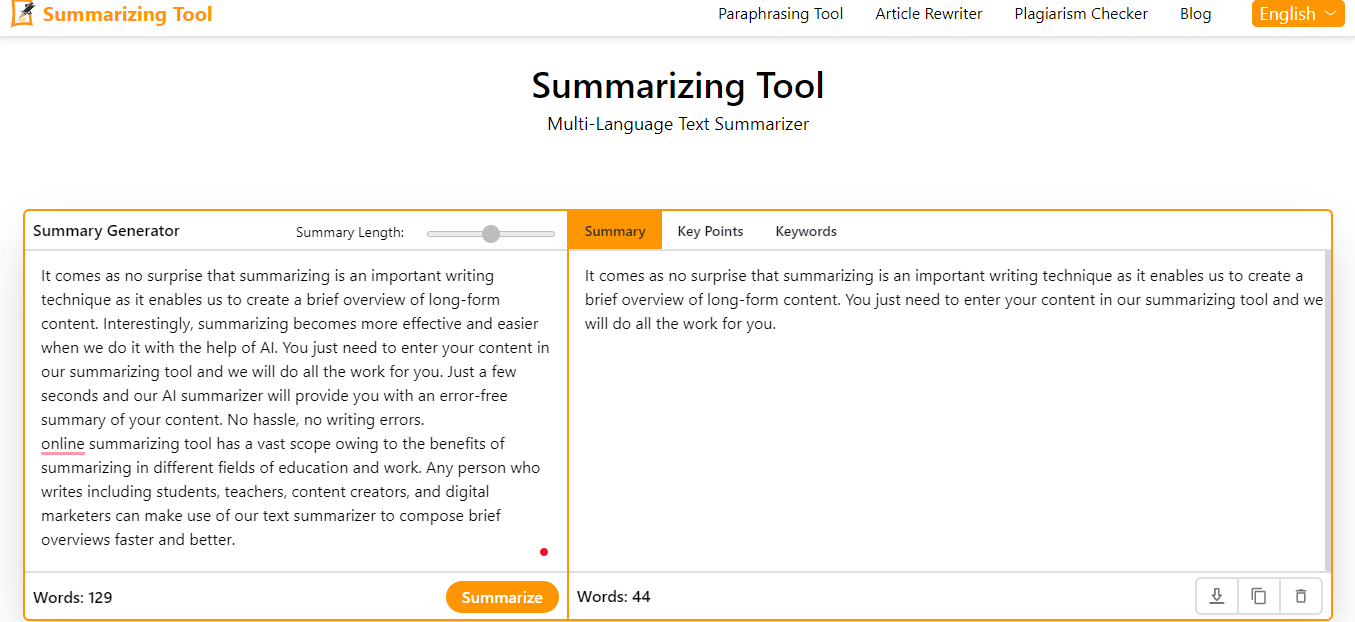 It's yet another free summary generator that lets you summarize any portion of text. The general strategy is still beneficial to any busy professional, teacher, or student, but it helps readers who have trouble processing dense amounts of information. By using the tool, you can more efficiently allocate your time to analyze the most pertinent and engaging content, increasing the amount you learn while reading less.
Features
Summarize information quickly without compromising the original intent or voice.
Make complex sentences simpler and easier to understand by restructuring them.
Text can be rewritten in various ways to add more variety.
Resoomer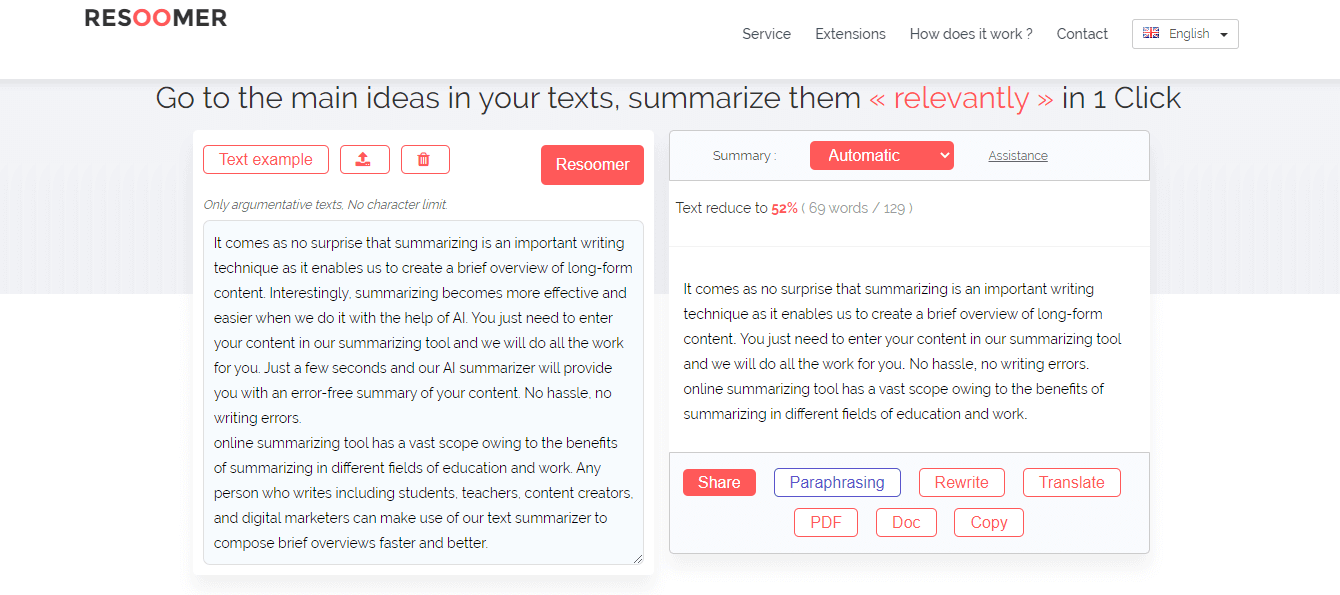 Resoomer is a further superior summarizing tool for university students, editors, professors, and anyone else who needs to draw out only the most important details from a lengthy, intricate, and complex text. You can use the tool to quickly interpret the text by sorting your content according to crucial elements, important subjects, and key ideas. It is a simple-to-use tool that enables you to sum up or analyze text whenever you need to.
Features
It is an effective tool for semantic analysis because its AI algorithm can determine whether a sentence is significant.
Simply use the feature; there is no need to register.
Accessibility for various browsers.
The user interface is easy to use, quick, and simple.
Frase.io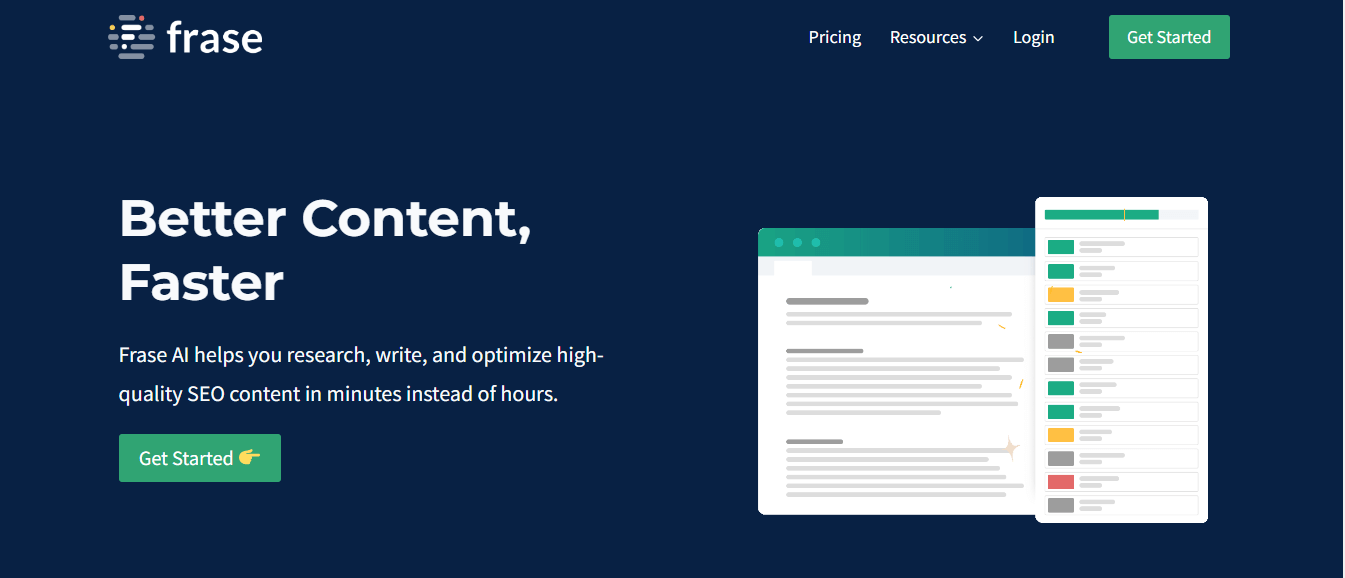 Frase.io is an excellent option for anyone in need of a summary generator that employs advanced algorithms. Check out Frase.io if you're looking for a fantastic online summarizing tool. It does a great job of picking out the most important details and condensing them into a clear format. It is made to help you quickly summarize lengthy blocks of text.
Features
Determine the text's most important facts.
Offers features like custom questions and key insights that are helpful.
There is no charge to use the summary generator.
Conclusion
Using tools to make your words more meaningful is perfectly acceptable, and the institute may even require them in certain circumstances. Some tools are made specifically with students in mind because, as we already mentioned, they are used primarily by them. These tools make it simpler for anyone who dislikes the effort, from the simplest tasks to the most time-consuming ones.
You May Also Like