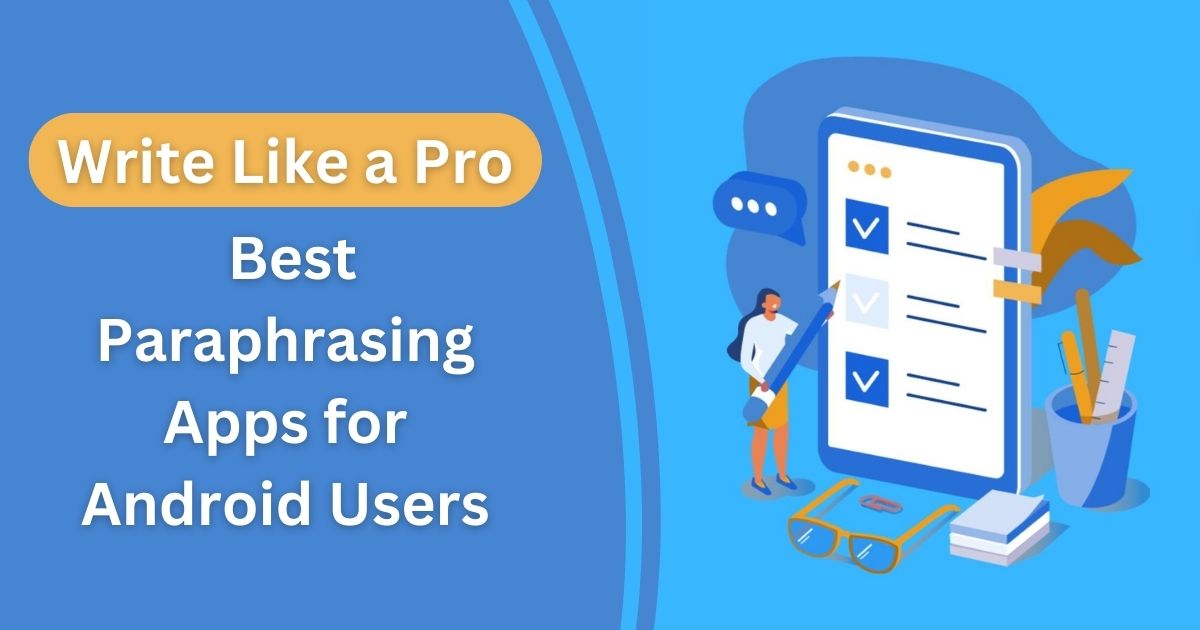 An ultimate solution to avoid plagiarism in your content is by rephrasing the lines and making them unique from the original text.
Sometimes the files are present in the mobile phone so here paraphrasing applications can come in handy as they can assist you in recreating the old content.
There is a never-ending list of paraphrasing apps present on the play store that can be helpful in rewriting old ideas however not all the application present on the search engine are trustworthy.
For that purpose, we are going to talk about the best paraphrasing apps that are top-reviewed on the play store.
List of Best Paraphrasing Applications on Play Store
Here is the list of best paraphrasing applications that are 100% trusted and can assist in making the content unique.
Let's have a look at each of these applications with their features.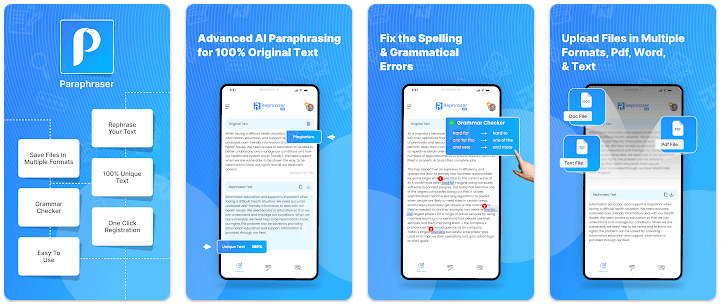 Paraphraser provides you with some unparalleled benefits in terms of unique paraphrasing as the application always makes sure to keep the content 100% unique and authentic.
While you paraphrase the content in this app, you don't have to worry about the real meanings of the content as this AI-powered paraphrasing application makes sure to preserve the actual meanings of the content.
The built-in grammar checker in this paraphrasing tool avoids grammatical errors in the content and keeps the lines easy to read.
Once you are done with paraphrasing the content, you can save the new file on your device in multiple formats like PDF, Txt, and Doc.
Another fantastic thing about this paraphrasing app is its website, rephraser.co, which comes in handy while working on your laptop or computer, or even when you don't want to spare memory for any additional app or software for a one-time job.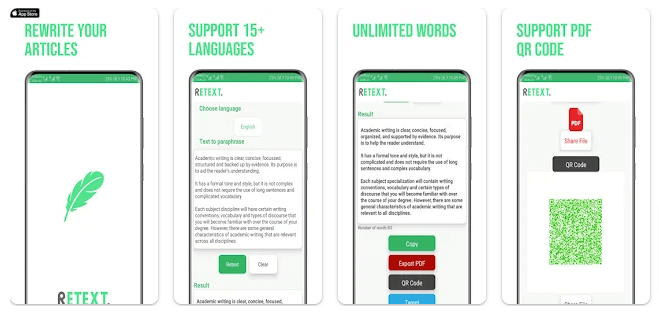 Here comes another top-rated paraphrasing application that can assist you in renewing the old content and making it unique and original one.
This paraphrasing app ensures to provide you with content that will have the same meanings as the original one.
Other than that, this rephraser can work on all Android versions no matter if you are using an old phone or the latest version.
One of the best things about this paraphrasing application is that it has a huge library of synonyms. Therefore, it replaces the words in the best possible way to ensure the uniqueness factor.
Furthermore, this paraphraser app supports multiple languages that include German, Greek, French, Romanian, Russian, English, Arabic, and many more.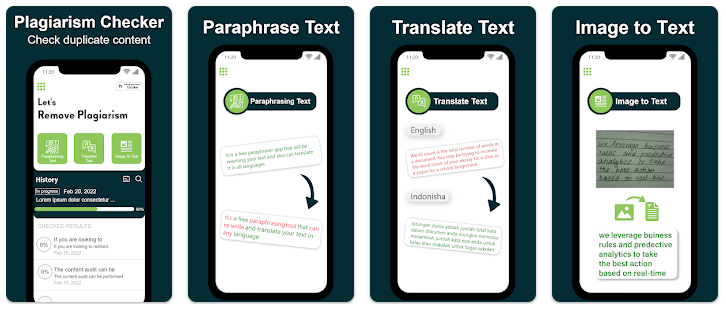 The paraphrasing application by Dynasty App Studio is one of the greatest user-friendly applications that you can use to recreate content both online and offline.
This paraphrasing application is a perfect choice for writers, bloggers, students, and marketers as they give an appealing and engaging look to the content.
Using this paraphraser, you can make your plagiarized content unique.
This rephraser has a huge vocabulary that assists in making changes in the lines.
On top of all the features, this paraphrasing application can be operated on all Android devices so you don't have to worry about the version of your mobile.
Other than that, this paraphrasing application makes sure to provide security to its users and never shares the data with any other party.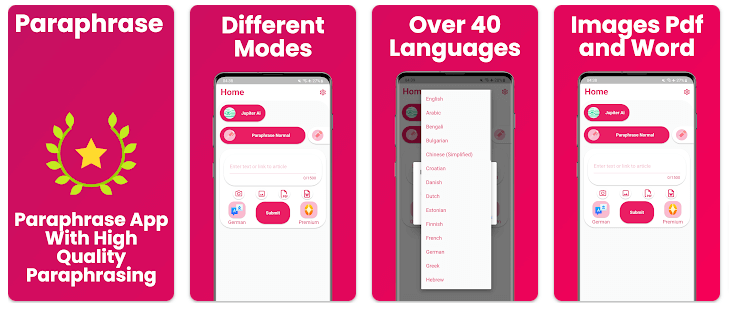 If you are looking to polish the quality of your already content and make it more engaging, you will not get a better option than this rephraser.
The thing that makes this paraphrasing application a better option is that it supports 40+ languages that include English, Arabic, Dutch, Croatian, Greek, Hebrew, Chinese, French, and many others.
Other than that, you will get multiple modes of paraphrasing in this app that includes academic, creative, normal, fluent, and simple modes.
You can run this paraphrasing application on all of your devices no matter if you are using an older version of Android or the latest model.
All the benefits you get in this rephraser are free of cost. You don't have to spend even a single penny for rephrasing the content here.
Just install this application on your device and rephrase unlimited files here.
Bottom Lines
Paraphrasing applications can never replace the human mind but still, they can make your job quite easy as they help you renew the old posts and give them a unique look.
Furthermore, the importance of a paraphrasing application gets increased when it provides you with authentic results without disturbing the real intent of your article.
For that purpose, we have discussed some of the top-rated rephraser applications that have a huge synonym library and can assist you in writing the best content.
Hope we provided you with some unique information that can help you find out the best paraphrasing application on the play store.
You May Also Like