For reading of e-books with easy interface, the android app 'Bookari Free Ebook Reader' is an excellent platform. Another popular ebook reader app is 'Wattpad Free Books & Stories' which is like a network for book lovers and is extending nearly 20 million free ebooks & stories.

When we log in to the wattpad app, we can make a big library with required books. Also we can chat with network members and write reviews on the selected books.
To read the books available with various types of formats, we can utilize the services of the book reader app named AlReader
With touchscreen and QWERTY keyboard the BlackBerry mobile phones are exposing their speciality for reading eBooks. BlackBerry App World is providing many ebook reader apps such as PlayEpub Book Reader that can change the BlackBerry into a proper ebook reader.
PlayEpub Book Reader app supports epub, mobi and pdf formats. We can use the app and read books in portrait and landscape modes. On running the app, books are visible on the screen and as we just tap a book which is to be read it will open. For reading according to our convenience we can change font, size, line space and Day & Night mode settings. There is also a possibility to search the text required, highlight text and know the meanings of difficult words through dictionary feature. Those books downloaded in zip format we can do unzip also.
For iOS users iBooks app is the ideal e-reader platform to download and read books which supports more than 40 languages. We can get free iBooks app from App Store and after installing it we can download the latest bestselling books from iBooks Store to read. It also supports books downloaded from public libraries in ePub and PDF formats.

Among the seven beautiful fonts in the app, we can select the required font style. Three varieties of page layouts and page background colors are available. There is a chance to highlight the favorite text and write notes to the pages. The important quotes and reviews about our favorite book can be posted in Facebook and Twitter.
The inbuilt search feature allows us to find out words and sentences in the book. Screen brightness can be adjusted as per the necessity. Important books and its notes can be uploaded into iCloud storage. The PDF documents and notes written in iBooks can be taken printouts through AirPrint.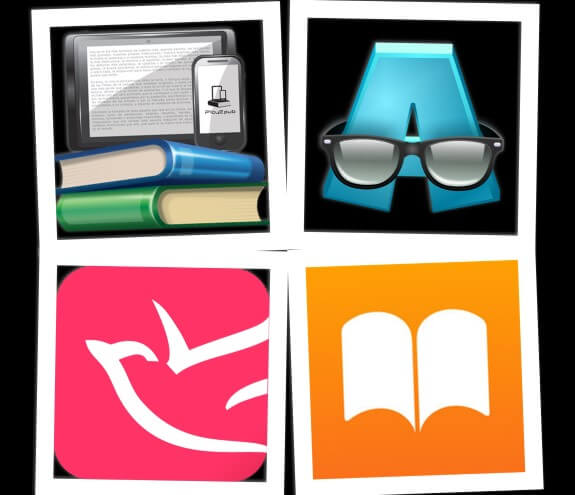 Top Free eBook Reader Apps