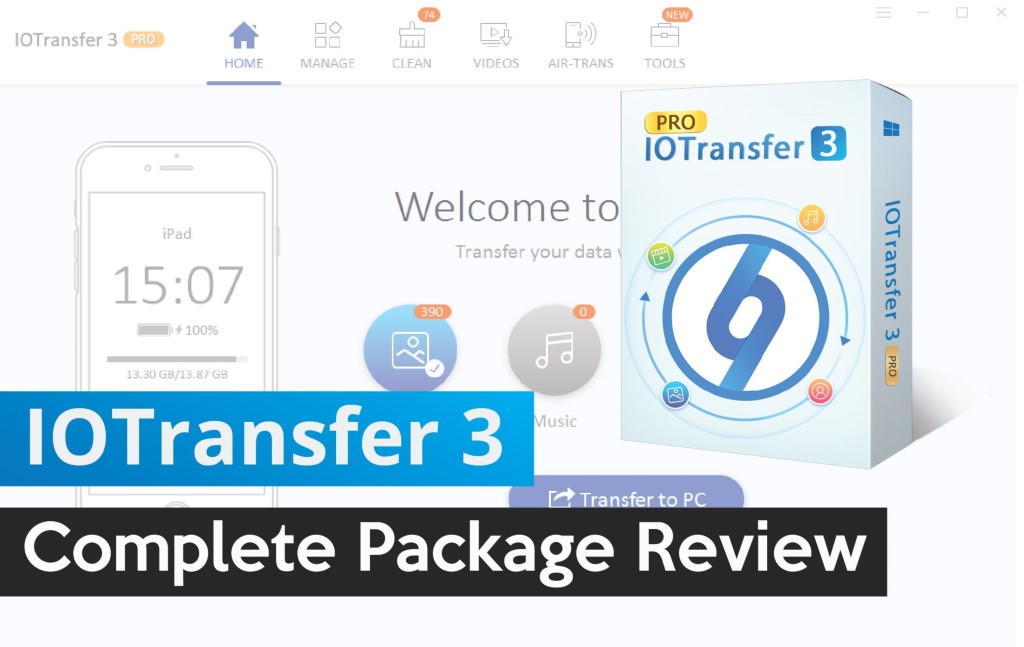 Do you know Apple creates its entire products based on the minimalist thought, "simplicity is the ultimate sophistication"? The phrase may sound ironic, because, as they say, iPhone file transfer is not that simple. When I brought my first iPhone, I thought it was impossible to transfer files to Windows. The truth is, Apple does isolate their simplicity to their own products, everything out of Apple circle is bit intricate. To fight it, there are many plugins and apps. One among them, the IOTransfer 3, is a big relief for users to share files. This software helps to transfer videos, contacts, music, podcast, iBook, back and forth from iPhone to PC. It not only functions as an iPhone transfer, but there are far more fascinating features in the application to explore, for instances, it works as a YouTube Video Downloader. It can also be used as a HEIC to JPG Converter, in case you are wondering HEIC to JPG file transfer is possible now. After finding out about this application through a friend, I decide to test this application. What fascinates me the most is, for testing the application, I do have an option to access the full version for the 7-day free trial.
Today, we got an update version of IOTransfer 3. This is going to be really cool compared to other versions. And, it's time to think much about this awesome software for managing iPhone data. Lets have a look at it. Before reviewing this software, it is better to know all its features by experimenting with it. Then, download IOTransfer 3 and start making fun.
How to get started
Once the installation process is over, you can plug in your iPhone or iPad into your PC. Then, open the IOTransfer software. You will get greeted with a home screen. There it will display all your music, photos, videos, contacts; users can export entire data instantly by clicking on the quick transfer button.
Sweet Home Screen – IOTransfer 3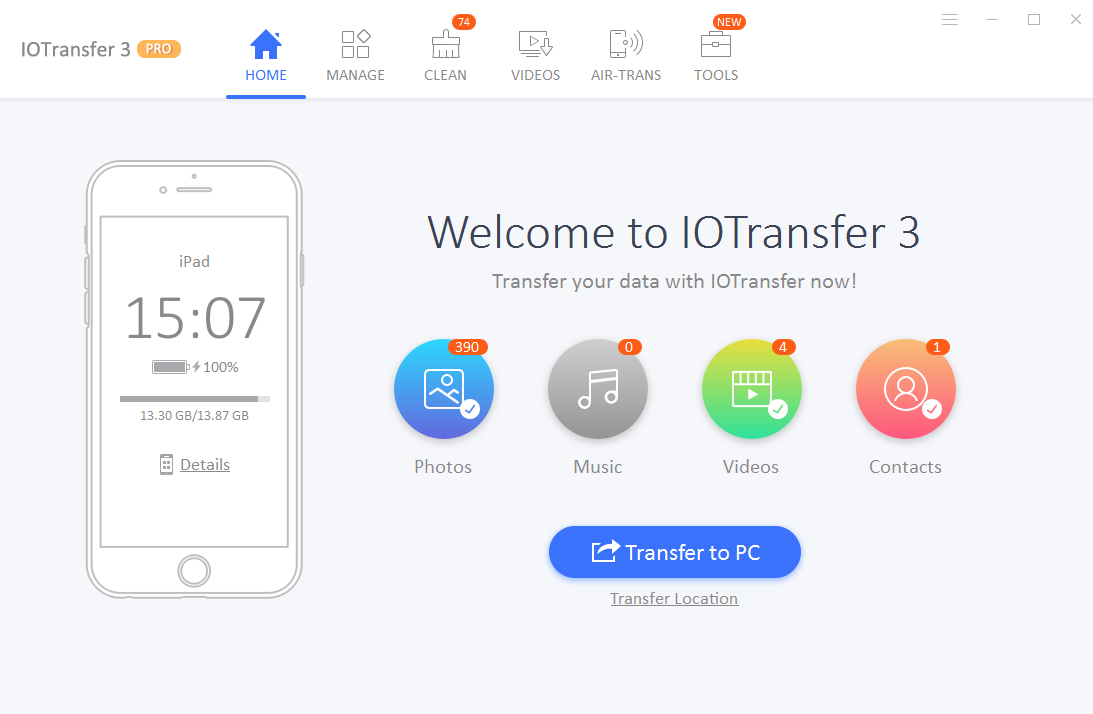 On the home screen, available iPhone data will show up. An instantaneous export of entire data is a great option on the home screen. But, the quick transfer is a rarely used function, unless the phone is backing up this function will not be touched. Apart from that, this app allows selecting a couple of pictures. For that, near to the home button, there is a Manage option.
With MANAGE option, manage everything on your iPhone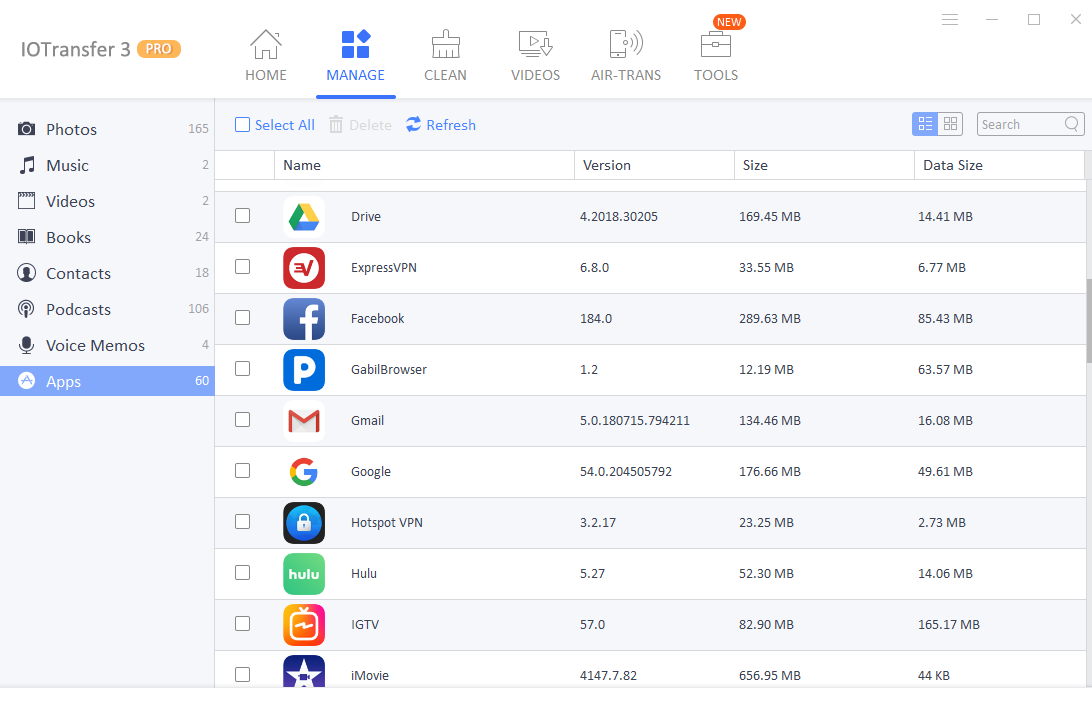 As its name suggests, MANAGE feature allows you to manage everything on your iPhone or iPad, be it photos or iBooks or music or contacts or podcasts, anything in a flick of a second can be transferred to your PC, or deleted permanently. This feature allows selecting a specific file or few files from the iPhone. Then it can either, import or export, to or from the Windows PC.
The first option under manage feature is Photos. Which allows exporting a few numbers of photos; I found the process of selecting a few photos quite intuitive. It is not sluggish like many other applications. Previews are popping up instantaneously. Not only the deftness of it astonishes me, but also it renders an HD quality thumbnail on its PHOTO interface. After selecting a few images, there is an export button to export it to any location on the PC.
Import images back to the iPhone
How to import images back to idevices like iPhone and iPad? For that, use the feature nearby the PHOTOS, that is the ALBUMS. An album can be created by clicking on the Create Album icon, after that, an explorer window will pop up for making selections. The Import process went smoothly. But, I wobbled for a while searching for that Album on my iPhone. I can not find it for a long time. Later, I found it along with the jumble of other files. But, from iPhone, neither the Albums nor the photos in an Album can deleted. To delete, the user must go back to the PC. The whole process of deleting an album seems to be a bit tedious. To avoid this, a workaround is, rather than importing to the Albums, it is better to directly import to the camera roll. This will avoid the annoyance of photo management, as the images can easily be deleted within the iPhone.


Once gone through the transfer of one single photo, the rest, that is, the transferring, and the managing of iBooks, music, voice memo, podcast, is similar, except for importing contacts. The approach to contact management is slightly different. Before importing, the icontacts has to disconnect from the icloud. Otherwise, the exporting of contacts to the PC won't go through properly.
How to disable the iCloud from the iContacts?
You can follow this breadcrumb on iPhone Settings > iCloud settings > iCloud > contacts. When you see the contacts option, turn off the slider near to the contacts. That is it. All set to back up your contacts to your Windows PC.
YouTube Video Downloader
Another enticing feature of IOTransfer 3 is having YouTube video downloader. There are many applications on the market, which functions like a YouTube downloader, but IOTransfer 3 does not have any limitation. The IOTransfer 3 not only functions as a YouTube downloader, but it also manages to download any video from various other websites. Copy the link from Facebook or Instagram or Twitter and paste that into the application. It will automatically detect the video. As the users wish, they can download video at any time. I have checked the quality of the video; indeed, I must say, the quality is, quite magnificent.
Wow Converter
This IOTransfer 3 application can also function as a converter. The videos can be converted to MP4, MKV, MLV or even to the audio formats. After doing this, files can be transferred to the iPhone or iPad. Moreover, this version solved one of the biggest concern of the latest iPhone user. Since the launch of iPhone X, a new file format, HEIC, has introduced by the Apple, but that type of file format won't read in Windows. In this application HEIC to JPG converter is automatic and can easily convert HEIC photos to JPG format for opening on Windows computer.
Wireless Transfer
This software has added the most useful wireless transfer under their functionality. It is named as Air Transfer. Your photos or music, anything for that matter can be easily transferred from/to PC thru WiFi using this feature. To do that, first of all, the Air Transfer, an app available on the App Store should install onto the iPhone or iPad. Then you can wirelessly transfer all media files from iPhone to Computer without using iTunes.
Junk Remover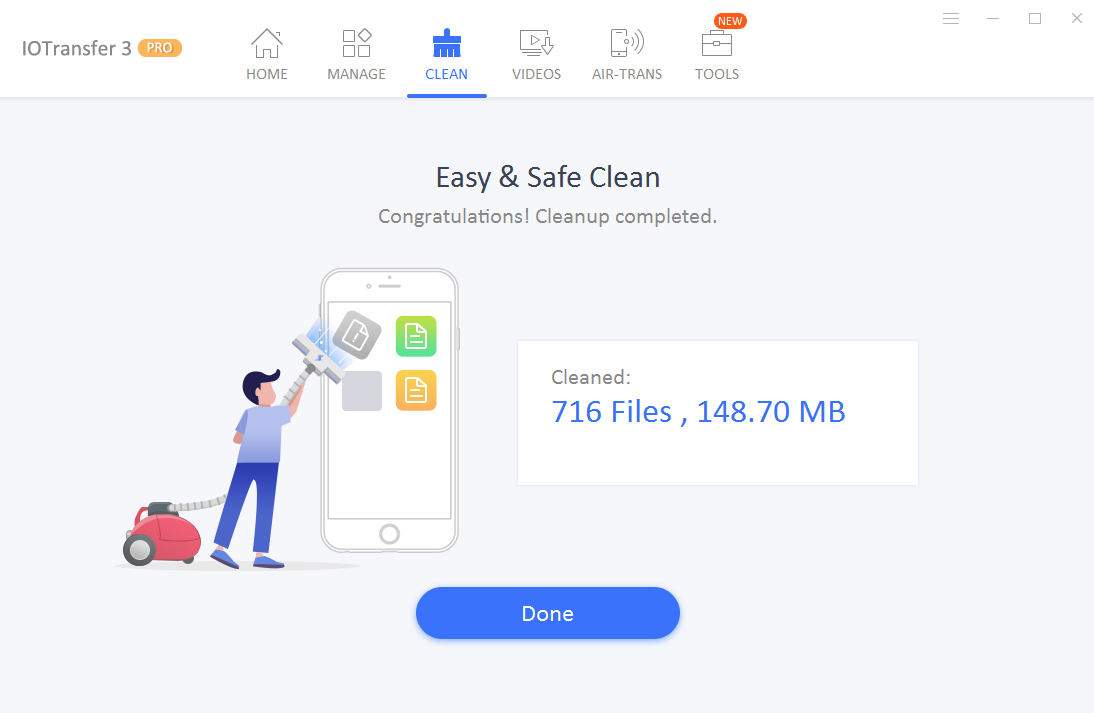 After working for long, there is a chance that cache can pile up on your iPhone and you run out of space. If you are using a lot of apps installed, then this can result in gigabytes of occupied space. Thankfully, by using IOTransfer 3 CLEAN feature you can quickly scan your iPhone or iPad and all those junk files can be removed from your device to recover your precious storage space.
Overview
All in all, I can say that IOTransfer 3 software made my work so much easier. I would highly recommend you to use this ultimate iPhone/iPad manager and video downloader software. Hope, now you got a cool tech tip today.