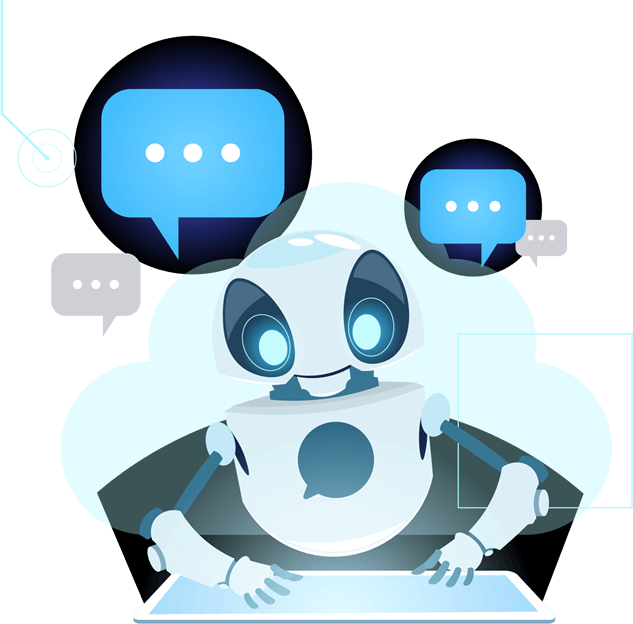 Every business understands the importance of good quality customer service and in today's age of digital marketing and social media, there is a constant need to find new ways to reach out to the consumer.
In this light, more and more businesses are using chatbots in customer service to provide more personalised and faster outlets for customers to contact them. Many people also tend to prefer live instant messaging instead of making a phone call. Read on further, to understand more about this new trend in customer service.
But before we go any further, let us first understand what a customer service chatbot is:
A chatbot is a computer programme interface that is designed to independently hold a 'human-like' conversation via text messages or audio.
How can AI chatbots offer good quality customer service?
Chatbots are increasingly becoming a sought-after tool to offer an existing or a prospective customer a satisfying experience when it comes to customer service. There are quite a few reasons for this. For one, it helps business automate the customer service team and offer more customized virtual assistance. Listed below are some of the major advantages of this platform:
Quick resolution: For example, customer 'A' wants to purchase a particular suit and tries to buy it online. However, the stock runs out and the customer is not able to place the order. He tries to contact the customer helpline number but is not able to reach out for some reason. He posts on their social media profiles but is unable to get a quick answer. In this situation, he logs on to the official website of the company, where the company has put in place a live chat. On the chatbot, the customer gets a response immediately to his query.
A revolution, quite literally: Companies that are doing really well today, have changed the way they interact and communicate with their audiences. In fact, some of the best chatbots for customer service offer the buyer the privilege to ask any type of question. This may not always be the case when it comes to a phone conversation, where the call might be redirected numerous times to the concerned department. With more and more people preferring this type of instant chat, it may gradually bring down or even replace the traditional phone support services.
Offers customers better information: Often, when a customer makes a visit to a website, he/she may be flooded with too much or too less information. This may make it quite challenging to find what he/she is exactly looking for. In this scenario, a chatbot can provide the customer with precise information which may otherwise be difficult to look for.
Better accuracy: The chances of a bot making a mistake is quite less, making the accuracy rate of information given out comparatively much higher in all instances. This is because technologies scan and store customer data, based on which automated responses are given out. Unlike a human being, the chances of misunderstanding or wrong interpretation are much lesser.
More engagement with the customer: It has been observed that bots are able to engage with customers, in a more active and positive manner. Bots can also interact with customers post the purchase process and resolve any queries.
What does a business want from a chatbot?
Enterprises and organisations expect bots to act as virtual assistants. It is important for companies to decide what their bot will offer, such as:
Feedback to some of the most frequently asked questions.
Bring down the number of calls the customer service team receives.
Also, avoid the hassle of answering too many emails.
Let us now look at an example of a chatbot message:
Customer: I am looking for a black women's suit in size 6. However, my size is not available. Can you Help me?
Chatbot: Sure. We have many options. Let me share them with you.
Customer: Thank you.
Chatbot: You are welcome. Let me know if you need anything else.
From the above example, it is very clear that the bot is able to help the customer in a very quick manner. Also, the responses provided specifically answer the question that is put forth by the customer. Hence, the query of the customer is solved in a very impressive manner.
Bots can also learn and provide better services.
Yes! This is true. One of the major advantages of chatbots is that they are able to effectively draw information from past interactions, store the same and use that database to provide better answers to questions in the future. This is because of artificial intelligence, which allows the bot to absorb information and use the same for positive results.
Last words:
Remember that a bot is not just a replacement for real customer service representatives. In fact, some of the best chatbots compliment customer care executives and collaborate with them to offer better quality customer support on the whole. Also, bots offer customers the option to choose to talk to a support executive over the phone in case the query or problem is not solved by the chatbot. There is no doubt that bots can come in handy and help businesses in a highly effective manner.