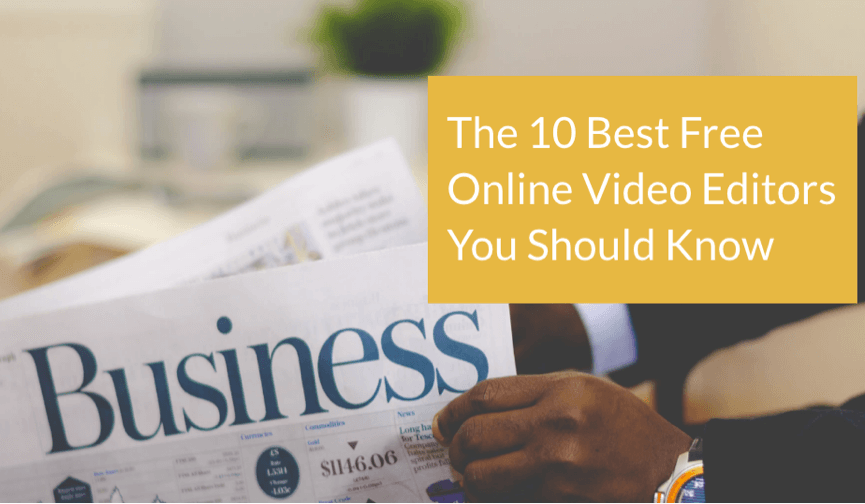 Videos are the most demanded and consumed format of recent years. They have turned YouTube into the second most used search engine in the world behind Google, and they have caused the world television audiences to fall slowly but inexorably with each passing day.

Whatever your type of business, you need to create videos if you want to be really competitive in the market today. You have never recorded a video before, or do not know how to build it? Do not worry; you will not have to spend a fortune buying the licenses of some of the most popular programs.
Luckily, there is a multitude of free online tools with which to produce videos that look totally professional. Do you want to know what the 10 best free online video editors are and know their main features?
The main advantage of the free tools for editing online videos is that, in addition to not costing you hundreds of dollars, you can work your videos in the cloud, without installing any software on your computer.
Many of them have payment methods with advanced functionalities, but their free versions are good enough to respond to the needs of users of basic or medium level in terms of video editing.
Very intuitive and easy to use. It allows you to make a maximum of 5 minutes of video every time. You can upload your own photos or videos, and add text, watermark, music, voice over and more. The best of all, FlexClip is free. You can download your videos for free without a product watermark and choose from the 480p, 720p or full HD 1080p output quality.
Ideal for beginners. The free plan lets you upload files of up to 1 GB, the same amount of storage and 10 minutes of video. The resolution is lower than the previous one: 480p.
For those who do not want to complicate life in the least and wish videos to publish on YouTube or social networks, Magisto is a never-miss-out choice. Upload your video, choose a template and music, and the program automatically makes the assembly.
It allows you to make videos with animated characters. The free plan includes the option to choose between 10 melodies, 11 styles and a maximum of 5 minutes duration. You cannot download them, but you can share them, although without commercial rights.
It is touted as the simplest video editor in the world and possibly it is. If your parents have never played a computer and want to edit a video, choose this tool for them. In addition, your free plan lets you publish in HD quality on YouTube and make as many videos as you want.
Quite versatile online movie and video maker! It has more than fifty templates of a multitude of themes that let you assemble the video just by including your clips or photos.
The good thing is that it gives you a lot of freedom when it comes to ordering or editing videos, cutting sequences and including effects, your own music or your audio, etc. It will allow you to download one-minute videos, with 600p resolution.
Wideo is an ideal tool for marketing videos. It allows you to create animated videos with your own material using transitions, different types of text, images, and other common effects in video editing. You also have the option to customize some predesigned examples. It offers seven days of trial.
You have a library of templates of different styles, and you can create videos of up to 15 minutes using clips and photos. It has a simple interface with useful tools that allow you to add text, audio, transitions, speed effects, etc.
WeVideo makes it easy to capture, create, view and share your movies at up to 4K resolutions. You can use audios, images, graphics, videos, and music tracks, and you're in complete control with different transitions, text, motion effects, and much more!
Renderforest makes video editing easier and simpler. You can choose from templates for customization or build your story from scratch. You can alternatively choose colors, music, and even record a voiceover.
These tools make up our "top ten" of the best free online video editors. But surely you know some other useful tools. Comment below to share them with everyone.
You'll also like: Filmora – A Video Editing Software That Meets All Your Needs