When you ask the video editing aficionados to name one software that is packed with everything that one needs, they would all answer in unison— Filmora.
What is Filmora? Why is it being touted as one-stop solution for video editing? Let us find out.
Filmora – The Best Video Editing Software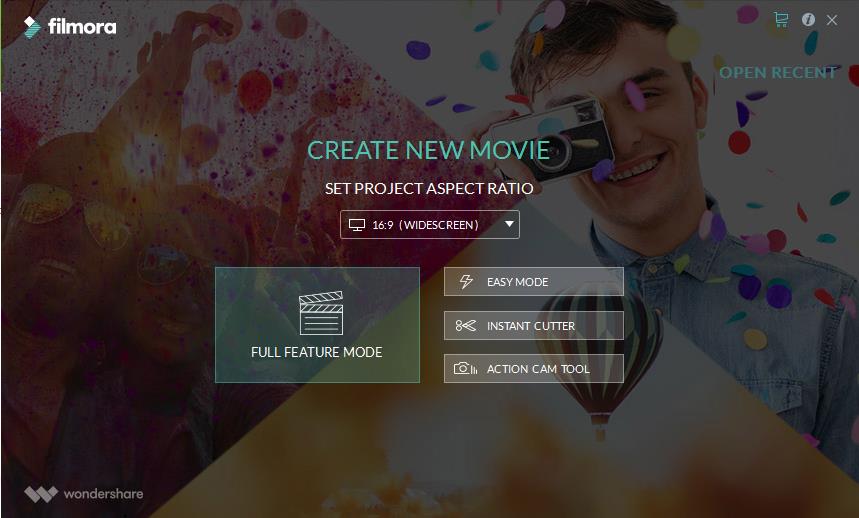 Filmora is the best video editing software which is used on the standard of Wondershare. It provides simple and at the same time high quality experience which enables you to import audio/video/photos from Android, iPhone, cameras, iPad, and camcorder, including other devices as well. You can even share your photos from different social media platforms to the software.
Crazy Bunch of Features
If you are a hobbyist video editor and want to learn the complex nuances of video-editing, then Filmora is the best video editing software to start. Its intuitive design and simple interface makes it is easy to use for beginners and professionals.
Filmora has a big horde of features; so whenever you get stuck at something, it lets you find a way out. It functions as a great alternative to Windows Movie Maker and allows you to manipulate cropping, trimming, joining rotating, splitting etc.
With its no watermark, you can easily make modifications in different aspects of the video viz. ratio, hue, brightness, speed, saturation, contrast.
Filmora has over 300 amazing video effects which offer amazing additions to stylize your video. Make use of these filters on video editors for the Windows. There are over 140 beautiful filters and overlays such as Music, Text, credit, transitions, elements which will fine-tune your video as you desire.
It is loved by the editors most for its royalty-free music of 25 copyright free songs in the music library. It is filled with various motion effects and overlays. It is huddled together with animated titles, screen record, user-friendly, smart and intuitive tools that enable you to make a Hollywood themed movies in a short span.
Editing Tools
You can split large videos into n number of small clips. The software provides three different ways to split the videos into small ones, frames, halves, multiple files. You can split the videos either manually or automatically. It is also the best video editor, video joiner, video trimmer, video cutter, available today.
With the rotating tool, you can crop a video into any size or frame ratio. You can rotate the videos according to a desired orientation. You can rotate it by 90 degrees or counter-clockwise.
This tool enables you to get rid of any unwanted part of the video. You can trim the videos both from the beginning and end. It also allows users to edit a video by splitting or cutting, combining, green screen, making split-screen video etc.
The speed of the video can be increased or decreased according to your desire of making a fast motion or slow motion video.
Make your movie brighter or dimmer via the brightness adjustment tool.
The audio of the file can also be edited on Filmora in terms of Pitch, Trim, Equalizer, Split, Voiceover etc. You can even change the volume levels of the audio and mute the video clip if you want.
You can also apply filters, different overlays, transitions, PIP etc. to prune the image files.
Advanced Tools
Pan & Zoom: Use smooth zooming and panning of video images.
Stabilize Video: This video stabilizer will eliminate camera shakes that appear on the video.
Colour Tuning: Modify the saturation, colour, contrast, brightness etc. of the video.
Play Reverse: You can use it to play the video backwards.
Scene Detach: You can detach the videos into different scenes.
Enhance Video: You activate the auto denoise and auto enhance the selected file.
Green Screen Option: You can overlay the subject on to various background video clips.
Picture in Picture: Run multiple video clips on different scenes.
Add Mosaic: You can add mosaic to conceal any improper part of the video.
Tilt Shift: You can add this effect if you want to focus on any part of the video.
Mix Audio: You can combine multiple audio tracks on the video.
Detach Audio: You can detach the audio track from the videos.
More Features of Filmora Video Editor
Drag and Drop
Timeline
Instant Preview
Effect Store
Instant Cutter
Action Cam Tool
In addition to the above features, Filmora launches new effect packs every month thus offering greater tools to create high quality videos. Coupled with a user-friendly interface, it is the best video editing software for both beginners and professionals to make movies on Windows 10/8/7/Vista/XP.