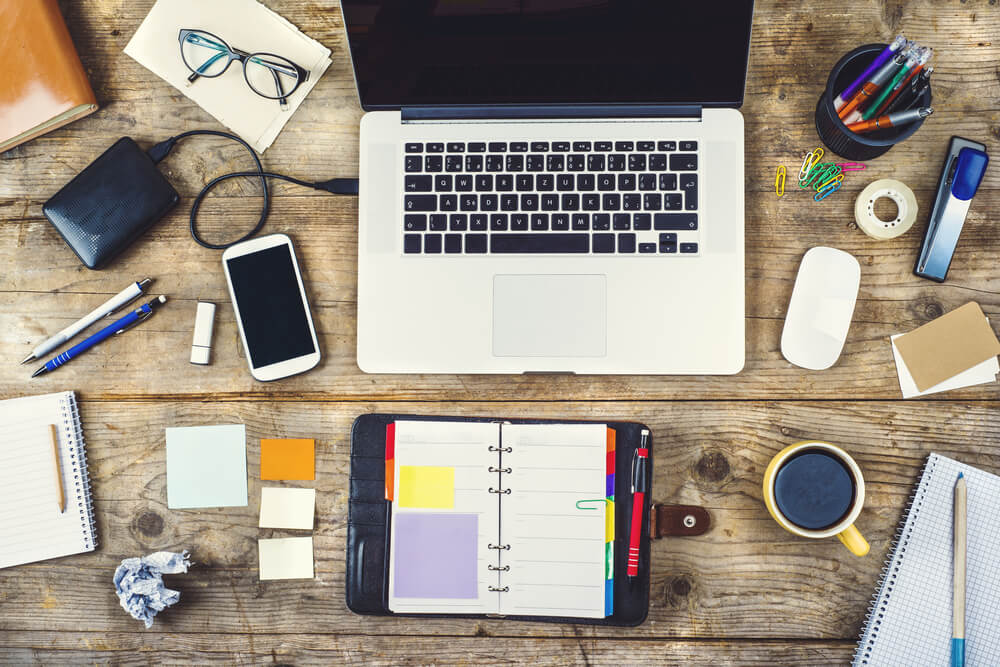 Are you feeling a lack of motivation at work? Do you see your office desk and groan internally at the thought of sitting there? Well, my friend, it's time to make some changes!
Most of our time is spent working. It can get quite monotonous and annoying, especially when there's nothing to look forward to. But whoever said that a serious productive environment can't be fun and comfortable?
A little color and a few savvy tech items on your desk can make all the difference. That's why we've made a list of useful desk gadgets that will make your life easier and improve your whole outlook on work!
#1.

Desktop Organizer

Office desks can get pretty crazy if you're not an active cleaner. Pens, papers, paperclips, and other tidbits strewn around on the desk is not a pretty sight. All this clutter makes a stressful workplace that leads to unproductivity.

This is why you should invest in a desktop organizer. These are usually compartmentalized boxes or trays that keep all your tidbits in one place. Desktop organizers come in many designs, including many additional features. You can even get bigger ones for placing all your important files.

A desktop organizer will make finding things much easier and keep you in a calmer mindset. It will also give off a good impression to your boss and colleagues. Nothing says "responsible" and "ready for action" more than a clean, organized desk!
#2.

Cup Warmer

A warm cup of coffee is essential for a productive day. And if you're like me, it's pretty normal to get lost in work while waiting for your drink to cool off. As a result, we often end up with cold coffee that no longer tastes the way we want.

But what can you really do? You don't want a super hot drink that burns your tongue off. And you can't really gulp down the whole drink in one go. Well, it's the 21st century and surely enough, there is an answer to your problem.

Lo and behold – the USB cup warmer! This is like an electrical coaster that lets you place your cup on it and keeps it warm. This way, you'll be able to drink your coffee throughout the day without having to worry about it turning cold.
#3.

USB Hub

Office work involves lots of technology, meaning you'll need a lot of different charging points. Your PC, your laptop, your phone – all of them have to be fully charged for constant use. That's why a USB hub is one of the office essentials that you can't ignore.

A USB hub will let you charge several things in one place at the same time. These come in all sorts of shapes and sizes, as well as different power capacities. So, you'll have to choose one based on your needs.

USB hubs are usually compact and save a lot of space compared to having a billion wires running everywhere. They also keep your desk more organized, designating a separate charging station for all the technology. What's more, most of them are pretty fast at charging, so you won't have to wait long either.
#4.

Portable Monitor

If you work on a laptop, it's not the most comfortable situation. The screen is smaller, and multitasking becomes quite a feat. So, an additional monitor that you can move about will come in pretty handy.

A portable monitor is easily one of the most life-changing gadgets you can buy. You can open up documents or videos in your large screen monitor while typing away at your laptop.

Portable monitors are also powered by USBs, so they save a lot of energy. On top of that, they're pretty lightweight and easy to set up.
#5.

Handheld Scanner

Scanning is a pretty regular task at work. Be it important documents or pictures, everything has to be in digital form. But usual scanners are quite bulky and need a lot of space. Instead, you can now use handheld scanners, that are portable, small, and much easier to use.

Handheld scanners are linked to WiFi and can easily send the documents to any device, be it your laptop, tablet, or phone. This is ideal for people who need electronically signed documents.

Of course, it's not the best option when you need high-quality images, but it does scan up 900 dpi, which is more than enough for text. Some of these scanners are even battery-operated, which lets you use them without the hassle of wires.
#6.

Desktop Vacuum Cleaner

Computers and laptops rack up a lot of dirt over time. This is not only bad for your computer, but it also affects your health and hygiene.

And if you're someone who eats a lot while working, you're sure to spill a few pesky crumbs on your keyboard that you can never get out. This often serves as a magnet for ants, which is a whole other nightmare.

For such cases, a mini desktop vacuum cleaner is the perfect solution. These gadgets can suck up all sorts of debris from electronic devices, without causing any damage. They're also pretty small and cute, making them a good fit for your desk.
#7.

Foot Hammock

When you're stuck sitting and staring at a computer all day, you're bound to get cramped feet. Sometimes, you just want to chill and put your feet up after a stressful task.

And if you're a part of the short people club, it's even worse when your legs are dangling and never touching the ground. The discomfort actually makes you sit in ways that are extremely bad for your posture.

Thankfully, though, some genius came up with a solution for our woes with the invention of the foot hammock. This is basically a mini resting place for your feet that you can attach to your desk with clasps. It lets you elevate your feet discretely and sit comfortably throughout the day.
#8.

Stress Ball

No matter how much you love your job, you probably still have stressful days at work. Long office hours and the intensive brain labor required can take quite a toll on your mind. Also, typing or writing all day often leads to painful hands and fingers.

This may sound like minor problems, but years of these inconveniences build to bigger health conditions. To avoid all of this, you should definitely consider getting a stress ball. Basically, these are malleable balls filled with clay or gel that you can squeeze.

You'd be surprised at how helpful this simple object really is. Squeezing a stress ball will release the tension from your hands, making you feel much better overall.

It's a fun form of physical therapy that impacts mental health positively as well. Consistent breaks with the stress ball calm down the mind and increase productivity a great deal.
#9.

AirBar

Have you always wanted a touchscreen laptop? Well, you can now live out your technological dreams with an AirBar. This device can turn any old boring laptop into a modern, interactive experience. All you have to do is attach it below your laptop with magnets and plug it into a USB.
The AirBar makes it much easier to navigate between apps. Once you attach this slim and lightweight device onto your laptop, you'll be able to zoom in, swipe, draw, and scroll with your fingers. This is a good idea for artistic apps, where squiggly lines and designs are best drawn with your own hands.
And no, the device isn't restricted to just the Macbook. It works on Windows 10 laptops as well. It's especially useful when you've got a team project that involves a lot of people working with on laptop or for a group presentation.
#10.

Muji Mini Hand Shredder

Paper shredders are an office staple. They're used to destroy sensitive information by cutting the paper up. But having a personal mini hand shredder right by your desk is a much safer option than using the public one at your office.

By simply turning the knobs on the side of the shredder, all the information will end up in pieces. This is an ideal purchase for shredding up envelope-sized documents, such as bills, bank statements, and receipts.

Since the paper comes out in recyclable strips, it's also environmentally friendly. Not to mention that it's portable, so you can carry it around everywhere. And it looks pretty cute too!
Final Words
We tend to brush off the small problems we face daily as something we have to accept. These small things add up to an unhappy life and sometimes, even serious medical conditions. But in a time of such incredible technological advancements, why suffer?
So, go on and check these gadgets out. And make your life as stress-free as possible!