Norse mythology can often feel somewhat underrepresented in modern popular culture, with the Ancient Greeks and Ancient Egyptians in general receiving far more attention for the godly exploits of their imagination. Hercules, Zeus, Osiris… the list goes on – but here's the thing: although most people's knowledge of Norse mythology stretches as far as Thor or in some rare cases Odin. It is strange, seeing as the Vikings actually managed to spread themselves all across the world, although it must be said that they were always more of the pillaging type rather than conquering. Indeed, the Vikings discovered the American continent at least a hundred years before Columbus, and even got to Central Asia – crazy!
And anyway, scratch beneath the surface of lots of popular things in the modern world today such as the Marvel series of films and you will find a lot of Norse undercurrents, in everything from names to sensibilities. In fact, one of the recent superhero films from the renowned film-makers scooped a pretty crazy $853 million at the box office. Oh yes, Thor: Ragnorak really helped to intensify the focus on Norse mythology, and millions of people are now fascinated by it. Of course, the online slots market is never one to ignore these popular cultural trends, and games like Thunderstruck by Microgaming have long proved developers' taste for the Norse mythology theme. Enter Asgardian Stones, a new venture by the Scandinavian online casino titans NetEnt. You can enjoy the game as you play now at Wizard Slots and you might win big! Read ahead for a comprehensive breakdown.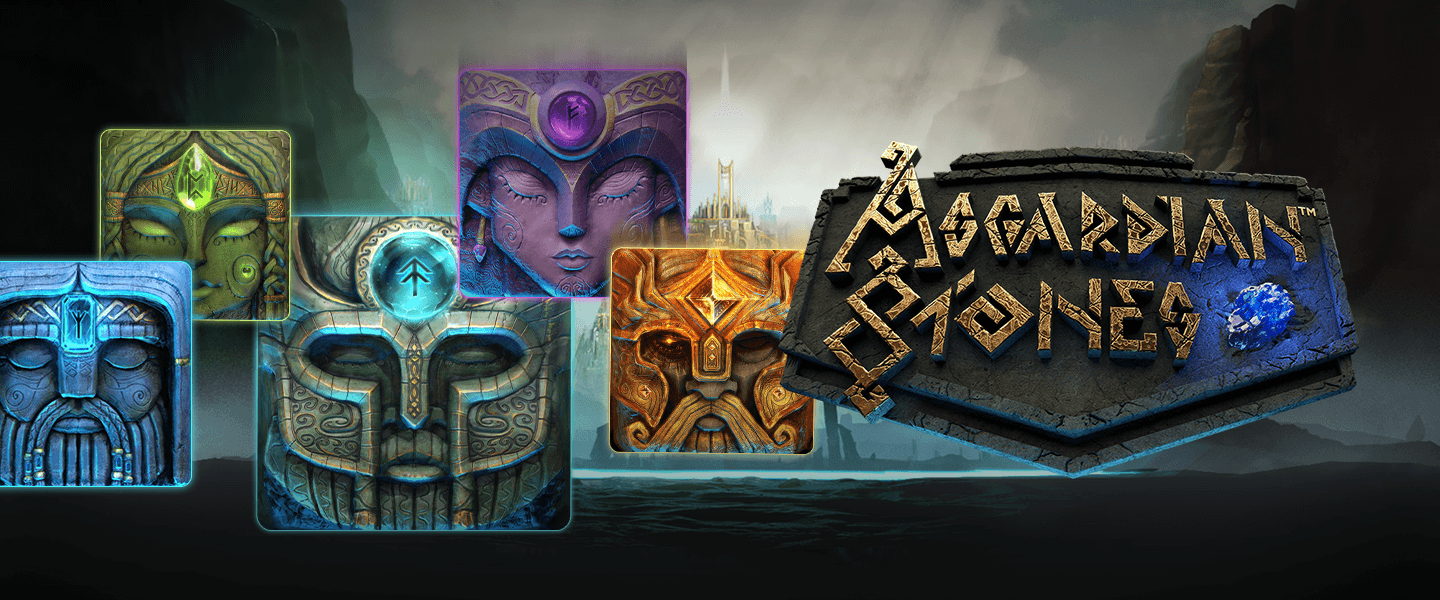 About Asgardian Stones and its Aesthetic
First things first, as you can probably guess from our introduction Asgardian Stones is a quintessentially Norse inspired online slot, something that ties in perfectly with the nationality of its developer NetEnt. In typical fashion from the company the graphics here are all absolutely top-notch, scintillatingly clear with colours so vivid you would be forgiven for thinking you were actually there. And where's there? You may ask. Well, this online slot seems to take the home of the Norse gods as its main setting, as we can see it rising out of the water when we first begin playing. It looks as though NetEnt have taken some pretty heavy inspiration from the Marvel Thor films in this online slot, something that is sure to engage countless online slot aficionados. In a nice touch NetEnt have also dedicated some thought to Asgardian Stones' soundtrack, providing a suitably moody ensemble that only serves to get you more invested in this slot.
As for the reels themselves, these are presented in the shape of a pretty standard 3×5 grid, so nothing out of the ordinary here at all. There are also 20 pay lines, meaning that, again, there won't be any chance of you getting confused about the gameplay. This online slot must sound pretty appealing already, but wait until you hear about its impressive RTP of just over 96% – one of the best on the market at the moment! The symbols available during Asgardian Stones take the form of Viking inspired playing cards and a host of different gods and goddesses. In a nice touch from NetEnt many of these are liable to expand as well, the Odin icon can take up a 3×3 space on the grid, for example. If you are lucky enough to find him on the reels you will be in line to receive 500x your wager, pretty nice eh? And we haven't even got to the bonus features.
About Asgardian Stones and its Bonus Features
One thing we forgot to mention about Asgardian Stones is that it utilizes NetEnt's popular Avalanche feature, something that means the symbols fall from above, and explode when they are part of a winning combination, creating more space for extra symbols to appear. There is also the Colossal Crush feature, something that is liable to activate after any Avalanche. When this happens a massive symbol will keep falling down, crushing all other symbols and resulting in some rather large wins indeed.
This isn't all of it either, because NetEnt have also included a classic wheel of fortune type bonus feature that is activated any time you see the Bonus Wheel symbol cover a 3×3 block of symbols on the reels. Many online slots have made use of this feature in the past, and it has become somewhat of a staple of the industry. The good news here is that Asgardian Stones injects a bit of originality into the feature, whilst also including a pretty nice prize that can stretch to a whooping 40 free spins.
About NetEnt and Other Slots by Them
Having been established in 1996, NetEnt are one of the longest running developers in the online slots industry, therefore having quite the amount of experience under their belt. It should come as no surprise, therefore, that they are also regarded as the best you can get in the online slots world, something that many experienced gamblers will testify too. The reason why? Well, their graphics are always impeccable, themes consistently brilliant and the main thing; there is always ample amount of win-potential when playing their games. They are based in Sweden, however, as you would expect from a company of such magnitude they now have operations all over the world, meaning that you can play a NetEnt online slot from pretty much anywhere you happen to find yourself. They really are at the pinnacle of the industry, just look to some of their other titles for an example:
Creature From The Black Lagoon
Finn and the Swirly Spin
Double Stacks
Coins of Egypt
Asgardian Stones: The Verdict
It makes perfect sense for NetEnt to have a shot at a Norse themed slot seeing as they are themselves of Scandinivian descent, and there is also no surprise that they do it better than their competitors Microgaming. Thunderstruck is a good title, of course, but Asgardian Stones just offers so much more, and for this reason we cannot really fault it. The bonuses are incredible, but graphics are also impeccable!
You May Also Like