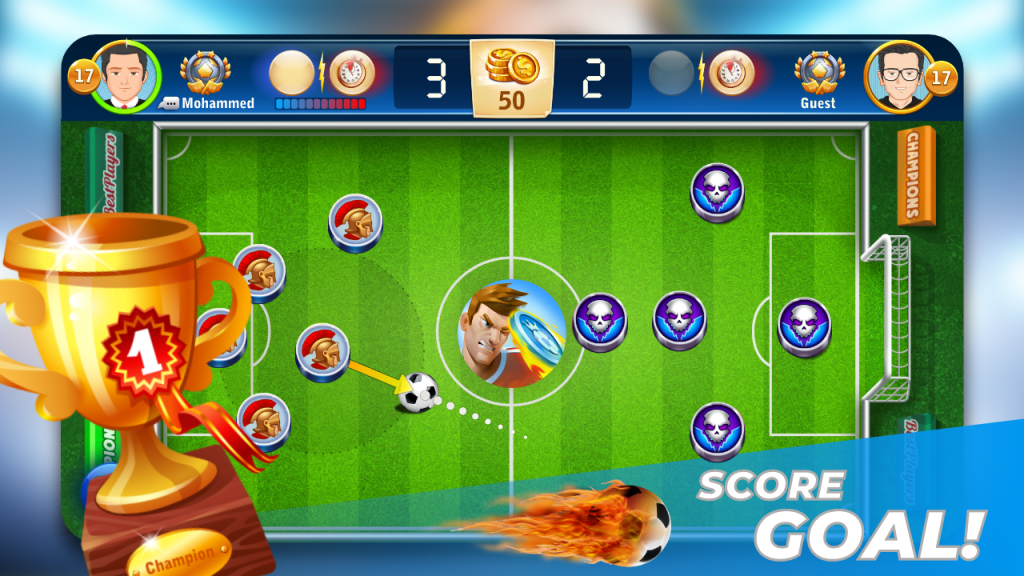 App Concept:
Fans of Soccer offers a nice mix of the actual game of soccer, incorporating the fun intricacies in kicking a football to score a goal while injecting a dose of intricate gameplay that requires planning and creativity. As opposed to mindlessly hitting balls into the net, this app taps into your brainpower, ensuring you bring both mind and body to the game. It pits you with other players on a one-v-one match or with many players in a lineup of tournaments to test your skills in a competitive environment. This app is going the extra mile to reinvent traditional disc soccer, sprucing up gameplay, and offering enticing modes deviating from the ordinary.
Features of the App
iOS and Android users can find the game on their respective stores. Fans of Soccer wins plaudits for its surreal gameplay and its endless fun levels that always serve up new challenges. It's also loved for the following features:
The goosebumps-inducing stadium backdrops involving cheering crowds and other sound effects
Minigame, Tournament, Championship, and One-v-One modes that offer different appeals to suit everyone. For example, if you prefer to play with familiar faces in an individual setting, you can find friends via the similarly named button at the bottom of the home menu.
Special powers such as flaming shots that make the game all the more fun and interesting
Generous prizes for successful campaigns or matches
A beguiling collection of disc designs beyond the default "star" icons that you can unlock through coins you've earned in-game.
How it works
Once you download Fans of Soccer, you'll need to sign in through Facebook or a guest account to preserve your progress. From there, you can play regular matches; an online option lets you play a one-on-one match with a friend, or embark on a tournament journey on your way to a cup final. Winning the latter comes with coin rewards and new power additions. For the one-v-one mode, you can play randomly across various stadia, each offering different ranges of entry fees and reward amounts.
As for the gameplay, the player's avatar consists of five discs that start in your half. Users need to drag and aim about each disc to manipulate the ball into the opponent's net. The first player to score two goals wins except for the cup finals, where competitors need to score one more to win.
Why Fans of Soccer is unlike your other disc soccer games
This game has the backing of the International Mobile Gaming Awards (IMGA), an independent mobile games competition that seeks to recognize the best-made games of the present. The IMGA launched the Middle East North Africa (MENA) category in 2016, and Fans of Soccer secured a gold-finish on the winners' table, earning the "Best Sports Game" of the collection. It's an addictive disc football game full of fun, adrenaline, and high stacks, exactly how we love our soccer games!
App Details
App name: Fans of Soccer
App links:
https://play.google.com/store/apps/details?id=com.omentertainment.soccerfans
https://apps.apple.com/us/app/fans-of-soccer/id1451189463
You May Also Like