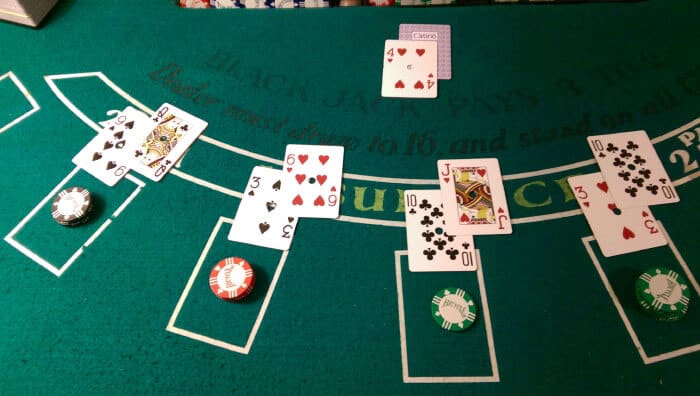 Evolved from the game 'twenty one' blackjack is an absolute fan favourite for millions of casino players worldwide. What started out as a game that could only be played in a land based casino with a person acting as table dealer, has now developed into an exhilarating and immersive card game that can be played online or even on your mobile. In 2020, a game can be started within seconds and all the money you need at your fingertips – find out more.
The format remains the same whether you choose to gamble at blackjack in real life or online. Multiple decks are often used with cards assigned their own value. Numbers 2 to 10 are still worth their normal value and all Jacks, Queens and Kings now worth 10. As a standard, Aces are played for 11 but if 21 is reached, then automatically knocked down to be worth 1. The aim of the game is simple with the player wanting to beat the handle of the dealer by having cards that are closer to 21. However if the value of a player's hand exceeds 21 then said player is automatically out and loses the bet for that hand. The dealer begins by dealing out every player 2 cards, where in shoe both are face up but in hand, are facedown. In both of these styles, the dealer always has one of their cards faced up. A player then requests for an additional card by saying the famous catchphrase 'hit me' until he wishes to 'stick'. Once all players have either gone bust by going over 21 or chosen to stick, the dealer then plays their hand that must total between 17 and 21. You can see then that the rules are simple however you play, but what many don't realise is that there are things you can now do to improve your chances.
In 2020 you should be making the most of online casino games and blackjack is no different. As a guide, a player should make sure to pick a game with the right variant. The variant refers to the edge that the casino has in each game. In land based you wouldn't be able to know and compare these without extensive research. Thankfully, the variant of online blackjack games are readily available online and so punters should do their best to check first and pick games that have as low percentage rate as possible. Games that have a variant of over 1% are actually quite higher and the player would be better in avoiding those completely.
The thing about blackjack's history is that is has provided people a long time to compare odds and statistical chances over time. With that, some very clever individuals developed a blackjack strategy card. Each card documents how a player should respond against any visible dealer hand given the odds of what most likely will happen. Of course this isn't a guaranteed way of getting it right every time, but as blackjack depends entirely on whether a player chooses to stick or not, it's an ideal way of playing with the odds in their favour every time. They're easy to find by just searching for them online and provide a great way of playing better blackjack in 2020.
You may also like to read: