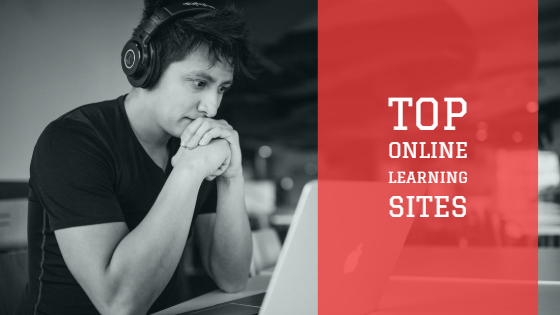 Online Learning has become biggest trend these days. Increasing digitalization has made learning more feasible and accessible to the masses. No longer one needs to confine himself to physical boundaries to gain knowledge. The virtual medium has opened its gateway for limitless learning from your own comfort zone. With easy access to technologies, learning has transitioned into fun-filled and jolly activity.
This is clearly evident from the spurt of online learning websites which are getting popular among learners & knowledge seekers. Especially for the technology learners, online learning websites have become a big boon. Today we are going to see some of the most popular online learning websites for technology learners. These online learning sites operate mostly on a subscription model. Unlike free learning available on platforms like YouTube, most of these platforms offer paid courses which are at time costly but still very benefiting to the subscribers. Let's know about them without any delay.
1. LinkedIn Learning

LinkedIn requires no introduction. The professional networking site has grown in leaps and bounds in the recent years. One of the biggest additions to LinkedIn has been LinkedIn Learning (formerly Lynda.com). LinkedIn Learning is a heaven for the learners especially for those looking to learn and brush up their technology skills. Though not just about technology, LinkedIn Learning also offers courses to build your creative and business skills which are high on demand in the current job scenario. The best part of LinkedIn Learning is that the courses are taught by instructors with real-world experience. That way it is more fun and effective.
You can find all types of online training courses with LinkedIn Learning like courses on programming languages, web development, marketing, technology, drawing, image editing etc. You can even make your choice from the trending and recommended courses. Learn what you want to at your own pace and in your own time.
To join LinkedIn Learning and get access to thousands of courses, you can visit this link: https://www.linkedin.com/learning
You can try LinkedIn Learning free for one month and learn as many courses you want before opting for the paid monthly subscription which costs just $20. You can even go for an annual subscription which makes it just $15/month. Either way, LinkedIn Learning offers attractive courses for the learners. Highly recommended online learning site!
2. Learn from Fiverr
Fiverr is one of the most popular sites for freelancers. Perhaps it was the first site on the internet which helped buyers to connect with freelance sellers for just $5. The site has progressed rapidly in the recent years helping freelancers to earn as much as they could by utilizing their skill set.
Fiverr has started its own paid learning platform "Learn from Fiverr" to help freelancers learn and boost their skills for any given job. The courses are taught by professional experts which is a big plus.
Once you've completed a course, you can stand out from the rest in your category with a badge on your Fiverr profile, a better Fiverr Gig ranking, and additional skills you can use to expand your service.
So now learn more and earn more with Fiverr.
Get started here – https://learn.fiverr.com
3. Udemy

Another addition to the growing list of online learning sites is Udemy. Though the site is old, it still stands tall against similar known sites. Udemy offers courses on anything and everything. Yes, you have a good number of courses on technology, business, health, lifestyle, music, photography and a lot many different topics.
All the courses on Udemy are paid video courses and quite expensive than most of the similar courses available on the other online learning sites. There are almost 130,000 online courses currently in the Udemy library and all of these courses are accessible as per one's convenience.
Udemy also offers people to create and run their own online course by using its tools. That's really cool!
Get started with Udemy today – https://www.udemy.com/
4. Google Skillshop

Google, Google everywhere! Do you love to read and know more about Google products and services? Do you wish to become a Google Ads expert or Google Cloud Platform expert? If yes, then Google Skillshop is a perfect place for you to get started.
At Skillshop, you can learn everything about Google tools and services including Google Ads, Google Analytics, Google My Business, Google Cloud, Google for Education, YouTube and lots more. You can also earn certifications, and all for free!
Check out all available courses here – https://skillshop.exceedlms.com/student/catalog/browse
5. HubSpot Academy
Probably one of the top names in skill building online learning platforms, HubSpot Academy offers premium online learning courses for individuals looking to learn and develop skills in business, marketing and sales domain. Some of the premium courses available at HubSpot Academy are:
Email Marketing Course
Content Marketing Course
Inbound Marketing Course
Graphic Design Course
SEO (Search Engine Optimization) Course
Each course at HubSpot Academy is meant to train individuals to help them grow their professional career in marketing and sales domain. All courses are taught by real-world experts with ample experience in relevant domains. Each course is broken down into several subtopics with at least 2-3 videos in it. You can come back anytime to retake the courses. There is no such restriction. Also, you have a chance to complete certifications for some of the courses. Again, it's all for free!
Getting interested in HubSpot Academy courses? If yes, then check out their courses here – https://academy.hubspot.com/courses
Wrapping it Up
Here you go! The above listed sites are some of the best online learning sites for those seeking to learn and increase their knowledge base especially in tech domain. Happy online learning to all!!
Related read: Google Certification That You Must Not Miss Out!