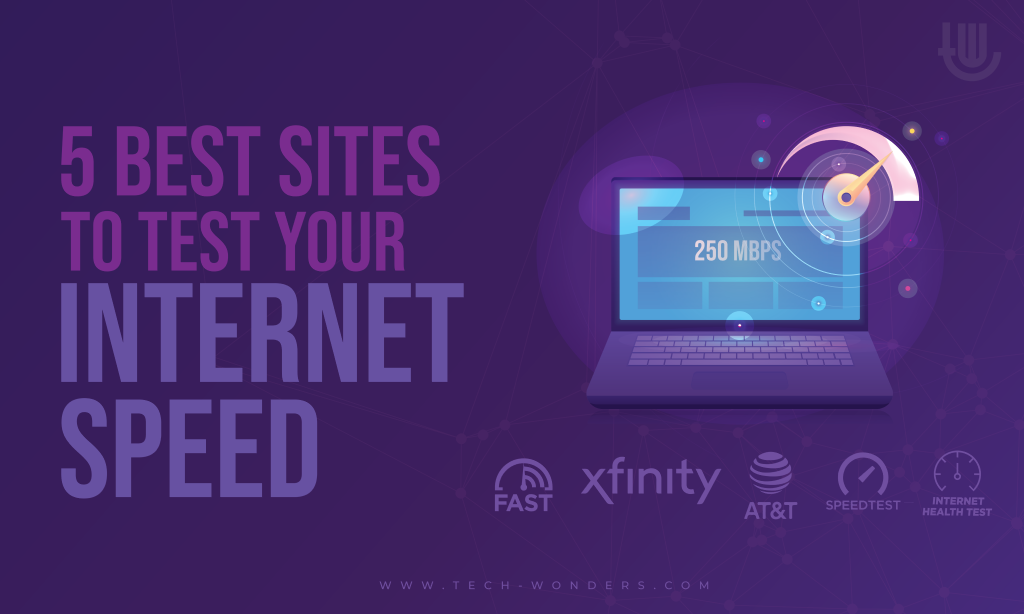 The Internet has opened doors of knowledge and opportunities to many of us. Having stable internet connectivity often becomes an issue due to multiple conditions within our home, office, or the environment. The world has achieved an optimum ability to spread its presence across the globe without moving from its home.
The Internet is a mandatory factor in gaming, streaming, hosting, learning, and working. It becomes necessary for us to perform an Internet speed test through the right website to give us accurate statistics to check our internet speed. Thus, we have curated the five best sites to test your internet speed. Read on to know more.
5 Best Sites to Test your Internet Speed
We can check internet speed through this list of sites mentioned below. Though there are many sites out there, we have chosen the best ones that provide accuracy, specific details, and tips to improve your internet speed.
Speed Test by Ookla
Speed Test by Ookla has a technologically impressive GUI that mentions your ISP (Internet Service Provider), IP and locates the nearest optimal server for accurate results, thanks to the multiple servers hosted worldwide. It also enables free downloads for a quick internet speed test depending on the device being used.
What does the Speed Test by Ookla test for?
Ping: Yes
Latency: Yes
Upload: Yes
Download: Yes
Jitter: No
AT&T Speed Test
AT&T has a GUI that can't get any more comfortable to use. It tests your internet speed and also provides support to get better results along with great upgrade plans. One of this site's remarkable features is that it allows you to select the host that can assure accuracy manually, and you don't have to wait for the first result to reset the configuration.
What does the AT&T test for?
Ping: Yes
Latency: No
Upload: Yes
Download: Yes
Jitter: Yes
Fast.com by Netflix
With Fast.com, you can check the internet speed that is ideal for streaming media, as Netflix powers it. Further, you can expand and get the details for the same. Moreover, we'd recommend fast.com as it has various configurations that you can save for one particular device. You can set the duration, parallel checks. However, you cannot manually choose the host location.
What does the Fast.com test for?
Ping: No
Latency: Yes, loaded and unloaded both.
Upload: Yes
Download: Yes
Jitter: No
Speed Test by Xfinity
Xfinity has the most attractive and user-friendly GUI, and that is why we'd recommend it. It also recommends how much the particular speed is suitable and what you should not do with the limited insufficient bandwidth. However, it doesn't allow you to set a host manually and save your results for comparative analysis.
What does the Xfinity test for?
Ping: No
Latency: Yes
Upload: Yes
Download: Yes
Jitter: No
Internet Health Test
Internet Health Test finds an optimal server for you and performs the internet speed test. The ease of use of the website for any person who does not know using the Internet makes it recommendable to use. One simple click on the 'GO' button can present the results without much information.
What does the Internet Health Test test for?
Ping: Yes
Latency: No
Upload: Yes
Download: Yes
Jitter: Yes
How to perform an ideal internet speed test?
We might have often faced problems in performing the internet speed test. Though many factors contribute to it, few of them can be easily eliminated. Here's how you can check your internet speed and get accurate results.
Check for the server and host locations and keep them closest to the location of your router.
Allocate a centralized space for the router so it can evenly provide the bandwidth to all the corners of your organization or home.
Ensure that the internet device is away from the reach of children, pets, or anything hazardous for the device.
To accurately check internet speed, you must not load on the bandwidth by opening multiple uploads and downloads while testing.
Make sure you've selected the correct broadband type and check from multiple sites that test your internet speed.
While performing the internet speed test, ensure that the site doesn't store your sensitive data such as IP and other personally identifiable information.
Conclusion:
As we conclude the five best sites to test your Internet Speed, the sites above have surpassed the most requirements to be called the best site. Fast.com tells you the quick Internet check without getting into the comprehensive model to the thorough test provided by Speed Test by Ookla and AT&T; you can choose to check internet speed as per your convenience.
You may also like: