We all are well aware of ongoing revolutions in technology that has influenced human life strongly. Technology has changed the way a person look at his life. Almost every day, we behold latest gadgets and technological tools being introduced in the market. How possibly it would not have its effects on education. There are lots of tools both students and teachers use during their everyday educational process.
Technology has made the learning process even more exciting and convenient and the interaction between teacher and students has clearly made seamless. Before we move ahead to the point that what actually we gain from technological gadgets, we must have a look upon latest tech tools which are used every day to make education easy to achieve.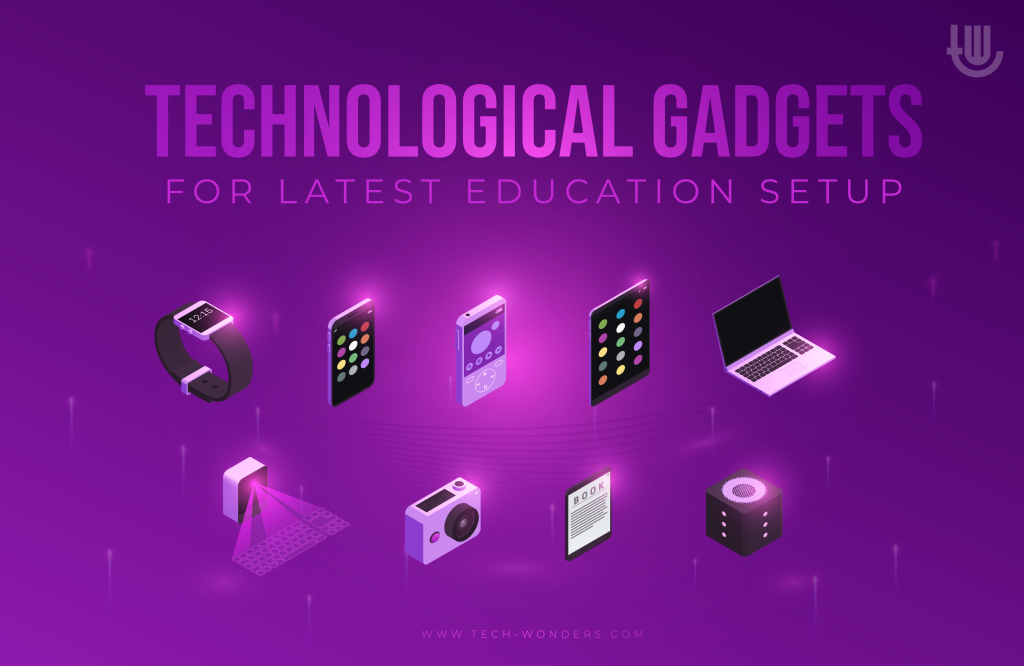 Laptops
Whether you own a laptop, or a desktop PC, you must know the fact that with the help of the internet and Google search engine, we can have the whole world open in front of our eyes. No need to go to a library for searching any specific book. If you have any book title in your mind, just Google it and you will get thousands of results relevant to that title in front of your eyes. You can either download any information or, bookmark the page. It is truly a great time saver.
Cameras
Camera is a really interesting device for teachers as well as students. Especially if a student is interested in photography, he would be super excited to take snapshots of any learning process, some new experiment, natural phenomenon or anything that goes with his assignment. Furthermore, teachers can use cameras to keep a record of students' activities.
Smartphones
Smartphones nowadays are quite popular not only for adults, but also the kids. There are thousands of apps and games which help them in learning their subjects more interestingly. Most of the apps are absolutely free and they can easily install and use them. Being online, searching about any query on Google and staying connected 24 hours a day are some of the basic necessities of students. There are many social apps which help them get interacted with their teachers and fellow students. A recent survey has unveiled the fact that about 80% of college students have their own smartphone. Despite the fact that it has some negativity too, the smartphone has become a necessity now.
Interactive Whiteboards
Another amazing invention that is helping students very effectively is interactive whiteboards. By using these latest whiteboards, you don't need to arrange as many PCs or laptops as the number of students because you can only use a whiteboard instead. A latest whiteboard that comes with touch system and you can use it just like your smartphone, e.g. you can browse the internet, open websites, search for HD images and make digital drawings.
Podcasts
Podcast is the latest feature that can record any missing lecture from your teacher, yes! You cannot miss a lecture at any cost now. Podcasts can be recorded by students as well and some latest mobile phones have apps which contain podcasts feature. Just like the notes from any teacher, podcasts are good supplementary material for the student's education.
Response Pads
You must remember raising your hand to answer any question asked by your teacher. Technology has changed the tradition a bit, you have to touch the pad beside your seat or desk, which creates buzzer sound and you are chosen to answer the question. You must have seen that response pad in some game shows as well. This tool can be used to record answers for multiple choice questions.
Online Grading Tools for Teachers
A blessing for teachers indeed! These tools help teachers to keep record about everything they have to write in registers and report cards. Now it is quite easy to arrange a student's performance, attendance, mark sheets and overall data about him. Not only keeping a record, but also these apps help to send reports to their parents easily.
Kindle
Kindle is well known app which about 100 million people use to read and download e-books. Obviously most of those people are students because they can find each and every book they would like to go through. From small story books to genuine versions of significant writers you can find on the Kindle app. Books are the real source of education, whether in a hard copy or digital format. The information you can find in books cannot be gained by any other source.
Presentation Tools
Presentations carry so much value for college and university students. In the old days when students used to present their assignment, slide show or other material to their fellow beings, the conventional projectors were used. We don't say that the projector is useless; it is still very important tool for the educational process. But the point is, a wireless setup for presentations is introduced. Students don't need to connect wires and switches. Bluetooth technology has prevailed everywhere. You can even get prints just with a single tap and the printer connected through Bluetooth will receive the command.
Now let's take a look upon the matter that how technology has enlightened the latest education and learning process.
First of all, the biggest advantage of technology is that students' views about education are changed. There are no conventional boring lectures, absurd burden of homework and a strict surrounding. Technology has made things better. Not only with the help of educational tools and apps, have younger students learned a lot by keeping a good company online. The new social environment, for example Facebook, Twitter, Pinterest, and so many other social networking platforms have encouraged students to share their ideas, to put their queries in front of others, to learn from others' bad and good experiences, building self-confidence and getting interacted with friends and family. There is also a drawback of such social networks that sometimes things go beyond parents' expectations and limits they have set for kids. So kids' activities must be monitored secretly without spoiling their confidence.
Distance learning, another factor of today's life! Technology has had great impact on distance learning also; it has become easy and convenient. Students can easily get access to their teachers and they can share notes and other educational material with a blink of an eye. Arranging discussions between teachers and students is fast and smooth. Students can easily learn from virtual lectures and most of all, they can make their own schedule because everything they need is available online, they just have to pick a time to take a class.
Class collaboration has become quite easy and tension free. If you are a teacher, you must have experienced the upset behavior of your students when they are settled in groups of the teacher's choice. When you are online, and with just a few clicks, the groups are made and everyone is working together online. It is sometime more beneficial to keep everyone at a distance while connecting them online to get a good result.
Educational technology is good for the environment as well. How? The digital world has lessened the need of paper and that has saved trees' life for sure. It might be the most trivial thing one must have noticed, but it is the greatest fact of today's life. We need trees and we have to save the green earth. The rapid increase of paper production in the past was taking this world to a deadly end. Technology has provided a best alternate of paper, the digital world. Now you just have to turn on your PC and there you go; everything is open in front of your eyes.
Record keeping of a student's whole educational career has been made too easy due to technology. It saves lots of time, efforts and energy and it obviously keeps your teacher in a good mood.
After going through all points that are given above, one thing is definitely clear that technology is strong and it can turn the whole image of anything going on in your life. We are surrounded by technology, from entertainment to career building. But at the end, we must mention the point of concern about technology. Keep one thing in your mind that you are not safe from the evil side of the good thing. This is because men have made technology, not technology builds men. So there are benefits, but also the disasters.
Technology can be the most destructive part of your life if your brain forces you to do negative. You must keep everything in limit, no matter in which category you are. Whether you are a kid, an adult or some old person, try to use technology positively. As far as the education is concerned, you cannot be a good teacher unless you use all of those gadgets which help your students to reach their goals. It will not only help them, but also you to check his progress more nicely. After such a huge discussion, we expect you to be convinced that technology is the strongest part which can change the conventional lines of education.
You may also like to read: