People have started being more expressive these days. The evolution of emoticons took place many years ago but the usage of them has increased a lot. Nowadays, people tend to communicate through emojis, gifs, stickers, and whatnot to give more value to their words that also describe their tone of speaking. From being angry to being upset, to happy, to be in any mood, the keyboard apps have everything you need to express.
The unique features are what make these keyboards amazing and very interesting every time we communicate with anyone in chat or email.
Let's head to the list of features that makes these keyboards creative as well as very fun to use.
Use of emojis, stickers, and gifs- The most important and interesting feature of the keyboards is the feature of using emojis, stickers, and gifs. We are now able to express our ideas and views in a creative manner. Earlier, people used to think that we're not using the right tone while talking to them, even when we didn't mean to sound like that. The idea of sending stickers, emojis and, gifs has made it a lot easier to make them understand our tone of talking and what we're feeling while talking to other people. The funny gifs have added a little fun to conversations these days.
Languages- We get different languages already built-in some of the keyboards so that it gets easier while you are having conversations with people of your own particular region. For example, if you are a Malayalam and you want to talk to your other Malayalam friends or family members in the same language then you should have that keyboard installed in your phone to make it understandable and compatible. The Bobble AI Malayalam Keyboard is one of the best keyboards that overcome the barriers of language.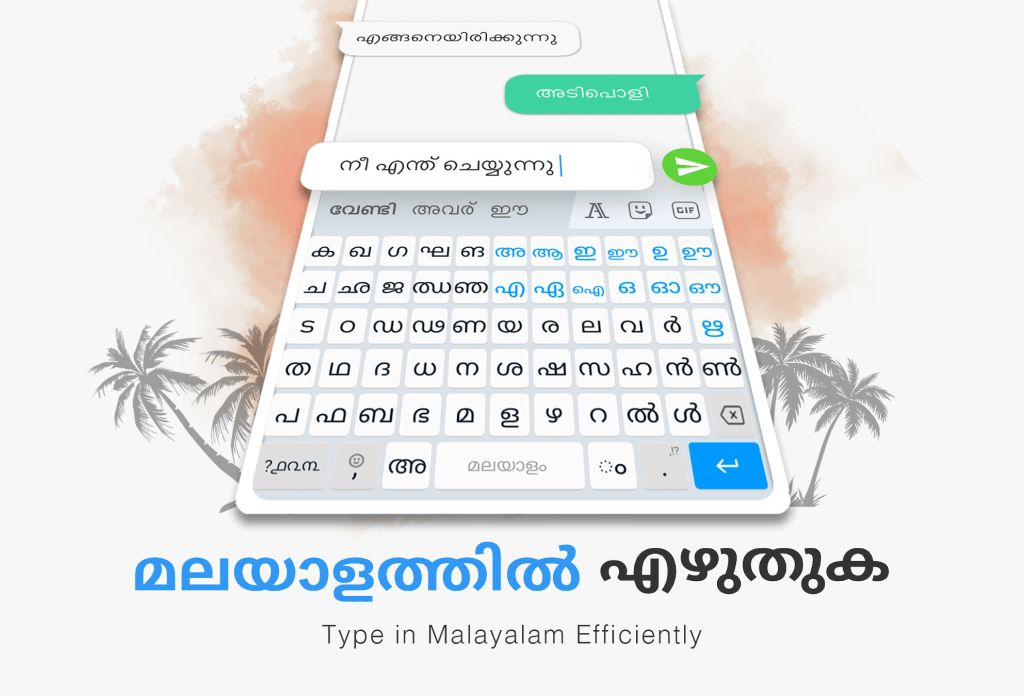 Avatars- A whole new added feature in keyboards is the Avatars. You can create animated avatars by taking selfies or adding pictures you want to transform. This added fun is a nice idea because texting has become more creatively amazing with this feature.
Text prediction- Tell us the easiest way of communicating other than the feature of text prediction and we'll wait. Text prediction has made it a lot easier which has increased our typing speed. The built-in AI features in these keyboards enable them to predict the emojis and texts we intend to type every time we enter words and texts. Nowadays, the updated version of keyboards also predicts new and very creative stickers while we type an emotion. According to the emoticon entered, the keyboard will create a mixture of emojis to form one, which best describes your mood. Make use of this feature now and enjoy texting!
Themes- There are various themes available for all the keyboard lovers who love the idea of customizing the whole appearance. From dark themes to vibrant themes to various other colorful themes, these keyboards have got your complete source of satisfaction when it comes to colors.
Meme- Another very popular and well-known feature of keyboards these days is making a meme. Youth nowadays are addicted to making memes and sharing them with others. What's better than having this feature in your keyboards itself? You can just search memes by typing in the search box and you can see thousands of results for you to express your ideas in a very creative gesture. The popularity of keyboards is increasing day by day mainly due to this added feature that no one ever thought they would get in keyboards.
Voice dictation- Another very important added feature in the keyboards is the voice dictation feature that lets you speak and type virtually on the keyboard, the ideas you want to express. This whole new added feature lets you type efficiently and effectively as the results are accurate. You can type very fast and the expression of ideas can be done verbally and send messages to the other person in no time. The voice dictation feature is a nice way to save your time in typing long texts and paragraphs.
These were some of the features that are increasing the usage of keyboards these days. They let you enjoy various animations in the form of avatars, gifs, and stickers. The barrier of language can also be overcome with these keyboards. Download the Malayalam Keyboard App to make use of each and every feature we mentioned above and many other features because this keyboard is all in one Keyboard that lets you type in the Malayalam language along with many other languages of your choice, lets you send stickers and emojis, has the feature of making funny avatars. The expression of virtual conversation can become more fun with this keyboard installed on your mobile phones.
Download Malayalam Keyboard Here!
You'll also like: