We are a society where we are defined with various terms according to our speed of texting and using various keyboards on our mobile phone, varying from fast texters to slow texters to medium ones. There is a huge different fan base for keyboard lovers, they love experimenting with new keyboards and their amazing unique features. A keyboard that is built-in on the mobile phone is used by very few people these days and the reason being is that it doesn't come with many other options that new keyboards have with them. From sharing gifs to trendy memes, from stickers to emoticons, the new keyboards nowadays have become a lot more expressive when it comes to texting.
Here is the list of trendy and best keyboards to enhance your typing and texting-
SwiftKey- SwiftKey has got a huge response from the audience and they use it without any difficulties. The app is available on the play store and can be downloaded easily. The SwiftKey Android Keyboard app uses artificial intelligence and is also there to predict the next words automatically as soon as we type the first one so that we can save time in typing. There are also various features of this keyboard such as autocorrecting, gesture typing, a lot of gifs and emojis, and many more other things to ensure fun-filled texting. You can also create a personal theme of your keyboard using this app.
Bobble AI- This keyboard app is a complete package of goodies we all deserve in 2022, as we are moving towards getting our hands on new technologies this keyboard is completely letting us through. The latest keyboard can make your conversations even more interesting by letting you talk in your regional language with your friends and family of the same region. This feature reminds us not to forget our language even if it's a normal keyboard; the language keyboard is available in various regional languages such as Marathi Keyboard, Bengali Keyboard, etc. You can also create a bobble Avatar of your selfies to send to your friends and family and impress them with your creativity. The AI feature lets this keyboard enable the prediction of texts and emojis according to what we intend to type or text. It also has a feature of "voice-to-text" that understands 9 major languages, you can speak and the keyboard types it for you. So amazing right? Get this app on your phones right now if you haven't already!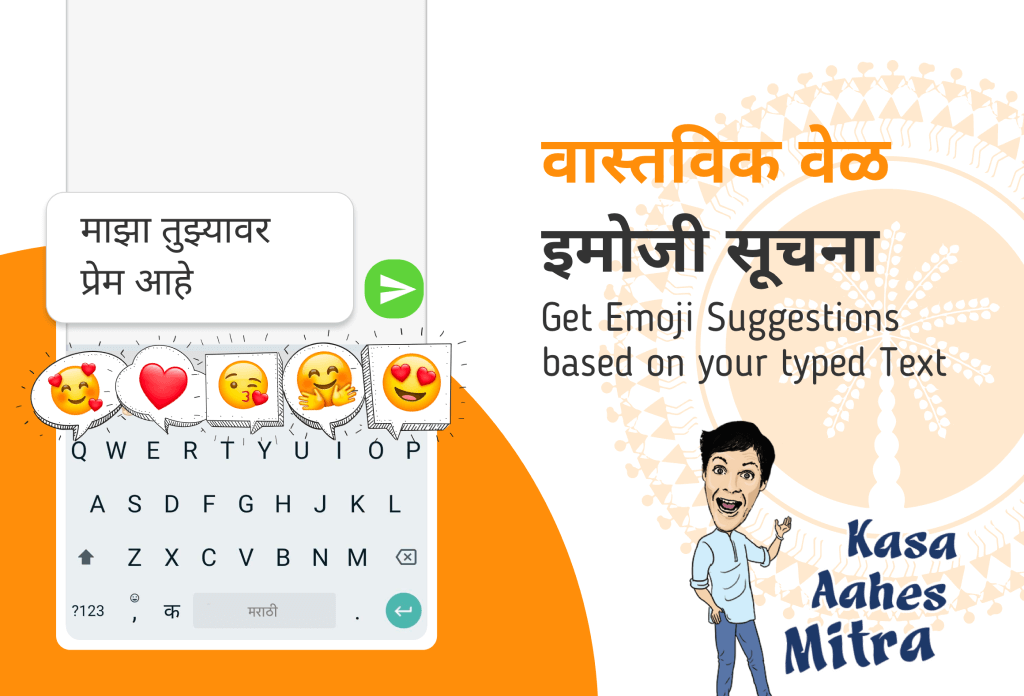 Chrooma Keyboard- This keyboard app is quite similar to the Gboard or the Google Keyboard, but it also has much more customizable options than that of GBoard. This keyboard has added a feature of Night Mode that changes the color of the keyboard when we enable this option. The Chrooma keyboard also comes with AI features that predict texts and emojis we want to send. There is an option of sending gifs, emojis, and stickers to make the conversation fun and interesting. Also, the night mode feature ensures the safety of your eyes while using it during night time by changing the color of the keyboard.
Grammarly- Grammarly is known as a grammar checking website a lot of people use to check grammatical mistakes. They made a keyboard that also can be used to check your grammar easily. It becomes easy when we are having a professional conversation on chat or email with anyone of higher authority. The design of this app looks pleasant that includes a much darker theme too, for all the black lovers out there who want to keep it black everywhere. The app saves your conversation tone with its feature of predicting texts. Overall it's a nice and useful app that mainly helps in improving our conversations and grammar too.
Facemoji Emoji Keyboard- If you love sending cool emojis while having conversations with anyone, then the Facemoji Emoji Keyboard is a very interesting keyboard app for you. This keyboard focuses on visual expressions; it consists of all the emoji-related features especially with a feature or gesture when we want the keyboard to predict the emoji we want to use. All the trending stickers, gifs, and many more features are added to this keyboard so that you can have fun and extremely amazing conversations with anyone and in any mood, you're in.
The year 2022 is going to be a lot better with these keyboards installed on our mobile phones. We're becoming more expressive these days and we require fun while texting and typing to enhance the expression of one's views and ideas creatively. Install the Bharat Marathi Typing Keyboard into your phones and experience the magic while texting and interacting with your friends and others. The feature of making avatars of your selfies is what makes this keyboard all very unique along with many other features such as texting in our regional languages, sharing emojis, gifs and stickers, etc.
Go and check these keyboard apps now because normal is boring and creativity is fun! Download Marathi Keyboard App Here!
You'll also like to read: