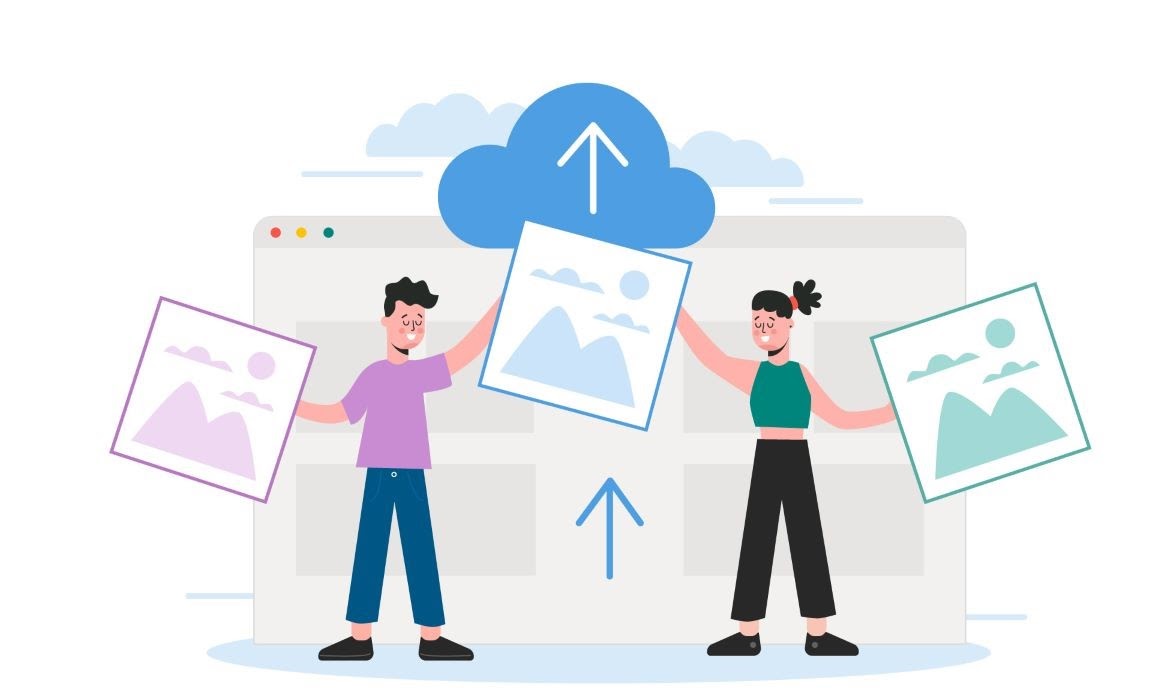 Whether you are a content creator, designer, or business owner, you will always need quality pictures for different projects. Ranked as necessary by 49% of marketers, a marketing strategy is rather incomplete without an attractive display of visuals.
However, when you set out to find pictures from the internet, you are likely to come across many websites offering free and paid stock photographs.
So, how do you choose the best site for your visual requirements?
Why Use Stock Photography
Stock photographs are a collection of images that you can download for personal and commercial use. They are available on licensing conditions and allow their use within specified terms and conditions.
One of the most significant benefits of using these pictures is the savings of time and effort. As busy entrepreneurs in this digital landscape, most of us don't have time or the budget to source customized photographs. This is where stock photographs come as a savior and offer readily available images for either free or nominal price.
Apart from photos, the stock picture websites also host vectors, illustrations, video footage, and music clips. You can also edit them according to your requirements. But do make sure to read the licensing details to ensure you are using and editing as per the legal guidelines.
In the guide below, we have outlined some of the top stock photo sites for premium-quality photographs. Some of them offer pictures on a paid subscription module, while other assets are available for free, allowing you to choose based on your budget.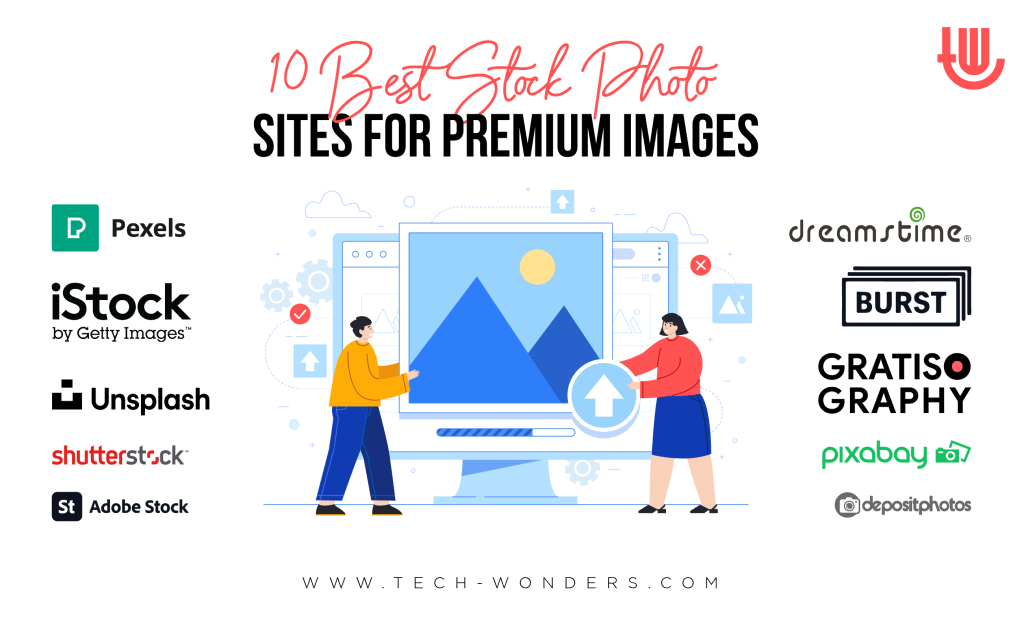 5 Best Stock Photo Sites – Paid
1. Shutterstock

Shutterstock is one of the initial companies to offer stock photographs to the worldwide public. Their library is vast and boasts over 380 million pictures in their collection. You can also download vectors, illustrations, music clips, and video footage from their library.
One of the best features about Shutterstock is its editing tools. They are built-in the interface, allowing the users to modify pictures without leaving the website.
The pricing plan by Shutterstock starts from $29/month. You can also get fantastic discounts by utilizing a shutterstock coupon code.
2. Adobe Stock

Adobe Stock is the brainchild of the software giant Adobe. It offers a massive collection of photos, videos, illustrations, 3D assets, templates, and vectors to fill in the visual gap in your creative projects.
While the site can be accessed through their primary website, you can also get hold of the stock resources from the tools part of the Creative Cloud platform. This makes it easier for designers to draw the pictures within the other Adobe software like Photoshop and Illustrator.
Adobe Stock offers different subscription plans for individuals, teams, and businesses. They start at $29.99/month with a free trial of 10-images.
3. Stock Photos

Another favorite paid stock photo site is StockPhotos.com. Created by a team of visual imagery experts, this site is a one-stop-shop for all your stock photography needs. They host an exceptional collection of stock photographs. New ones are uploaded regularly, so you are sure to find something exciting for your design project.
The site also covers additional information on how to make stock photographs work for your brand. The guides, how-tos, and tutorials are really helpful, especially if you are new to the stock photography world and still trying to understand the licensing details.
Pricing for Stockphotos.com depends on the picture you select. The site also offers a great built-in upscaler that lets you resize your selected picture to a higher resolution without losing quality.
4. DepositPhotos

DepositPhotos is a royalty-free stock photography agency. It is said to host over 216 million photos, vectors, and videos on its website. It is recognized by many leading firms as well, including Warner Brothers, Bosch, and Forbes.
The website boasts a simple, easy-to-use interface. You can easily filter your preferred subject with options like color, size, orientation, and more.
Pricing plans for DepositPhotos are pretty manageable as well. They offer one of the lowest rates in the market and start the subscription at $13/month for 10 images. You can also go for an extended license collection that will give you access to exclusive content.
5. Dreamstime

Dreamstime is by far one of the cheapest solutions in paid stock photography. It contains millions of high-quality visuals that are available on subscription and on-demand plans. In fact, some of the pictures are available for as low as $0.20/image.
There is also a free photo library so if you are running on a budget, make sure to check it out for an impressive collection.
Another perk of using Dreamstime is that it offers integration with iOS and Android. Yes, you can get the app and use the stock photo collection on the move. There is also a plugin available for WordPress and Google GSuite.
Best Stock Photo Sites – Free
6. Pexels

Pexels offers a wealth of photographs – for free! It covers a wide spectrum of categories, so you are sure to find something suitable for your niche.
And finding the perfect stock photo is very easy on the site, thanks to its intuitive user interface. Just select the parameters according to your requirements and find the perfect picture from the ever-growing database.
All the photos here are available under the Creative Commons Zero license. This means that you can use the pictures on a commercial and personal platform without giving attribution.
7. Unsplash

The ultimate resource of free stock photos, Unsplash offers over 1.5 million photos. Their collection is also growing, so make sure to check back often for the latest pictures.
One of the best things about Unsplash is the uniqueness of the pictures. Here, you will not find any cliche pictures like a woman dancing with a bowl of salad. Instead, you will be amazed at the collection that stands at par with some of the most recognized paid sites.
Similar to Pexels, photographs on Unsplash are backed with a Creative Commons Zero license, allowing you to use and modify the pictures as per your liking.
8. Pixabay
Working in line with the Creative Commons Zero license, Pixabay offers free photos, videos, vectors, illustrations, and music for personal and commercial projects.
The Pixabay site is easy to use and offers search filters to help you get the perfect one. A sign in is not required. However, signing up for free membership lets you leave comments for the photographers and download high-resolution images.
9. Gratisography

Created by designer Ryan McGuire, Gratisography is a resource for free photographs with a quirky whirl. Here, you will find a unique collection of pictures such as 'goofy grownups' and 'wacky animals' to keep your animation level high.
All the pictures on Gratisography are taken by Ryan himself, so you will find the layout in a similar pattern. The collection is also high-quality and will not disappoint when searching for the right picture.
10. Burst by Shopify

Burst is a free stock photo resource that lets you download pictures for websites and blogs. Powered by Shopify, this site is also an ideal gateway for eCommerce owners who are looking for pictures to adorn the backdrops of their online store.
Another cool feature is the ability to filter pictures according to a specific eStore. Called the Business Ideas feature, this option allows entrepreneurs to find photos as per their niche. For example, men's fashion, women's accessories, beauty, etc.
You also have the option to download pictures in low-resolution or high-resolution. Giving credits to the original owner is not necessary but appreciated nonetheless.
Wrapping it up
Pictures are a vital addition to any marketing and digital campaign. Without it, you will be unable to retain the attention of the audience and make your website appear boring. However, sourcing pictures from your own collection of photographs can be a tedious task, especially if you are not a skilled photographer.
This is where stock photo sites come to the rescue.
The unique collection on each of the above sites mentioned can make your visual search easy. Bookmark them and use them anytime you want to save your precious time, effort, and money in curating new visuals. Good luck!