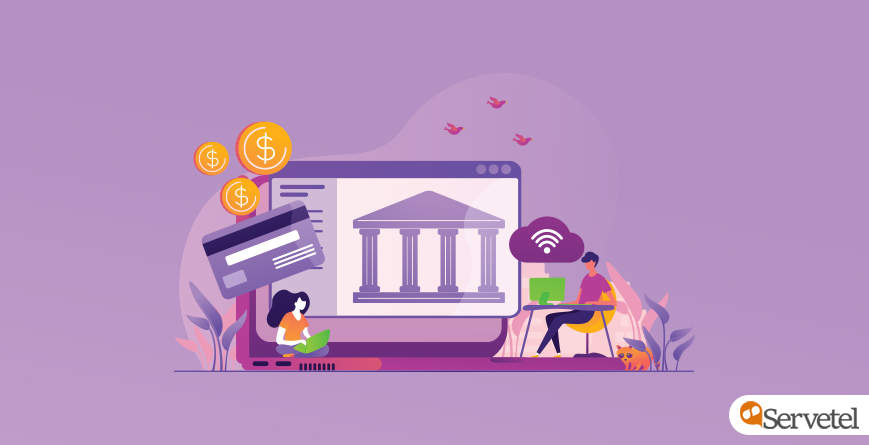 As the digital space gets easier to navigate, banks and other financial institutions are making access to store, deposit and retrieve cash simpler than ever before.
Banks employ financial technology like AI-based chatbots that can cater to multiple customer queries, cloud solutions for storing customer data, cloud telephony, IVR-enabled customer calling, mobile banking, etc.
Lately, FinTech has brought with it a revolutionary shift in the financial service sector, making customer access to important financial services quick and convenient.
What is FinTech?
Financial Technology, or FinTech, is all technology that makes use of information systems to carry out financial services and transactions.
FinTech started creating its space in the market through banks. As they slowly began offering their services and tools to customers online, people could access banking as long as they had a stable internet connection, regardless of their geographical location.
Customers can now access their money from anywhere across the globe, without having to be tied down to physical brick-and-mortar bank locations.
FinTech's revolution in the banking industry
Easily interchangeable with financial technology or banking technology, FinTech broadly consists of financial services that leverage technology, innovation and data.
Banks today are making use of it all and offering customers a perfect blend of both traditional (such as the provisioning of loans and other financial products) as well as modernised (IVR based customer support, cloud telephony and other cloud-based solutions, mobile banking) services.
FinTech is slowly leading the banking industry into a paperless and cashless existence. In the longer run, these technological advancements certainly promise increased efficiency rates and lower operating costs.
Some bigger impacts that FinTech has had in revolutionising today's banking industry are:
Mobile banking

The rampant increase in cell phone usage has fast-tracked the switch to a mobile-first world, with services easily accessible on mobile devices.

Banks are being forced into investing in creating mobile applications that offer convenient FinTech banking services.

Quicker transactions such as bill payments, depositing cheques, maintaining track of account balance and regularly being able to check bank statements have all been facilitated with the widespread usage of mobile banking.



IVR based payments

Interactive Voice Response (IVR) is a technology that helps in enhancing the customer experience by redirecting customer calls to the right support agent.

An IVR based system has multiple benefits that contribute to the banking sector's growth.

IVR can cater to the customer's requirements, without being bound by time. This helps employees invest their time and energy only in tasks and queries that require their immediate attention.

With the feature of call recordings, people can now make IVR payments without fearing they will lose their money. Since all activities are recorded, transactions are easily tracked.

IVR payment is also an extremely simple procedure to follow. Neither does it require any hardware nor any infrastructural additions, or the physical effort to go to a bank for carrying out any financial exchange.

AI-based IVRs help customers help themselves by reducing the need for human intervention. Most transactions, in fact, do not require any agent assistance at all and are very easy for customers to navigate through on their own.



24/7 chatbots

As financial institutions get accustomed to FinTech and its benefits, technology providers are also coming up with services like customer support chatbots.

AI chatbots are becoming increasingly popular in the banking sector. These work on software that uses machine learning and natural language processing techniques to analyse and comprehend human interaction.

Chatbots help streamline customer interactions, thereby contributing to a superior customer experience.

In some cases, a user can also directly link their account to the chatbot to make financial transactions.

A FinTech chatbot can also be made capable of assisting customers with financial advice and guiding them through the procedure of making digital payments.



Cloud-based solutions in FinTech

The onset of COVID-19 has led to an increased closure of brick-and-mortar stores. With low chances of physical workspaces dominating the market, it has become imperative for businesses to shift their operations online.

According to the 2020 IDG cloud computing study, over 55% of organisations stated that they are using multiple public cloud solutions.

By allowing the internal staff to handle customer-related processes remotely, cloud telephony is paving the way for a technologically fuelled financial market.

Cloud solutions provide organisations with different methods, such as streamlining customer communications, to strengthen their customer experience.

Cloud telephony, with its vast array of tools, handles customer interaction with the company much more efficiently than human employees possibly can.

Companies can use them to accumulate and store customer data. Balance, checking, spending habit analysis, etc. are some of the many tasks that can be completed online using the cloud.

Once all data is stored on the same platform, cloud solutions make it possible for employees to access it online, without any geographical constraints.

Cloud telephony is still an agile dimension of technology. As it contains a lot of scope for experimentation, it can be adopted by different companies and be personally configured to suit individual needs.



Omnichannel banking

Omnichannel banking is the process through which FinTech is helping banks reduce their dependence on brick-and-mortar stores for successful operation.

By using cloud solutions like IVR technology for customer assistance, banks are now operating over emails, texts and even social media. As a result, many banks are reducing their physical presence and switching over to omnichannel banking.

Some mobile banks are also venturing into creating chatbot platforms that are capable of mimicking a human assistant.

Omnichannel banking is helping customers access many different services online by evading the need of physical branches and helping banks to cut down on their capital investments.
What does the future of banking look like?
While it is not possible to determine FinTech's influence in the longer run, it will certainly grow to encompass different banking services.
FinTech arms retail banks with an edge over their competitors and it is essential for these banks to evolve and improvise their methods consistently.
The future of retail banking is brimming with opportunities for progress, but is also hugely competitive. FinTech is a major player in the current global economy. And, with its rapid growth and increased presence in retail banking, it looks like FinTech is here to stay.
You might also like