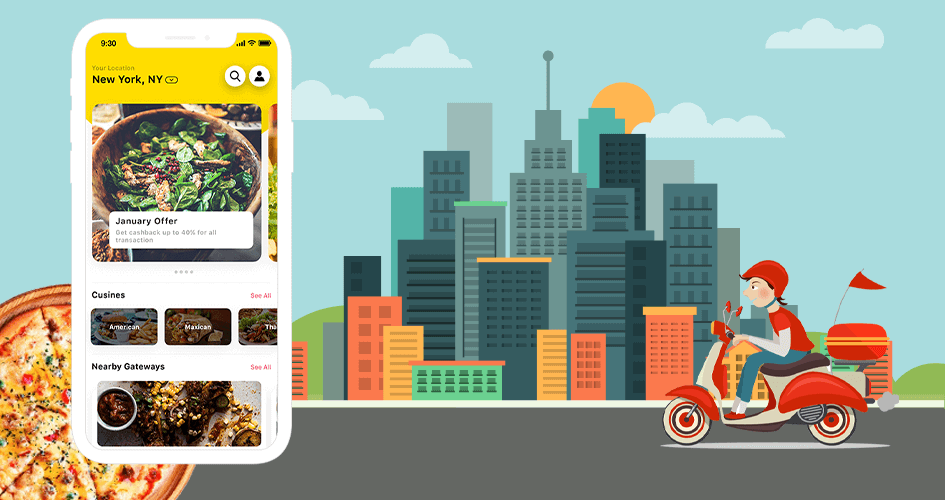 The rapid expansion of internet food delivery applications has sparked outrage. UberEats, Deliveroo, GrubHub, Doordash, and Postmates are well-known for combining the two things that everyone desires: food and comfort. These online meal ordering apps have proven hugely popular among clients of all demographics since they make ordering food a breeze. Everyone seems to be jumping on board, from restaurant owners launching dedicated meal ordering applications to businesses like UberEats and GrubHub that operate as a collaboration platform between eateries and customers. As this is a business model that is destined to succeed, these meal delivery applications have grown extremely popular. So, if you're making arrangements.
Order-Only Business Model:
These are typically second-platform apps that connect customers with eateries. Customers place food orders through these apps, which are then passed on to eateries. They are not, however, responsible for delivering the order to the clients, which is exclusively the duty of the restaurant. Due to the lack of logistics support, these apps are primarily appropriate for large restaurants with their own delivery infrastructure.
Order and Logistics/Delivery Support:
This model includes delivery services in addition to the previous features. It entails third-party delivery people picking up food from various eateries and delivering it to the customer's door. These types of food delivery applications have a larger market potential because they can be used by small-scale eateries that don't have their own delivery service. Customers pay a nominal delivery fee, and the app allows them to track their orders in real-time.
Orders + Cooking + Delivery = Fully Integrated Business Model
This type of food-delivery service is a natural extension of your restaurant. They cook, distribute, and generate orders as well. It works best for restaurants that already have a delivery system in place. These restaurant owners have made it simple for their clients to get their favorite dishes by establishing their own food delivery app. Simultaneously, they acquire the ability to reach a larger customer base.
Food delivery apps have monetization opportunities
You may monetize your on-demand food delivery app in a variety of ways. The following are a few of the most popular methods:
Fees for delivery
A large number of eateries do not provide delivery. In exchange for your best meal delivery service, these eateries are most likely to cover the delivery costs. This is a well-known monetization method that has benefited a number of firms. In 2015, Zomato began offering food delivery services. Food deliveries accounted for 30% of Zomato's entire revenue for a brief period, making them the company's second-largest source of revenue.
Pricing at its Highest
Another frequent revenue source is when the software incriminates a higher charge when demand is excessively strong. When a consumer puts an order, the app's food menu is limited, and a peak price is paid. UberEats is one example of a meal delivery app that relies heavily on this type of revenue. Swiggy has just begun testing a new model in which an additional delivery charge of INR 20 is added to every order placed during festivals, holidays, and rainy days when delivery manpower is scarce.
Commission
In this arrangement, the owner of the food delivery app charges a set commission for each order placed through the app. Many businesses use this as a source of revenue because it helps them generate a lot of money. Foodpanda has a revenue arrangement similar to this. Every order placed through its mobile app or website is subject to a pre-determined commission from the eateries.
Advertisement
Advertisements are the most effective and reliable technique for producing large sums of money. You can highlight a few restaurants in the app's top area or show a brief video about them on the home page for the intended population, and you can charge a fee for all. This is the most lucrative source of revenue for the well-known Zomato. Advertisements account for as much as 62 percent of its revenue.
The Challenges of Developing a Food Delivery App
Before getting into the food delivery business, you should familiarise yourself with the various problems that come with developing on-demand meal delivery apps.
Defeat the Competition
The food industry is becoming increasingly competitive. As a result, anyone looking to create a food delivery app may find themselves up against a lot of competition. To set yourself apart from the competition, you must supply something that no one else does. This must be in relation to the app's user interface/user experience (UI/UX) and functionalities. Furthermore, you will need to focus on better strategies to attract partner restaurants as well as offer clients tempting deals and discounts.
Food Delivery Costs App Development for Mobile Devices
The cost of building a Best Food Delivery App idea is determined by a variety of criteria, including the type of app, the type and quantity of features and capabilities integrated, labor costs, the technology used, and so on. The cost of establishing a simple food delivery app is estimated to be high. A high-end program with cutting-edge capabilities.
About The Author:
Hermit Chawla is a MD at AIS Technolabs which is a Web/App design and Development Company, helping global businesses to grow by Global Clients. He loves to share his thoughts on Web & App Development, Clone App Development and Game Development.
---
You might also like