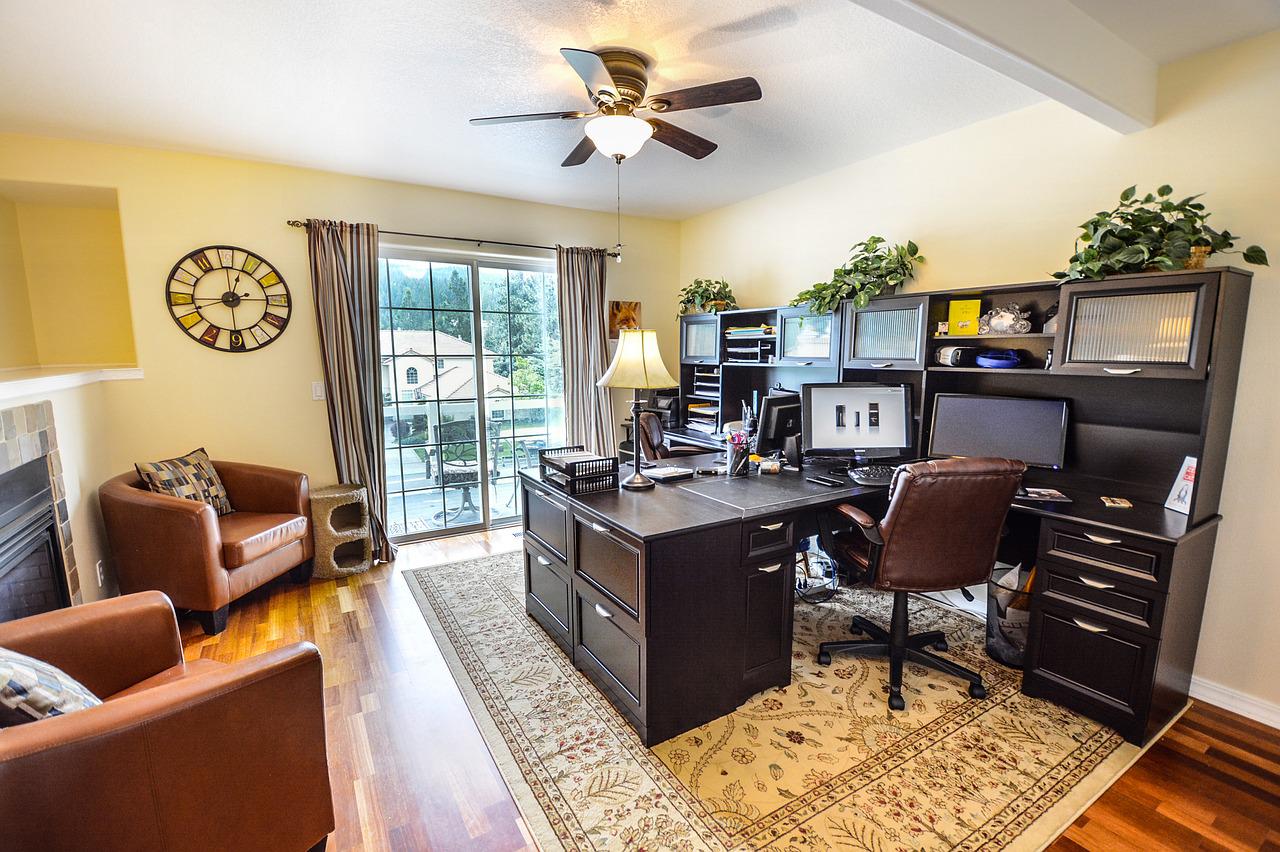 People often say or feel it is too boring whenever you think of an office. But that's not exactly what offices should be or look like. Even your office can look magnificent with the perfect look, demeanor, and right choices.
But what should you do about it, and how should you go about it? Do you really know? Well, you'll have to choose the perfect accessories, settle up the perfect environment and of course, choose things that are useful. Voila! You're all done!
So, if you are worried about how to go about the process, look no further than what we have below; with our exquisite tips, you are sure to ace your home office look in no time.
1. Get Some Lights
If your workspace doesn't have enough lighting, you need to ensure that you are putting in some unique pieces of light fixtures in your space.
You can think of placing a nice chandelier and some unique-styled table lamps. These will enhance the look of your house and make it look extraordinary. Furthermore, ensure that you are choosing the room that receives more natural lighting.
Both – light fixtures and natural lighting will ensure that the light comes into your house properly, giving you the perfect inspiration to work.
2. Utility Furniture
Well, we all like the great look of a piece of furniture. But only looks are not sufficient, we have to look after other factors as well like its quality, comfortability and utility. Well, most of the time we give more priority to looks, thus making a mistake in choosing a piece of furniture. Thus it's advisable that you choose the right office furniture for home which is comfortable and improves its utility entirely.
Moreover, also, ensure that you are making the right choices to ace the look and utility of your home office.
3. Get a Chic Carpet
When you are choosing a carpet, ensure that you select the right ones, which match the furniture, and take the entire look of your house to the next level.
Carpets bring along with a unique look to the house and give your office space an area of importance. It helps your home look stand out from the rest and complements the look of your pieces of furniture as well.
4. Add Greens
Can you deny the fact that a vacation with the perfect green scenic beauty gives you utmost happiness? Well, no one in this world can deny this! And that's what is going to help your house look fantastic and, in fact, increase your interest in working.
If your office space at home is boring and you will feel all the more tired or don't get the zeal, don't you think it will affect your work? To overcome that, you can ensure adding some greens that will enhance the look of your house and make your office area look fantastic.
5. Add Quotes
We all look for a particular type of motivation. And that's exactly what will help you overcome a lot of things! So, ensure that you are putting up pictures and other quotations on the wall or even slides on your table to make sure your office looks motivational.
You can get yourself a calendar where you can print out different kinds of quotations, and each day the day changes, you ensure that you are heading in the right direction.
6. Old and New Kind Of Decor
Let's face it; old is always gold. And what better than adding a pinch of the new look to your old decor? So, go ahead and decorate your office space with sleek yet exquisite decor and increase your motivation and look of your workspace massively.
Working in a space that is well-decorated is always inspirational and makes you feel excellent, and there is nothing better than adding in chic pieces of decor.
Final Thoughts
Office space at home is quite a common phenomenon, people are mostly working at the moment, and there is no way that we can refrain ourselves from having a perfect look.
So, you must ensure that you decorate the space properly to get yourself the perfect motivation. Being motivated at home and getting yourself the perfect amount of concentration is not easy.
And that can only be ensured if you are utilizing your space and striving toward the right pieces of furniture. So, go ahead and incorporate these, and do let us know in the comment section below what you think of what we spoke of above.
You might also like