Our smartphones can pretty much do everything these days. But which are the best ones for trading? Make sure you read this and find out.
Forex & Crypto Trading is Smarter on Your Phone
Smartphones are becoming a must-have tool for anyone serious about Crypto or forex trading. They may keep you immersed in the action so that you're never more than a few seconds away from your required information. But here's the catch… There are so many smartphones on the market that it's difficult to choose the ideal one for you. It's even worse if you're just used to one brand. What if your brand isn't the best for trading?
In recent years, the rate of mobile penetration in the UK has climbed dramatically, reaching an astonishing 87 percent. This trend has impacted a wide range of activities and markets, including mobile financial trading. More specifically, it is predicted that an increasing number of investors currently process at least 50% of their trades through a mobile device, with this figure expected to rise further in the short and medium future. But what are the finest mobile gadgets for forex trading on the go? Here's a list of smartphones to remember!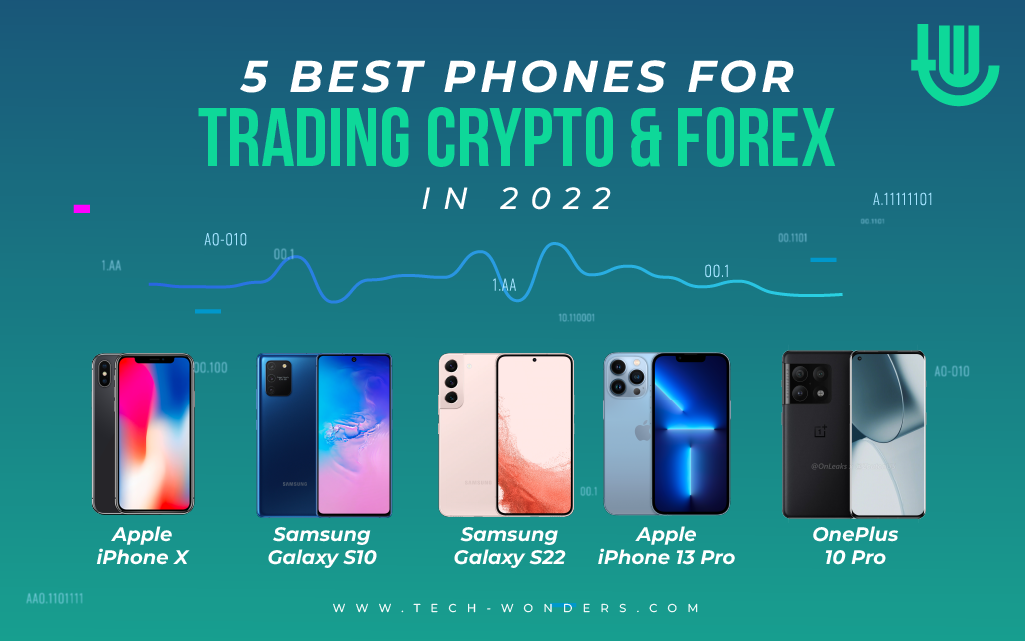 Apple iPhone X
There are several crucial aspects to look for in a modern trade smartphone. The first is a good example. Trading necessitates the examination of a wide range of data charts, statistics, and text. This implies that most phones won't be able to handle specific charts that require a high degree of clarity and brightness to be clearly viewable. In terms of screen quality, there is perhaps no better phone on the market than the iPhone X. The screen size and its clarity are ideal for trading purposes. Furthermore, the phone boasts a long battery life and a fast processor.
Samsung Galaxy S10
By 2025, it is expected that 3.7 billion people will use smartphones to access the internet. To fulfill the demand, brands such as Samsung are increasing their offerings. The Galaxy S10's colossal screen and optimum size make it the ideal smartphone for trading. You can follow up on your deals without worrying about running out of battery charge. The device's 8GB RAM helps to improve the browsing experience. In addition, it boasts a bright screen that gives you the resolution you need when examining the numerous trading platforms.
Samsung Galaxy S22
When it comes to premium Android phones, Samsung controls the roost, with the Galaxy S22 Ultra being the peak of its line, with a stunning design, gently curved display, and even a built-in S Pen stylus to provide further versatility to the software experience. Around the rear are four cameras, which are positioned in exposed lenses as part of this design and give excellent quality from wide-angle to various zoom stages. It's pretty simple to use, and the results speak for themselves. Of course, all functionality comes at a price. Still, we believe it's worth every penny – even if you're unlikely to utilize the built-in S Pen.
Apple iPhone 13 Pro
The 13 Pro features a familiar 6.1in Super Retina XDR display. Still, Apple has finally decided to add ProMotion to the iPhone, with the panel now reaching a super-smooth 120Hz. In addition, the notch is 20% smaller. In terms of cameras, larger sensors and quicker apertures promise more fantastic low light performance and significantly more comparable quality when moving to the phone's ultra-wide, which also includes macro shooting capabilities, and a 3x telephoto snapper, allowing you to shoot further than before.
Furthermore, the iPhone continues to lead in video capture, getting some clever new features like Cinematography Mode, which gives you more control over how your movie appears in real-time. Combine that ProMotion technology with the phone's powerful A15 Bionic chip and a larger battery, and you may expect some significant battery life increases, making this a two-day iPhone on a single charge.
OnePlus 10 Pro
It has a beautiful 120Hz LTPO 2.0 OLED display, nearly as good as the Galaxy S22 Ultras. However, it falls slightly short in peak brightness. On the other hand, it includes a high-quality build, excellent haptics, and a powerful primary and ultra-wide camera. Zooming is the only area where the Galaxy S22 Ultra outperforms the OnePlus 9 Pro. The OnePlus 10 Pro, on the other hand, charges much faster and costs less.
You might also like