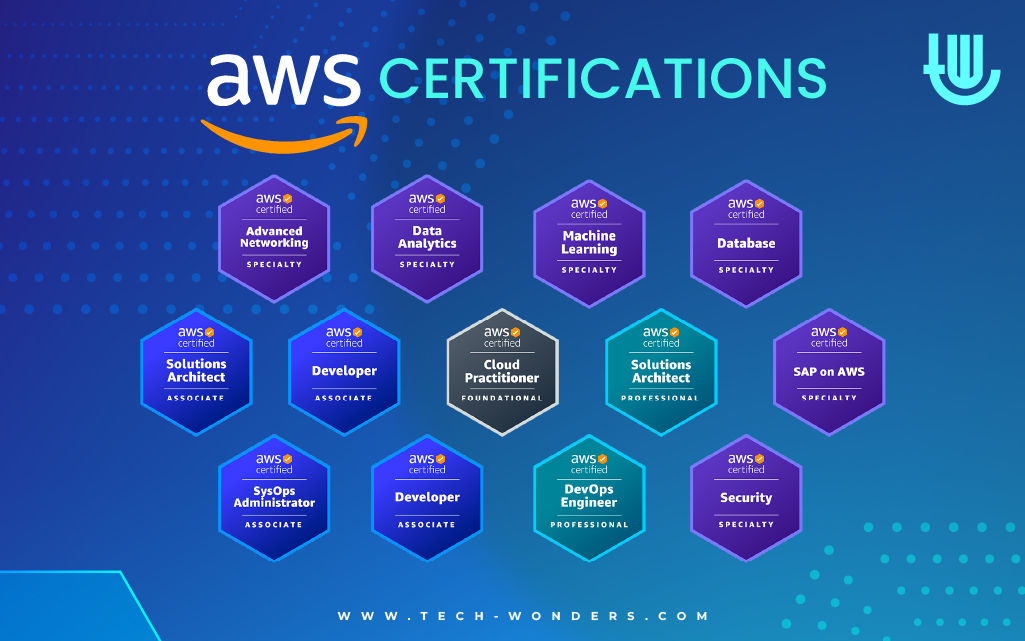 There are different certification options that are offered by AWS or amazon web services. The certifications can be classified in accordance with the experience level and the tile. When you want to prepare for this certification, you should understand the different certifications that are available so that you can pick the one that is the best for the career you are in.
By learning the available choices, you can plan for the learning process and get started in a way that suits your needs and schedule perfectly.
When we think of AWS certifications, there are four categories, these are:
Foundational
Associate
Professional
Specialty
It's important to learn more about the certifications to reach the career goal you have in mind. You may have to do more than one exam to get more certifications for even better chances in the future.
Why you should get the certifications
AWS certifications are sought out widely within the IT industry. These certifications are well-paid as well. By passing the certifications, you will always have a better chance of landing a well-paying job. The skills are valuable and should not be taken lightly.
When you have certifications, you can easily prove your skills to employers. This is to say, if you have this certification, the employer is confident and believes you are proficient enough to handle the task at hand. It is also the best way to prove that you can work within the recommended industry practices.
AWS certification salary
Getting certified in a certain area is essentially adding some new skills while at the same time validating the skills that you already have. You prove yourself better in this way. This means you increase work market demand and get a better salary from new and current employers. According to salary surveys, getting AWS certification can boost your current salary by about 26%.
If you are very specific about a salary boost, there are specific certifications that you can go for. They include:
AWS-certified solutions architect
AWS certified developer
AWS-certified SysOps administrator
The above three are the best if you want to maximize your earning potential. Salaries differ, but this depends on factors such as location and experience. It is important to do proper research before deciding.
Which AWS certification is the best for you?
There are different certification levels offered, as mentioned. Anyone who wants to grow in different roles needs to follow a certification path and pass many certifications as they possibly can.
You can pick certifications in accordance with the level of difficulty. There are positions like admin, architect developers, and other specialties such as networking, security, and big data. To make the right choice, consider your experience and career level.
There are certifications that are grouped at every level. You should find out as many details about the certification as you can. You should also choose the best learning path that matches your career.
The choices are:
1. AWS foundation level
If you are starting, this is the best certification to get. This is an ideal certification that targets managers and freshers who are not too much into technical work. It is a good choice for those who want to have a grasp of cloud concepts. The entry level is the best place to start if you are trying to understand the cloud, what AWS is all about, and what you can do with it.
2. AWS-certified cloud practitioner
For freshers or anyone who wants to learn about the cloud for the first time, this is the first exam you should consider preparing for and attaining. This is a good certification that is suitable for beginners. This exam focuses on the AWS basics and cloud concepts ideal for beginners. This exam is not for more experienced professionals. The main aim of the exam is to give you an overview of what AWS is all about.
3. AWS associate-level certifications
Anyone planning to start working in an AWS environment and begin a career as a developer, SysOps administrator, or solutions architect should get this certification. There are different certifications that you can choose at this level, and it is often based on the job role. It would be best if you considered the following:
Solutions architect associate certification: suitable for those who want to be solution architects.
Developer associate certifications: best for those who want to become developers.
SysOps administrator associate certification: for those who want to be SysOps administrators.
4. AWS professional-level certification
These are advanced certifications that test the knowledge one has of AWS services. It is a good choice if you have over six years of experience in these technologies. This is not to say that you cannot take the test if you haven't reached that level of experience. Many people pass the test without prior experience when they learn the concept and put in much effort.
There are two certifications here. They are:
Solutions architect professional: best suited for those who want to be solution architects.
DevOps engineer professional: ideal for those who have a passion for being DevOps Engineers.
AWS specialty-level certifications
These certifications are advanced for specialization areas. There are six specialty AWS certifications that you can settle for. You should prepare for these only when you are on a specific career path relevant to the exam. If you are in a domain that is security related, then you should settle for AWS certified security specialty exam. This is the most suitable option for your career. The available options include the following:
Advanced networking specialty: it is a tough certification, and without experience and practice in various networking concepts, it can be a bit hard to ace it. It is a good choice for devops engineers, network engineers, and networking architects.


Data analytics specialty: this is a good choice for data scientists, data engineers, data architects, data analysts, and anyone practicing with data.


Database specialty: the exam covers data services from non-relational, relational, caching, graph, and data warehousing. You would need some expertise to handle this exam.


Machine learning specialty: it's a good choice for those within the machine learning domain.


Security specialty: this is an important skill that every engineer needs. Security is the core of the infrastructure space.


SAP on AWS specialty: this is a certification that targets people using AWS infrastructure to handle SAP workloads.
Bottom line
AWS certifications have become very popular today. AWS offers a great platform that regularly brings new certifications, features, and services. You can now validate your cloud knowledge by getting the right certification.
You May Also Like