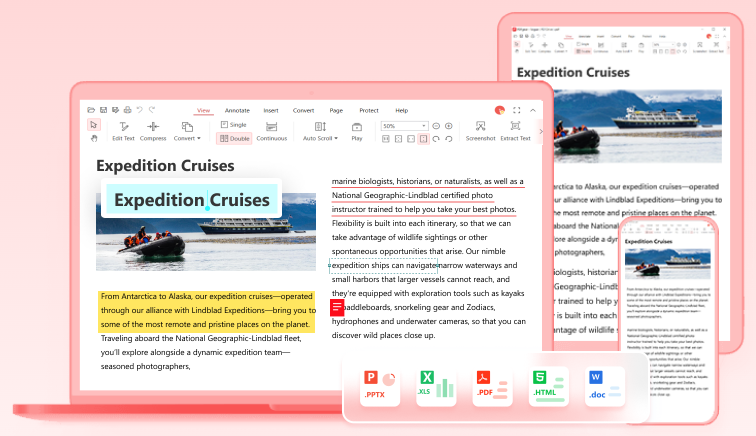 What is PDFgear
If you're in need of a reliable and feature-packed PDF software, look no further than PDFgear. This tool is designed to be convenient and easy to use, with support for both online and offline use. Whether you're at home or on the go, you can access full suite of features to create, edit, and convert PDFs with ease. From text and image editing to page manipulation and annotation support, it got you covered.
What Features Does PDFgear Support?
PDFgear typically supports a wide range of features, including the ability to create, view, and edit PDF files. Some specific features that are commonly supported by PDF software include:
PDF Editor/Reader
PDFgear PDF editor/reader allows users to open, view, and edit PDF files. It typically has a range of features, including the ability to add text, images, and shapes to a PDF, delete or rearrange pages, and fill out forms. It also have features such as the ability to add comments, highlight text, and set password for PDF.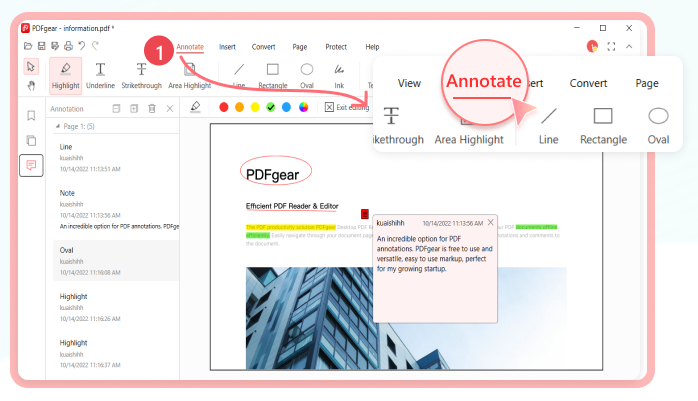 PDF Converter
PDFgear PDF converter allows users to convert PDF files into other file formats, such as Word, Excel, PowerPoint, or image files (e.g. JPG, PNG). This can be useful when you need to edit the content of a PDF and don't have access to the original source file, or when you want to reuse the content of a PDF in a different application.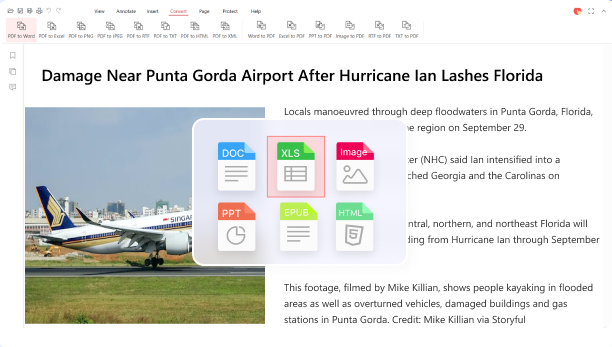 PDF Compressor
The PDFgear PDF compressor feature is a tool that allows users to reduce the size of a PDF file. This can be useful if the file is too large to be easily shared or uploaded to a website. The compressor works by reducing the size of the images in the PDF and by removing unnecessary data, such as metadata or embedded fonts. The compressed file will typically be smaller in size than the original, while maintaining the same quality and content. PDFgear also allow users to customize the level of compression, giving them control over the balance between file size and quality.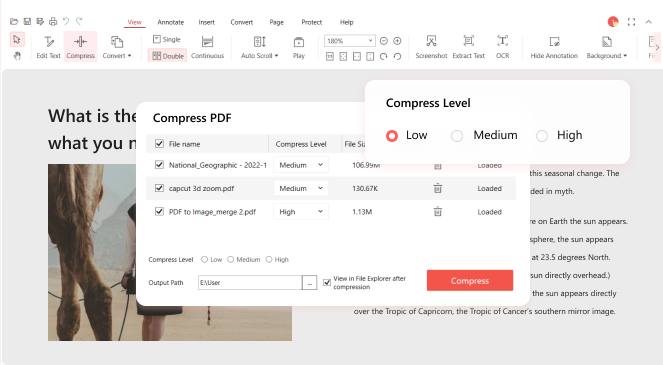 What Makes PDFgear Standout
There are many PDF tools available on the market, so it can be difficult to determine which one is the best fit for your needs. When choosing a PDF tool, it's important to consider the following factors, which can help a PDFgear product stand out from the competition.
Free of Charge
PDFgear is completely free to use. There are no hidden fees or subscription charges. You can use all of the features and tools without having to pay anything. PDFgear is designed to be easy to use and accessible to everyone. With this PDF product, you can do everything you need to do with PDFs at no cost. So if you're looking for a reliable and free PDF tool, give PDFgear a try!
Easy-to-use UI
One of the standout features of PDFgear is its easy-to-use interface. You don't need to be a tech-savvy expert to navigate the program – everything is clearly laid out and intuitively designed. This makes it perfect for those who are new to PDF editing or those who just want to get the job done without having to fuss with complicated menus and settings.
Keep Quality
But perhaps most importantly, PDFgear produces high-quality PDFs that maintain the formatting and layout of the original document. Whether you're creating a PDF from scratch or editing an existing one, you can trust that the final product will look professional and polished.
Strong Compatibility
One of the most convenient features of PDFgear is its compatibility with a wide range of devices and operating systems. Whether you're using a Windows PC, a Mac, or a mobile device, you can access and edit your PDFs from anywhere. This is especially useful for business owners who are constantly on the go and need to be able to access and edit documents from any location.
Conclusion
Overall, PDFgear is a versatile and user-friendly PDF editing tool that is perfect for both professionals and casual users. Whether you need to make quick edits to a PDF document or require more advanced features, PDFgear has you covered. It's no wonder that it has become such a popular choice among PDF users.
Related read: