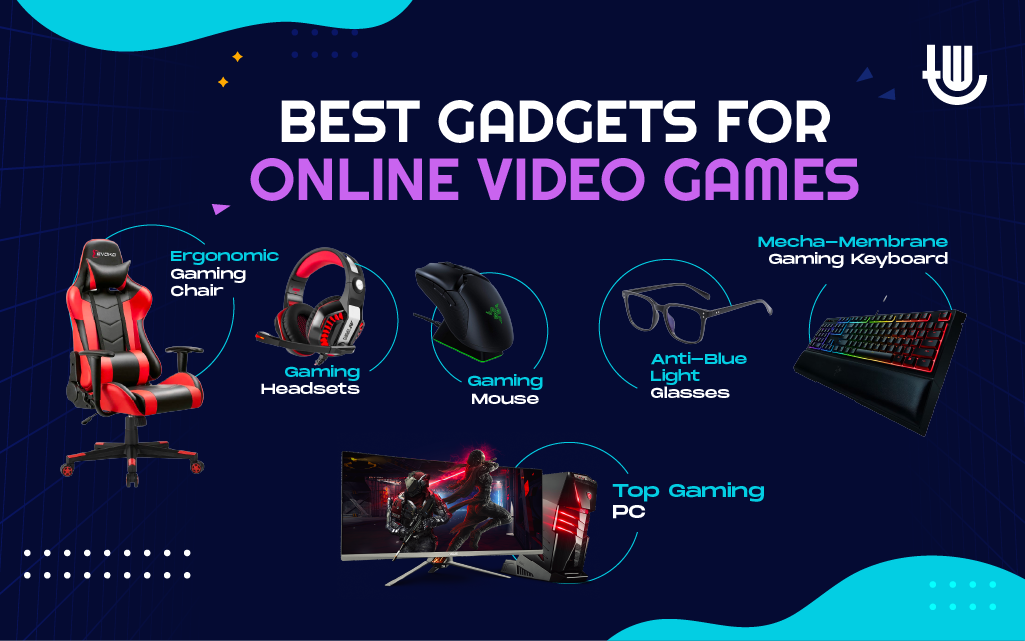 Gaming gadgets are the best thing after sliced bread. They enhance video games by adding comfort and removing stress and potential harm. So, it's no news that worldwide gamers have personalized gadget setups to complement their favorite games.
Thanks to technology, there's a gaming gadget to accompany any potential gaming issue. We have glasses to filter the light, headsets to enhance the audio, and gloves for better grip and comfort. Heck, gamblers use technology to check out online casino reviews for their preferred sites.
Read on as we explore some impressive gadgets that can significantly impact the online gaming experience:
An Ergonomic Setup
Online video gaming can be very engaging, leaving gamers engrossed for several hours. However, gaming in an awkward position won't be kind to your back and even cause extreme pain. At that time, it is best to have an ergonomic gaming setup to prevent slouching and bending.
A standard ergonomic setup has a headrest, a high back, adjustable arms, a lumbar pillow, and even leg support. In addition, your preferred chair should tilt from 90 to 160 degrees to allow you to assume a comfortable position, and it should feature a roller wheel and other convenient features.
Gaming Headsets
Gaming headsets can undoubtedly improve the experience. They create an immersive scene where the gamer enjoys life-like audio from the video game. So, they're an excellent investment for rookies and pros who want a personal experience.
A good gaming headset is essential whether you play single-player or multiplayer games. In multiplayer games, it helps you interact with other players hands-free. Many gamers prefer wireless sets, but wired headsets eradicate latency.
Your ideal headset should preferably have a detachable microphone. It should also have a high-quality stereo or sound system to allow you to sense sounds from every direction, which can come in handy in a fighting game. The headset should also be compatible with several devices.
A Top Gaming PC
A reliable gaming PC is the underdog of your entire setup. It leads the show but quickly hides in the shadows of other gadgets. However, online gaming still largely occurs on PCs today, so it is essential to have the best in your setup.
PCs are adaptable and easily accessible to many gaming consoles, and they still pack a punch for high-quality gaming. You can game with a desktop or laptop, but ensure that the device is tailored for gaming.
Ensure you have a powerful processor, minimum RAM of 16GB, the latest generation of computers, and a powerful graphics card. These features will help you avoid hitches so you can enjoy your setup for a long time. Also, look for the interconnectivity options, the coolest system, and upgrade options.
A High-Quality Keyboard
Your gaming keyboard can directly affect your playing experience. This logic is because it communicates commands from you to the system. So, a high-functioning keyboard is a great place to start when piecing your setup together.
Keyboards also improve your comfort and performance, especially when paired with a great gaming mouse. Aim for a wireless keyboard, as it allows you to move comfortably into different positions. Your ideal keyboard should be detachable and have a spacious cushioned wrist area.
Also, look for gaming keyboards with keys of medium height that have a mecha-membrane, as they are easier to press and are highly responsive. In addition, it should feature a backlight in case you play in dim light.
Anti-Blue Light Glasses
Like other game-enhancing gadgets, a pair of blue light-canceling glasses can positively impact your online gaming experience. Screens produce blue light that can harm our eyes when exposed to them for long periods. Asides from affecting your sight, blue light can alter your schedule, as it affects your brain.
By filtering out the blue light, anti-blue light glasses can help you avoid eye strain and prevent your brain from suffering its effects. Now, you can comfortably play your favorite games without worry.
You May Also Like