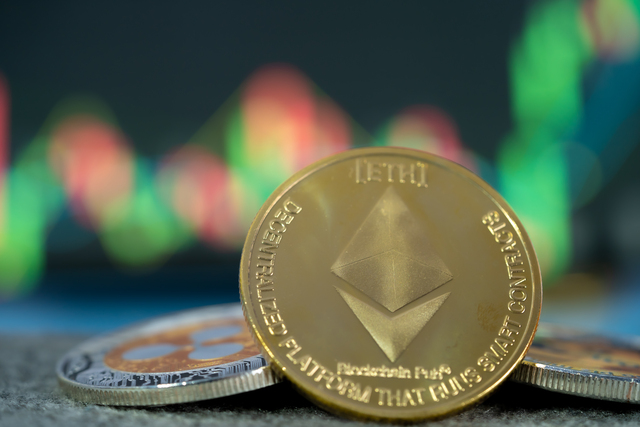 As the second-largest crypto in terms of market capitalization, Ethereum towers over its competitors. The network's surging popularity can be attributed to its innovative nature and numerous use cases that have enriched the crypto space over the years. Ethereum is a reliable and fully decentralized blockchain platform with smart contract functionality which has led to the development of an entire ecosystem of decentralized apps (DApps) with applicability across a wide range of industries, non-fungible tokens (NFTs), and many other innovative solutions.
There are plenty of things that fuel Ethereum's dominance and set it apart from other crypto projects. The crypto has fluctuated a lot over the years, but the token has always kept its market position through all the bear and bull runs that have swept the cryptocurrency market.
However, despite its unique features and the advantages it provides, Ethereum has also received its fair share of criticism, mostly because of its high transaction fees and slow processing times. Scalability is a long-standing issue for Ethereum which only got worse in recent years due to its increased popularity and high adoption rates. While Ethereum can only process 14 transactions per second, other layer-one blockchains are a lot faster and also cheaper to use. But they're not as established and reliable as Ethereum, so users are not willing to take their business elsewhere.
Many held hope that these concerns could be addressed by upgrades to the Ethereum platform. Indeed, the network has undergone a series of upgrades and updates over the years in order to boost its overall performance but it appears that all these tweaks haven't helped much in terms of scalability. So, it became clear that other scaling solutions were required to fix the problem and help users conduct transactions in a faster and more convenient way, and that's how second layers entered the picture, with Arbitrum being the most recent and relevant example in this respect.
What is Arbitrum and how can it help?
In order to explain how Arbitrum can provide a solution to Ethereum's scalability problems, we first need to understand what Arbitrum is and how it works. Developed by Offchain Labs, Arbitrum is a layer-two (L2) roll-up technology that sits on top of Ethereum, which is a layer-one blockchain, enabling faster and cheaper transactions that are then submitted to the Ethereum network.
Arbitrum was launched back in 2016 specifically to facilitate Ethereum transactions, but at the moment of its creation, the project didn't have a governance token. It was only recently that Arbitrum launched its governance token ARB and transitioned to a decentralized autonomous organization (DAO).
As the leading Ethereum layer-two scaling solution, Arbitrum provides a range of advantages such as:
Improved transaction speed and lower costs – Ethereum's processing power is limited to only 14 transactions per second, while gas fees can cost up to a few dollars, becoming an impediment to developers and traders. Arbitrum can support the Ethereum protocol by grouping multiple transactions into one batch and then submitting it to the Ethereum base layer, thus reducing both processing times and transaction costs.
Compatibility with the Ethereum network – Arbitrum is fully compatible with the Ethereum Virtual Machine (EVM) and all the features that the network hosts. This ensures a seamless experience for developers who can transfer their apps between the two networks without changing the code.
Improved security – Arbitrum is a highly reliable and secure network that uses a range of safety features such as fraud proofs and dispute resolution mechanisms that aim to identify and correct suspicious activity and settle any arguments that may arise between network users.
Innovation venue – Arbitrum offers a fast, cheap and easy-to-use platform that helps developers to circumvent Ethereum's scalability issues, thus allowing more freedom for experimenting and testing innovative ideas and solutions.
The ARB token airdrop
On March 22, 2023, Arbitrum finally airdropped its ARB token and became a decentralized autonomous organization. From this point on, token holders can vote on governance issues regarding the Arbitrum One and Nova blockchains. This long-awaited event and Arbitrum's connection to Ethereum have attracted much attention from users, leading to an overwhelming demand and a high influx of traffic in the first hours after the token's launch which caused the project's platform to crash.
Fortunately, despite the technical issues, users were still able to receive their tokens from the smart contract. Besides, the ARB token has already been listed on several crypto exchanges, including Binance, Coinbase, and Bitfinex.
But the most important effect of the airdrop was the impact it had on the Ethereum price. Immediately after the release of the ARB token, Ethereum's value went up almost 6% in just a few hours. This should come as no surprise given Arbitrum's link to the Ethereum network. However, Ether wasn't the only coin that experienced a notable price increase following the ARB launch. The same morning, Bitcoin rose approximately 5%, while other tokens such as XRP (XRP) and Binance Coin (BNB) also went up by 6% and 3%.
This slight price improvement is great news for Ethereum backers and investors who have seen crypto values drop across the board with the onset of the crypto winter, but one shouldn't read too much into it either. Ethereum, like all other digital currencies on the market, is an extremely volatile asset. Therefore, one shouldn't base their investment decisions only on the short-term performance of an asset. It's important to do thorough research and be aware of the risks that crypto investments entail before making any decisions in this respect.
On the bright side, Arbitrum and its new ARB token prove that more innovation is coming to the crypto space with more effective solutions being developed all the time. This provides hope for those who believe in Ethereum's potential and the future of the cryptocurrency industry.
Featured image source: vecteezy.com
You may also like