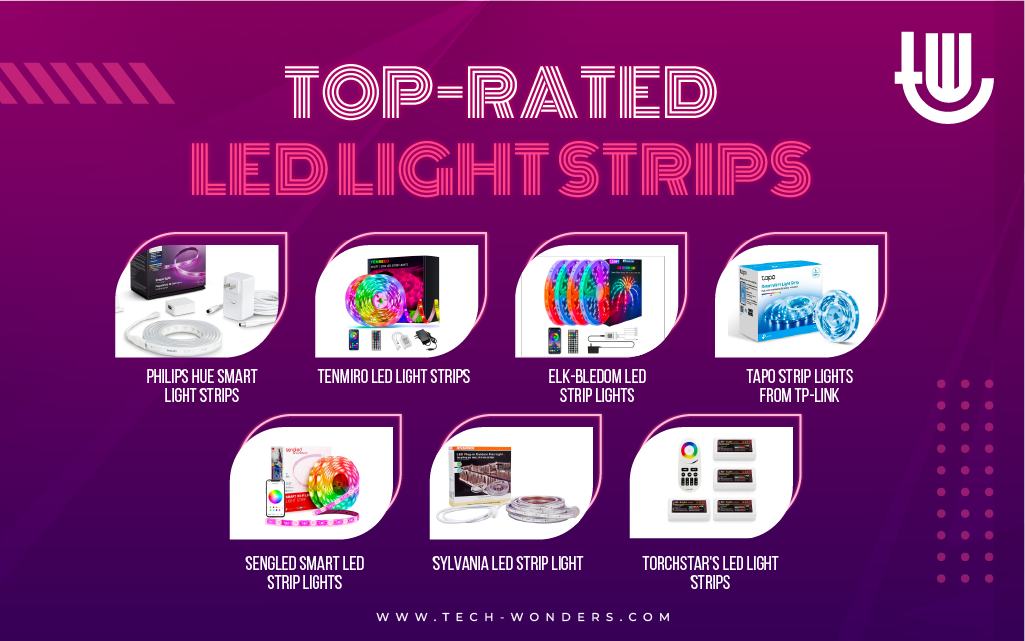 Strip lights can be used for a variety of purposes around the house, from accent lighting in the bedroom to under-cabinet lighting in the kitchen to outdoor illumination by the fire pit or grill. They are a great addition to any home office.
We've compiled a list of the top-rated, most cost-effective strip lights for any use. LED light strips, whether in RGB or standard white, are a quick and easy way to spruce up any celebration with the spirit of the season.
For Halloween, birthday, and Christmas parties, all you need is a setting on a remote control or, better yet, an app on your phone to change the colors or sync them to music.
Philips Hue Smart Light Strips
The key to success is adaptability. This Philips Hue model offers the finest quality and functionality for the price, making it the best strip light.
The LED strip is coated with a synthetic polymer that is both thick and long-lasting. Plus, you can operate them conveniently from your phone thanks to their Bluetooth connectivity.
These come with a relatively short 6.5 feet of illumination but may be extended with additional kits to a maximum of 33 feet, or shortened by as much as 12 inches if desired.
However, an additional Hue bridge will enable smart features such as scheduling, scenarios, and app management even when you're not in close proximity to your phone through Bluetooth.
Tenmiro LED Light Strips
If you want to inject some color into your room's atmosphere, these Tenmiro LED light strips are just what you need. Those on a tighter financial budget will appreciate the ongoing price cuts.
This kit features two rolls of 50 feet each, for a total of 100 feet of self-adhesive, color-changing, Bluetooth-enabled strip lights to use wherever you like. The Tenmiro LED light strips can be controlled with the included 44-key remote or your own mobile device through Bluetooth.
These strips require some attention to detail during set up; you may have trouble at first with the remote or Bluetooth pairing. However, after initial setup, they consistently respond to user input.
Elk Beldom
Shenzen Elk Technology produces Elk-Bledom LED lighting strips. Elk Beldom on Bluetooth is the term used to describe a Bluetooth-enabled lighting device. It's a Bluetooth-enabled LED light strip that requires no additional wireless setup to operate. Any Bluetooth-enabled smartphone (iOS, Android, etc.) can be used to quickly manage this light strip's brightness.
Once it has been plugged into an outlet and switched on, its name will be shown. But there's more to the Elk-bledom on Bluetooth that you need to know, and it'll blow your mind.
Each led Elk-bledom light strip contains over 300 individual led bulbs. However, the packing also includes a number of additional components of equal importance. The receiver box, splitter, and power adapter are all included.
In the Elk-bledom LEDs, you can see the RGB color code in a variety of permutations, such as R+G+B, R+G, R+B, and G+B. The splitter aids in controlling the varying representations of color codes.
Tapo Strip Lights From TP-Link
Tapo strip lights from TP-Link, which are wifi-enabled, are a stylish complement to any building. They have a massive 16 million color range, 100 separate color zones, and are app-controlled through wifi so you can set the mood wherever you are.
Using the Tapo app, you can easily arrange schedules, create scenarios, and experiment with different effects. These lights have a maximum output of 1100 lumens, making them rather bright on their own but also useful as a supplementary light source thanks to their full light.
These LED strips do not come with a remote, but you may turn them on and off, as well as select other color schemes and other settings, with the associated manual controller. This feature differentiates it from alternatives that require a smart control or plug-in in order to function.
Sengled Smart LED Strip Lights
The Sengled Smart LED strip lights are an excellent choice for a gaming or media room due to their compact size and vivid color palette. You can use these strip lights to decorate the back of a monitor, TV, or even a desk, and they come in 16 million different colors to match your every whim.
If you have the Sengled Home app, you may use the wifi capabilities of this light strip to create the ideal atmosphere for your media.
You can modify the brightness of the colors on this strip to make them more or less vivid depending on the setting. This strip does a fantastic job of displaying accurate colors without the bluish tint that is typical of LED strips.
Light Strip By Sylvania
Sylvania's 32.8-foot-long flexible light strip is a great choice for illuminating decks, fencing, landscaping, and pathways. Although it was designed to withstand the elements outside, it may be used inside as well, be it for general lighting or under-cabinet lighting.
This model's lack of a remote control and customizable color selections is a major drawback. However, this is the best choice if you want a white light strip that can withstand the elements and be used outside. To get around the absence of a remote, I use an outside smart plug to switch on and off the strip lights using my phone and Alexa.
Sylvania also sells optional replacement bulbs in daylight (6000K) and cool white (3500K) color temperatures should you decide you'd like them.
Torchstar's LED Light Strips
Although Torchstar's LED light strips are advertised primarily as safe and under-cabinet illumination, their motion-activated design makes them an excellent addition to any dark space.
There are six separate light strips, each 12 inches long, and a motion sensor to turn them on and off. More than one of these light kits may be installed with ease thanks to the motion sensor's dual extension connection.
Final Thoughts
The Philips Hue Bluetooth light strip is superior to the competition since it can be controlled wirelessly, it can change colors to set the mood, and it can provide 1600 lumens of light. Although more expensive than comparable products, this strip's robust construction results in enhanced longevity, especially when compared to alternatives.
You May Also Like