It's lucky for us to live in such a highly developed world, where we can easily grab the most beautiful moments of our life with digital cameras in our hands. We can't even think about a world without beautiful images around us. We take photos everywhere, and through our social media accounts, we share them almost everywhere on the internet. Perhaps you are not aware of the security problem of online photos, but it is dangerous to share them online without any protective measure on them. Some bad guys may copy your nice digital works and use them for bad purpose. You need to protect your online photos! You need Aoao Watermark for Photo.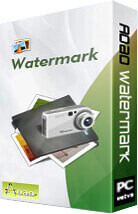 Aoao Watermark for Photo is an easy-to-use windows software, which provides users professional solutions to protect the copyright of photos. Watermarking is the best effective way to solve photo protecting problems, and as an expert in this field, AoaoPhoto makes it easier for users to get out of the danger.
Aoao Watermark for Photo specific functions
Customize visible or transparent watermarks (text, image and frame)
Batch watermarking (watermarking 300 photos less than 1 minute)
Full control over placement and size of your photo watermark
Awesome watermark library (150+ free watermark materials)
Convert images to popular image formats like JPG, BMP, GIF, TGA, etc.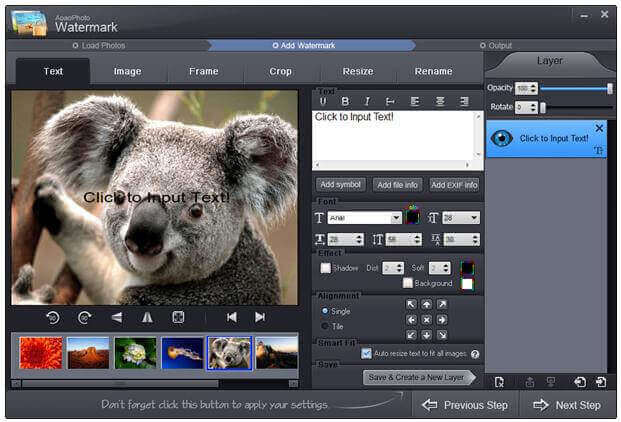 Add Text Watermark to Photos
Using Aoao Watermark for Photo anyone can very easily add text watermark to photos. Aoao Watermark for Photo is practical and useful photo watermark software that supports adding multiple layers of text watermark with detailed settings.
Add Image Watermark to Photos
Aoao Watermark for Photo enables to add image watermark to photos more directly than text watermark. And, for registered users Aoao Watermark for Photo offers many free image watermark materials.
Add Watermark to Animated GIF
Aoao Watermark for Photo enables to add watermark to animated GIF images and keep its dynamic effects.
Set Photo Frame
With Aoao Watermark for Photo we can easily set photo frames using 3 photo frame setting methods provided: Texture (Rectangle, Ellipse and Diamond), Pattern and Out Line.
Crop and Resize Photo
Aoao Watermark software can crop photo to select desired part and remove unwanted parts of the photo. It also allows re-sizing photo size to adjust photo resolution for different needs.


Save Time with Batch Rename
Aoao Watermark software can batch rename hundreds of your photo files at one time and save a lot of your valuable time!
Convert Photos Easily
Aoao Watermark for Photo software enables easy conversion of photo files among all popular formats like JPG, GIF, BMP, TGA, PNG, etc.
If you want to keep your online photos much safer, just follow this link and get Aoao Watermark for Photo software for free: www.aoaophoto.com/watermark/Details.htm
This is a free license key for all Tech-Wonders.com readers, and please activate it before April 15.
AO-AWMB-AF46600781-0015FF96E8-2CB9E7B6E0
So, what are you waiting for? Go get it for your photos!