You've done a nice job on building your blog or website and filled it with great content! Now testing with a bunch of new WordPress themes for your site and finding out the themes that brings in the most earnings can make a lot of difference. It may sound implausible – but testing new themes can considerably maximize earnings from your websites while actually improving your site's usability, which in-turn has a positive impact on your search rankings and traffic generation.
Introducing Ezoic which is the only Certified Google AdSense Partner with its headquarters in North America. Ezoic allows online publishers to make improvements to their websites automatically based on how the visitors use their site. It takes no effort to integrate a site with Ezoic and there is no charge for the service as well.
Ezoic helps sites like Tech-Wonders.com find a WordPress theme that makes audience spend the most time on, bounces the least and clicks onto the most pages per each visit. And also not forgetting to place the ads in the positions that bring the most earnings. And the only way to get there would be to test different themes and different ad combinations (Number of ads per page / Ad positions etc) within those themes.

Here's an image showing how Ezoic would work on your site and finds the WordPress theme that brings in the most earnings: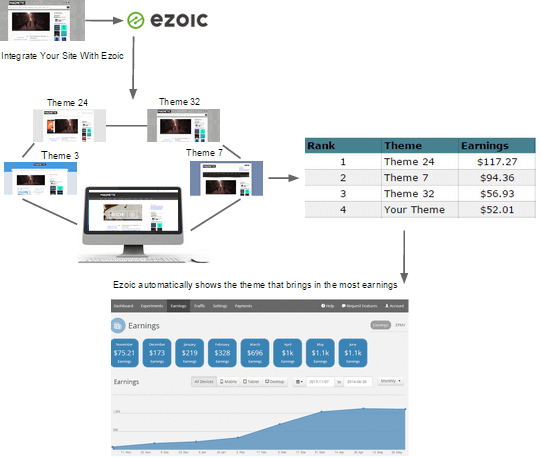 Ezoic tests 40+ different themes across your site and automatically shows the themes that brings in the most earnings and best user experience metrics.
How Ezoic Impacts SEO
Ezoic is SEO friendly service because when it finds new themes for your site that makes your audience spend more time on, bounces less and see more pages per visit, Google automatically starts scoring your site a little higher in usability which eventually will bump your site a little higher in the search rankings as time goes on. So it's not uncommon to see your search traffic start to grow.
How the Ads are Handled
Ad networks pay different prices to place an ad on your site and it can be confusing deciding which ad networks to use. Ezoic puts them all into one auction, so they have to compete against each other and bid the highest in order to place an ad on your site. It then automatically tests the winning ads on your site, to find the ad positions that bring you the most earnings. There are many ad categories you can select to show on your site. The real results come from testing those ads in over 650 different positions across your site. So it's only a matter of time before it finds the winning ad positions on your site, that bring in the most earnings.

Here's an image that shows what results you can expect to see over the first 4-8 weeks after implementing Ezoic, in terms of earnings. This sample site demonstrates the typical optimization pattern for sites trying out Ezoic: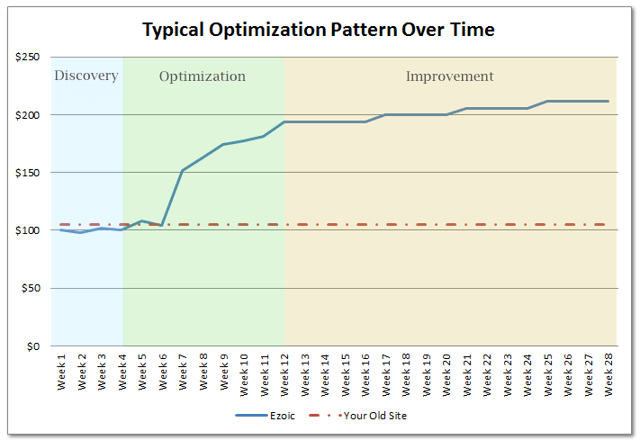 Ideally sites would have a minimum of 30,000 visitors per month when trying out Ezoic. Otherwise it would take too long to collect enough data and see significant optimization. Before integrating your site with Ezoic, make sure you're getting around 30k+ visitors per month. It's not a hard cut off and they accept sites with around 15k as well. Changing the name servers is the best option to seamlessly integrate your site.
Learn more about Ezoic and how it would work specifically on your site.