Recently Microsoft released a free version of Microsoft Office 2016 for Mac (Preview). The desktop version of Microsoft Office for Windows (PC) was updated many times in the past. However, the counterpart version of Office for Mac was not updated so often until now that Microsoft released a new version of Microsoft Office 2016 for Mac.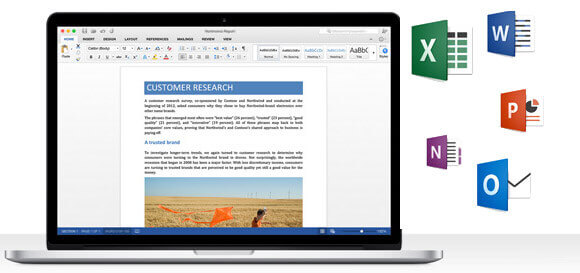 Now, Mac users can upgrade their Office for Mac 2011 version to enjoy most of the modern features available in the latest versions of Microsoft Office for Windows. The new version Microsoft Office 2016 for Mac also takes advantage of all the capabilities available in Mac like the Retina display and the transition for Windows users to this Mac version is straightforward as many of the most useful keystrokes are now available in Mac.



You can download the new free version of Microsoft Office 2016 for Mac from the link below:
products.office.com/en/mac/microsoft-office-for-mac.
Microsoft Office 2016 comes with support for cloud storage accounts such as iCloud, OneDrive and OneDrive for Business so you can open files directly from your cloud accounts and save them online. Also, SharePoint is supported for document synchronization.
If you are a user of Office 2013 for Windows (PC), you will notice the user interface looks more uniform in the Mac counterpart across all the Microsoft Office programs available in this new version: Word, Excel, PowerPoint, OneNote, and Outlook. Even more, Microsoft introduced OneNote for Mac with this new preview release of Microsoft Office 2016.
Microsoft Word 2016 for Mac
In Microsoft Word 2016 for Mac, you will notice a revamped Ribbon menu with tools that let you edit, share and review the document. Also, the Design tab in Word 2016 is now improved offering a navigation pane (as a replacement for Document Map).

Microsoft Excel 2016 for Mac
Microsoft Excel 2016 for Mac now has the Analysis Toolpak support with wizards for data analysis and other improvements in PivotTable features, the data chart wizard and the Microsoft Equation Editor with an improved formula builder.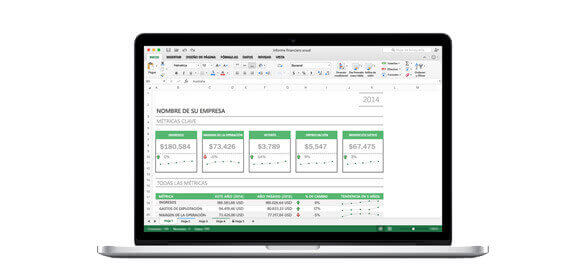 Microsoft PowerPoint 2016 for Mac
In PowerPoint 2016 for Mac, you can find new modern transition effects and an improved Presenter View mode. The co-authoring features were also improved in this new version of PowerPoint 2016, such as threaded comments or visual comparison for documents having conflicts.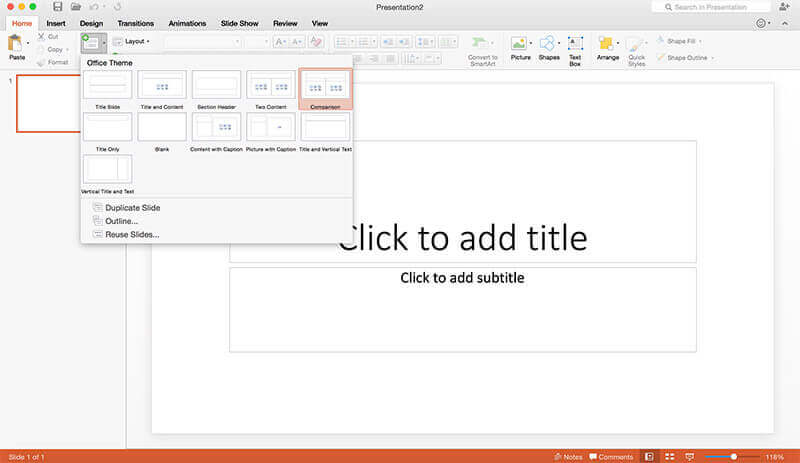 You can still import your presentation templates from PowerPoint 2013, 2010 or 2007 into this new PowerPoint (templates will appear as soon as you open PowerPoint program in the welcome window), create the PowerPoint templates from scratch or download PowerPoint templates from 3rd party websites like SlideModel.com (you can use the coupon code TWPPT to get a discount during checkout). There are also some improved coauthoring features such as threaded comments and visual comparison for files with version conflicts.
The figure above shows an example of Annual Report PowerPoint template opened in Microsoft PowerPoint 2016 for Mac.



Microsoft Outlook 2016 for Mac
In Outlook 2016 for Mac, you can expect some good improvements such as Online Archive, synchronization capabilities for category lists, and a better business calendar management with side by side calendar support.
Microsoft OneNote 2016 for Mac
Finally, OneNote for Mac is also available in this new Office 2016 version released by Microsoft. This handy note taking application that was available for Windows and mobile devices until now, is now available for Mac users also and comes with an OCR (Optical Character Recognition) function for scanned documents that you can add to the cloud storage services as well.