It is not hard to notice software giveaway news during holidays, since many software developers usually have plans to give something back to their users as festival gifts during holidays. But from summer to autumn, it is actually a little difficult to seek for the opportunity to get good gratis software tools. Recently, I have noticed a grand Mac software giveaway from MacXDVD website where they are hosting a time limited giveaway on 8 famous Mac software products with a total value of $440 till September 15, 2016.
2016 Grandest Giveaway for Apple Users – 8 Top-Rated Mac Software Worth $440 for Free Till Sep 15
The eight software involved in this giveaway range from video converter, Mac cleaning software, iOS data recovery software to photo editor tool, to name just a few. You will always find the most suitable tool to meet your need. The giveaway will run in two phases till Sep.15. Please pay attention that only a few licenses are available for each software, if you want to grab one, you had better act now or try again tomorrow.



In the first round, you stand the chance to win the following four useful Mac software till August end.
Mac Software Giveaway 1 – MacX Video Converter Pro
So far, this is the fastest video converter software on Mac platform. MacX Video Converter Pro is not merely a video conversion tool that helps you to convert videos between different video formats. It can also be a powerful solution to transfer video files to your iPad, iPhone or Android / Windows mobile phone and tablet, download online videos for personal use, edit videos and even capture screen etc.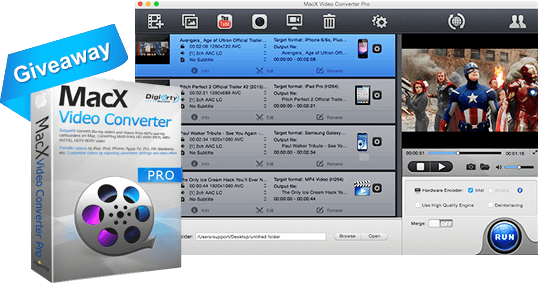 Mac Software Giveaway 2 – iMyfone Umate
To manage the storage space on your iOS device, you can consider iMyfone Umate iPhone memory cleaner for erasing data you don't need any more on iPhone, iPad or iPod. It will speed up your device effectively.


iMyfone Umate iPhone Cleaner provides a one-click solution to free up massive space for you iPhone, iPad, or iPod Touch. iMyfone Software offers powerful tools to release tons of storage space and optimize your iPhone. It can clean up 30+ junk files for iOS devices. It also supports temporary files clean up, large files clean up and lossless photo compression. All of these features free up tons of storage and make your iPhone, iPad, or iPod touch run quickly. Here's the video showing how to use iMyfone Umate iPhone cleaner to free up space on iPhone.
Mac Software Giveaway 3 – Disk Drill
This is a very useful data recovery software for you to recover any deleted or lost data from Mac computer, memory card, USB flash and more. Disk Drill can scan and recover data from virtually any storage device – including internal Mac hard drives, external hard drives, cameras, iPods, USB flash drives, Kindles, and memory cards. Now you won't worry if you incautiously delete some critical business documents or have trouble accessing an external USB drive or camera card.

Here's a short 2-minute commercial about Disk Drill, a professional do-it-yourself data recovery software for Mac OS X.
Mac Software Giveaway 4 – Epubor Ultimate
Epubor Ultimate is capable of converting the ePUB, PDF, Mobi, AZW, Kindle eBooks which you have purchased online.

Epubor Ultimate is a great software where you can easily convert eBook files to different format. The Pro version can also convert DRM-Protected books.
Every day, you can visit the giveaway page at macxdvd.com/giveaway/mac-software-giveaway-and-tips.htm to see if you are the lucky winner to get a free license copy of the software you desire. Digiarty Software will send you the software information to the email address which you provided to them.

The second-round giveaway will get started on September 1. Since then, you have the opportunity to get other 4 software tools.

Mac Software Giveaway 5 – Aurora HDR Pro
Co-developed by award-winning photography software developers Macphun and Trey Ratcliff, Aurora HDR is an all-in-one "high dynamic range" (HDR) photo editor software exclusively available for Mac.
Not just smarter, faster, more powerful and more feature-rich than other tools, Aurora HDR offers a completely new photo editing experience. You will like this complete toolkit to make beautiful HDR photos of any kind. Here's your 3 minute jump start to Aurora HDR for Mac



Here's the video in which the world's most renowned HDR photographer, +Trey Ratcliff introduces Aurora HDR
To find out more about Aurora HDR visit www.aurorahdr.com
Mac Software Giveaway 6 – CleanMyMac 3
CleanMyMac 3 is the famous Mac cleaning software to cleans your Mac's system, iTunes, Mail, iPhoto and Photos applications, trash bins, and more. This is also a lightweight tool to maintain and optimize your Mac with two clicks.

Clean, optimize, and maintain your Mac with the all-new CleanMyMac 3. It scans every inch of your system, removes gigabytes of junk in just two clicks, and monitors the health of your Mac. Learn more about CleanMyMac 3 and download the free trial at macpaw.com/cleanmymac!
Mac Software Giveaway 7 – Scrivener
This book writing tool allows you to concentrate on composing and structuring long and difficult documents, stories, novels etc. Here's the introduction video demonstrating the basic features of Scrivener tool for writers.
The last giveaway software will be announced on the first day of September based on the vote result.
The grand Mac software giveaway page can be found at:
macxdvd.com/giveaway/mac-software-giveaway-and-tips.htm