Converting MS Exchange server OST file to Outlook PST file using by any software or simple manual steps will assist MS Outlook user to export offline storage data in PST file.
Best Way to Recover OST Data File and Transfer Data in PST File
Outlook is a desktop based E-Mail client, provided by Microsoft Office suite. There is a well-placed structure format in Outlook mailbox to save all emails, calendar, contacts, and tasks etc. An MS Outlook supports two types of data files named as OST and PST. An OST file creates in Exchange server when cached exchange mode is active during configuration of the email account or using Outlook 2016, 2013 or 2010 with IMAP server. The PST file creates by-default in Outlook with the POP3 mail server and Outlook open only PST file. There is not any method to open OST file data because as we all know that the OST file has not any feature to read openly. Now the problem comes out that how to use or open OST files in Outlook?
Why needed OST file Conversion into PST Format?
Switching On-Premise to Cloud Exchange: If any Outlook user needs to use an email account in Office 365 then conversion of OST to PST is must require because of Office365 imports only PST file format. Microsoft allows importing PST file by two simple methods, the first one is by using Microsoft network upload method and the other one is drive shipping.
Exchange Server crashed: If the MS Exchange server crashing down due to any reason then the user can't use OST mailbox data in Exchange server. So the user needs to create a new profile in exchange server and export old OST file data in PST file format after then he can easily import PST in new Outlook profile.
Moving on Lower version to Higher version of MS Exchange Server: If the user is going to move lower version of MS Exchange server to updated new version of Exchange server then he needs a PST file to import previous data in the new server. But he has only OST file so the basic need of OST to PST Conversion is necessary to use mailbox data.
OST file corrupted or inaccessible: If the OST file becomes corrupted or inaccessible due to profile modification in Exchange server, deletion of profile or any other technical fault, then he needs a solution for executing OST file recovery task and convert OST file into PST file to reuse OST data.
Methods to Recover OST File and Convert OST file data in PST file
In this article, two methods are available to recover OST file. Which one is suitable to execute it is depends on OST file corruption level like minor issues or bugs in OST file and highly corruption of OST file.
The first method is by using SCANOST.EXE for minor issues in OST File.
The second method is a Third-Party Tool to resolve an exceedingly corrupt OST file.
How to perform SCANOST.EXE tool?
SCANOST.EXE is a free and inbuilt tool in every version of the Microsoft Office suite. There is the different location of this tool in separate Microsoft Office version. Find out the SCANOST.EXE according to MS Office version in PC.
Outlook 2016 = C:\Program Files (x86)\Microsoft Office\root\Office16 (64 Bit Windows)
Outlook 2016 = C:\Program Files\Microsoft Office\root\Office16 (32 Bit Windows)
Outlook 2013 = C:\Program Files (x86)\Microsoft Office\Office15 (64 Bit Windows)
Outlook 2013 = C:\Program Files\Microsoft Office\Office15 (32 Bit Windows)
Outlook 2007 = C:\Program Files (x86)\Microsoft Office\Office12 (64 Bit Windows)
Outlook 2007 = C:\Program Files\Microsoft Office\Office12 (32 Bit Windows)
After getting the tool please follow the given below steps to repair OST file.
Close the Microsoft Outlook and exit from here
Open SCANOST.EXE tool
Browse OST file
Click Scan option
Finally OST file repair successfully
Which is Perfect Third-Party Solution to Convert OST to PST?
After using this manual method, there is a possibility that an OST file may not be repaired and the user still cannot get the information of OST file due to any reason like powerful virus attacked or anything else. The user can't perform all these tasks as open and read OST file emails, download attachments, open calendars, and complete tasks which are in Outlook.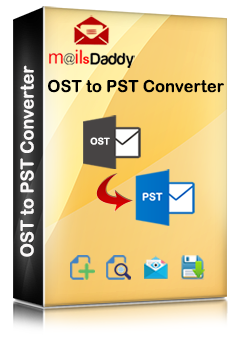 MailsDaddy OST to PST converter software is available to solve out all these problems. With the help of this tool, MS Outlook users can get rid of all these problems in a few moments. There is no requirement of presence of MS Outlook in a system where the software is running. The software is based on unique interface and advanced algorithms. There are some extra advanced and unique features in the software like it exports OST data in MSG, EML, RTF, HTML, MHTML and MBOX file format and export complete contacts in vCard format.
Follow Given Below Steps to Convert OST to PST File
Download and Install the software and activate the license key
Open software and click on Add file

Browse or select OST file and click on Scan option for deeply scan OST file errors and fix the bugs

After completing the scanning process, it will present the complete OST file information

Select any one option to execute for exporting OST data in a convenient way and export OST to data in PST/MSG/EML/MBOX/MHTML. MS Outlook user can split PST file in manageable size.

Click on Export option, the user will get a confirmation window for completing OST to PST task.
Final Words about the article:
In the article, we tried to tell how to repair the damaged OST file and change the information in PST file and also described methods to solve OST file errors and reuse the Exchange server data. The manual procedure is not 100% helpful and doesn't work always in every system. The third-party solution is capable to perform all tasks without any drawback. This is simple to use and user-friendly. If you have any query related to OST to PST Converter software related to working process, system requirement or any other questions then you may ask in the comments section below.