Whatever may be the mail, many may reach to our inbox. To view each and every email conveniently, to filter email messages and like this for doing anything related to mail management did you know that there are some special services readily available? We all use email services and to somebody, they will have the necessity to use mailing more than once every day. So, to manage the mails to a maximum extent, suitable email software is there and those are called as 'Desktop Email Clients' or 'Desktop Client Mail Management Services'. Duly installing these in the form of software we can easily manage multiple email accounts offline. Using these, social network services can also be updated.


We will now see some of the most popular free desktop email clients.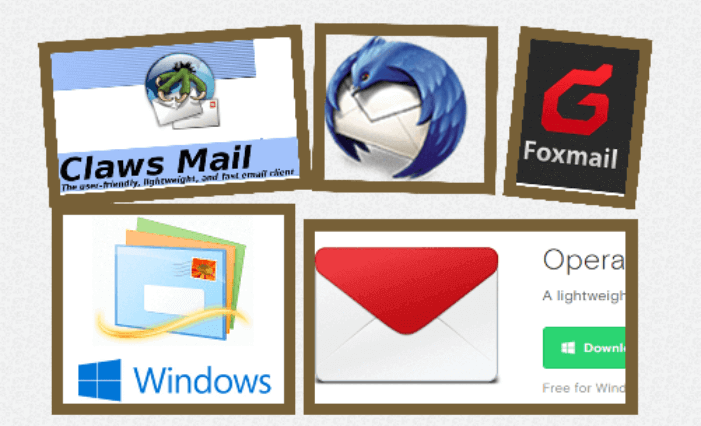 Claws Mail – The user-friendly, lightweight, and fast email client
This desktop email client was made with a clean and simple interface to use easily, very speedily with less memory. It supports multiple email accounts, threaded display, colour labels and plug-ins. We can easily access the required mails, linking the mail account which is being used. We can view multiple emails, attachments in special tab windows. We can change the themes entering into preferences menu. We can see the mails in HTML viewer. Claws Mail provides some more options like Calendar, PDF viewer, Encryption etc. which we can enable as per the necessity.
If anybody wants a powerful free mail management tool for Windows and Mac that supports various webmail, Foxmail email client is special. Using Foxmail we can see the preview of attachments reached in the inbox. Mac users can utilize the Foxmail tool with 'Retina Display'. We can conduct the meeting schedules easily with 'Meeting Manager'. Through 'Scheduled Time' we can see that a mail reaches its destination in time. There is also a possibility to save those appears on screen with 'Screen Capture'.
Do you know about Opera Mail? This email client works with Gmail linkage and it has conversation view and customizable labels as its additional features. When there are multiple mails to view, as if in a browser, we can view them opening one by one in tabs – so that it is more comfortable like this to switch from one mail to another mail and reply to multiple emails at the same time. In Opera Mail we can view the news topics from time to time with RSS feed. We can install Opera Mail on Windows, Mac and Linux.
Loaded with great features, the only one free email client which has been liked by many netizens is from the Mozilla home i.e Thunderbird email application. The Thunderbird email client is easy to setup, after installing in the PC mail accounts will have to be setup with a user ID and password details. This mail management tool can be changed according to the necessity as it is easy to customize too. With single click we can obtain Address Book. We can chat with the members of various mail services with 'Multiple Channel Chat' feature. Thunderbird's built-in chat client has integration with social networking sites like Facebook and Twitter which allows us to get social networking sites in chat channels and we can exchange instant messages easily. It also includes multiple email tabs, smart folders and support for Firefox's Personas.
We can manage multiple email accounts effortlessly with Window Live Mail which comes as part of the free Windows Essentials software suite provided by Microsoft Windows. In Windows Live Mail we can plan the events or meetings with calendar feature. There is a possibility to manage the addresses easily. It supports not only Hotmail account but also other web-mail services including Gmail, Yahoo!, and others. RSS Feeds can also be obtained in Windows Live Mail. We can utilize Windows Live contacts as address book. In this Windows Essentials application suite provided by Microsoft, we can get some more additional services like Writer, Skydrive, Movie Maker, Messenger and Photo Gallery.