Are you facing problems in exporting IBM data to the cloud in this technological era and looking for a good tool to migrate your Lotus Notes data to Office 365 platform? There is no need to worry about this. Here is the best solution to convert notes data into exchange online.
In this modern technical era, the cloud-based computing is so much popular because of its features and services as compared to other email client's service provider. Cloud is the best storage point to save emails, contacts, calendar events, to-do lists, notes etc. The cloud-related technology removed the workspace dependency from the user side. Most of the business enterprises are moving towards Office 365 platform from Lotus Notes because the data management is very hard in Lotus Notes as compared to Office 365 and no-one wants to lose their data and keeps it secure. The user must have the strong technical expertise to work on Lotus Notes.
Reason responsible for the migration of IBM Notes data to Office 365:
Lotus Notes uses a different file format to store data.
Office 365 provides low cost and long-term retention as compared to Lotus Notes.
Any type of data can be stored in the cloud.
Database management in Office 365 is very simple.
The maintenance cost of Lotus Notes is higher than Office 365.
Office 365 provides a lot of features as compared to Lotus Notes.
The structure of the database in IBM Lotus Notes is much complicated to understand.
The environment of the cloud mailbox is much coherent as compare to IBM Lotus Notes.
Convert IBM Notes data in Exchange online manually:
A user can export their Notes data in Office 365 using IMAP Connector. For this there are some steps are required to follow.
Step 1: Create a backup of your NSF data before starting the migration.
Step 2: Create a New Mailbox for each existing user.
Step 3: Enable IMAP TCP/IP port for every user.
Step 4: In the last connect the IMAP connector to start the synchronization of the emails.
Alternate manual solution to export email from Lotus Notes to Office 365:
🔵 Convert NSF to PST:
Open Notes file mailbox in IBM lotus notes.
Click on File Menu and then click on Export.
Give a name to the file and select Comma Separated Value (CSV) format from save as type option and select any option from the dialog box.
Open Outlook click on File Menu then Open and Export then Import/Export.
Choose Import from another Program or file option and Select CSV option and click on Next.
Provide a file saving location to the NSF file.
The selected NSF has been exported in PST format.
🔵 Migrate PST to Office 365:
Give Sharing Permissions to the PST files.
Login to Office 365 account and click on Admin Center >> Exchange.
In Exchange Admin Center click Permissions then Organization management >> Mailbox Import Export.
Click Office 365 Admin Center >> Setup and then click on Data Migration >> Upload PST file.
Choose New Import Job >> Provide a name to the job >> Next then select Upload your data >> Next.
Choose on Show Network Upload SAS URL and copy the URL >> Download and install Azure AzCopy >> Open Azure Window.
Type the command on Azure tool: AzCopy.exe /Source:\\network path /Dest: "SAS URL" /V: give the location where you want to save log file \AzCopy.log /Y >> hit Enter key.
Close Azure and now create a CSV file >> Open Import data window and check both options.
Select mapping file >> Upload CSV file >> Validate >> Save.
Select Import Office 365, now the PST file has been uploaded on Office 365 account.
Reasons responsible to avoid Manual process:
For a manual process user must have strong technical expertise on lotus notes.
It migrates only 1 GB data.
IMAP migration denies the manual calendar migration.
A large number of calendars take more time to make a entries.
IMAP migration works till a good internet connection is available.
IMAP connection will not be established till the email client is in the disable state.
Convert IBM Lotus Notes data in Office 365 using the automated tool:
The manual process is lengthy and tiresome work and also user must have the strong technical expertise to perform the process otherwise the result may be data loss. The manual process has some drawbacks and limitation for working. In these all circumstances you need to come out from all the possible riddles for that you need to use best automated MailsDaddy Lotus Notes to Office 365 Migration Software. The tool has all the possible and required features (Batch migration, Impersonate export, date filter, search mail etc.) and services to migrate your NSF data in Office 365. It converts all the emails, contacts, calendars, journals in the cloud in a few clicks and provides a flawless process.
The Process of the MailsDaddy Lotus Notes to Office 365 Migration Tool:
Step 1: Open the software and click on Add file option.
Step 2: Click on Export option.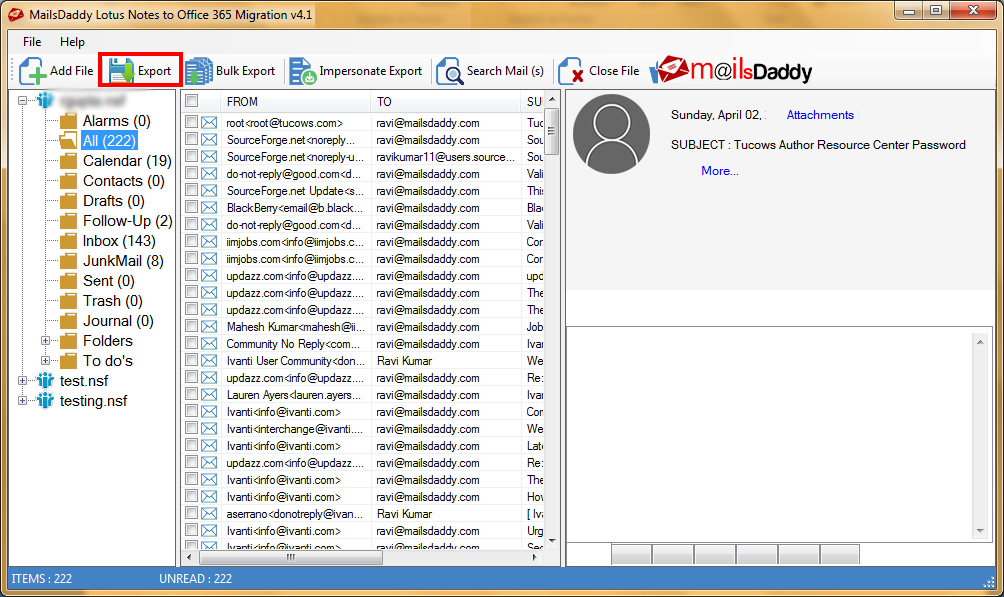 Step 3: Select the option from each field as per requirement and click on Export button. (In case of PST format provide a saving destination path.)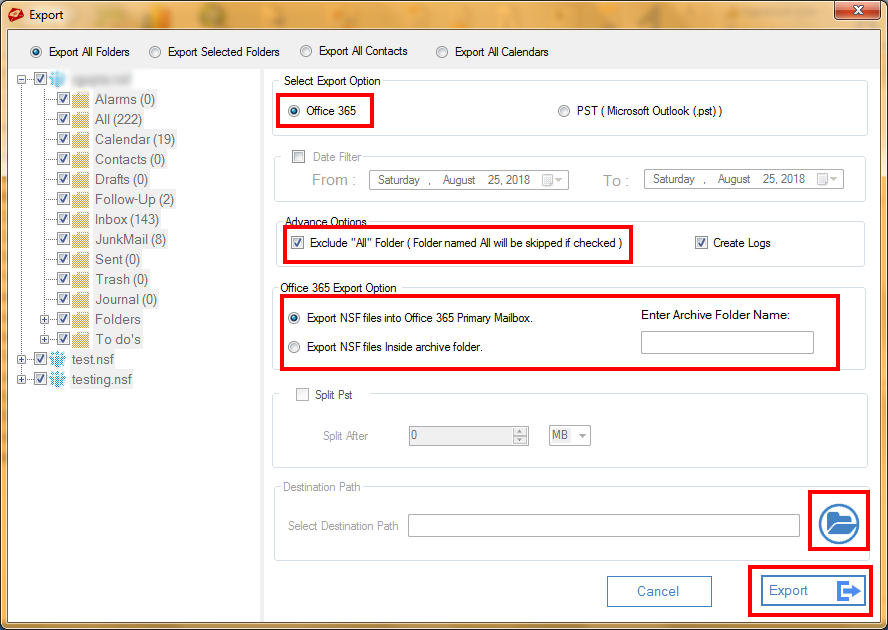 Step 4: Provide the login credentials of Office 365 to perform the migration task.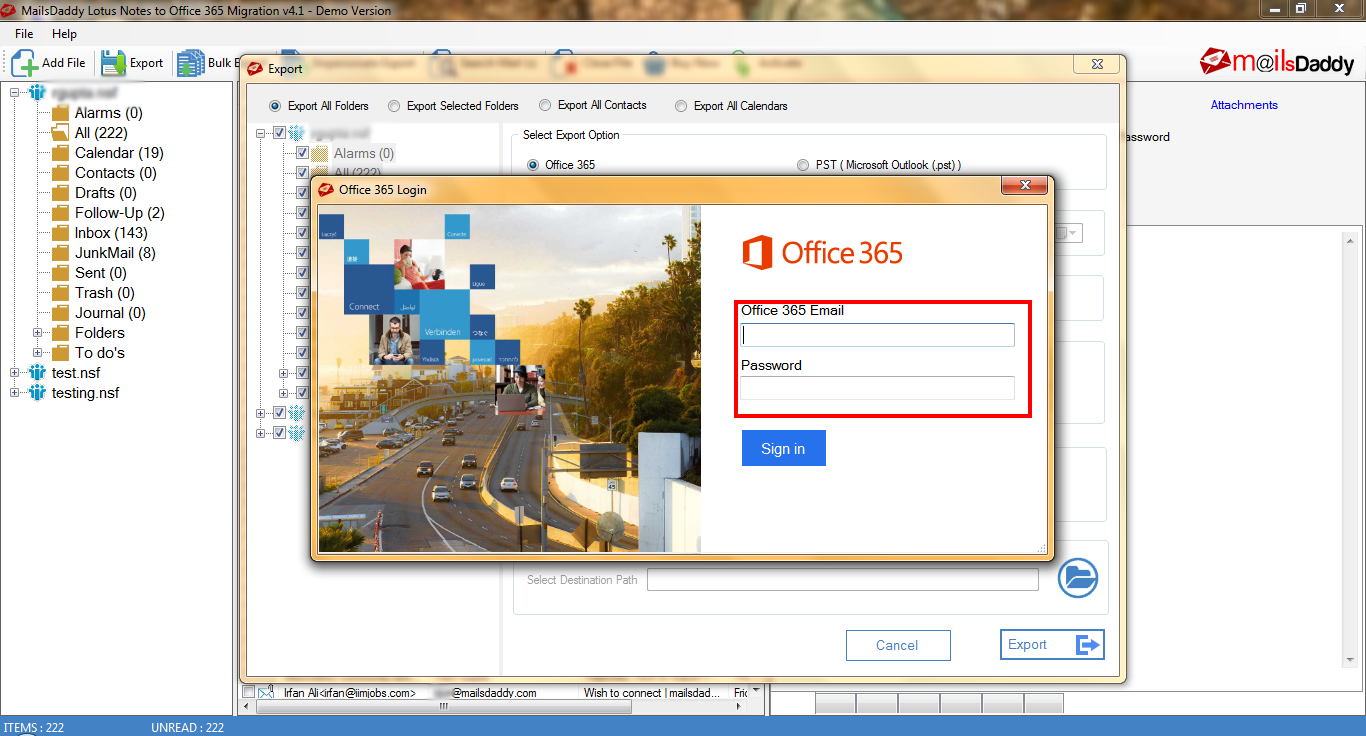 In a Nutshell:
The migration of IBM Lotus Notes to Office 365 is a toilsome process to perform using the manual method and it is not simple and quick to perform. Use the third-party tool to get a best and error-free solution. Use of the third-party tool is a simple and effortless approach to performing the tasks.