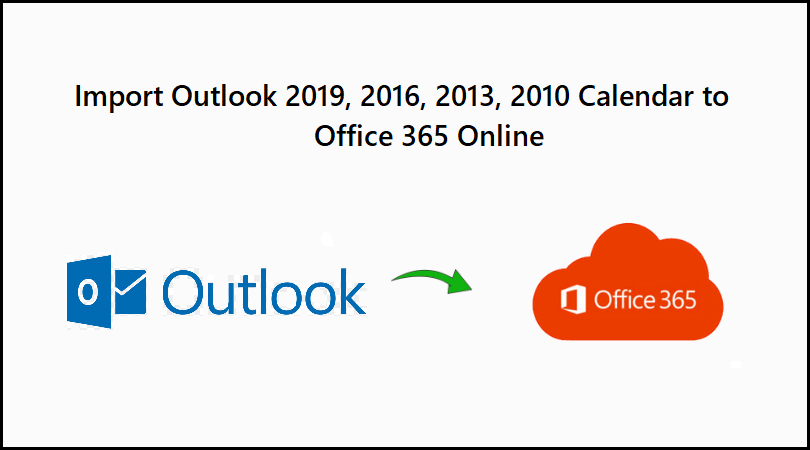 Calendars have become an important part of our lives nowadays. It makes it easy for the users to manage their schedule of all their meetings and events. The users who need to travel to different states or countries find it easy to manage their entire schedule in their calendar. Many organizations are switching to Microsoft O365 from Outlook. So, the most common query asked by the users is how to import Outlook calendar to Office 365 online account.
Therefore, in this article, I am going to discuss a user query and both manual as well as automated way to carry out the entire task. Users can choose any method according to their requirements.
"User Query: Few days ago, our organization moved to Microsoft Office 365 from Outlook. So, my entire data is stored in PST file which contains emails, calendar, and contacts. I am flying to Russia next week and all my meetings schedule is stored in PST file. So, is there any solution using which I can migrate Outlook 2013 calendar to Office 365?"
Automated & Effortless Way to Import Outlook Calendar to Office 365
This blog contains two different ways which helps users to transfer their Outlook calendars. The manual procedure is tiresome and requires a lot of efforts whereas on the other hand the automated process is effortless and quick. Thus, I will recommend users to use third-party application i.e. PST to Office 365 migration tool.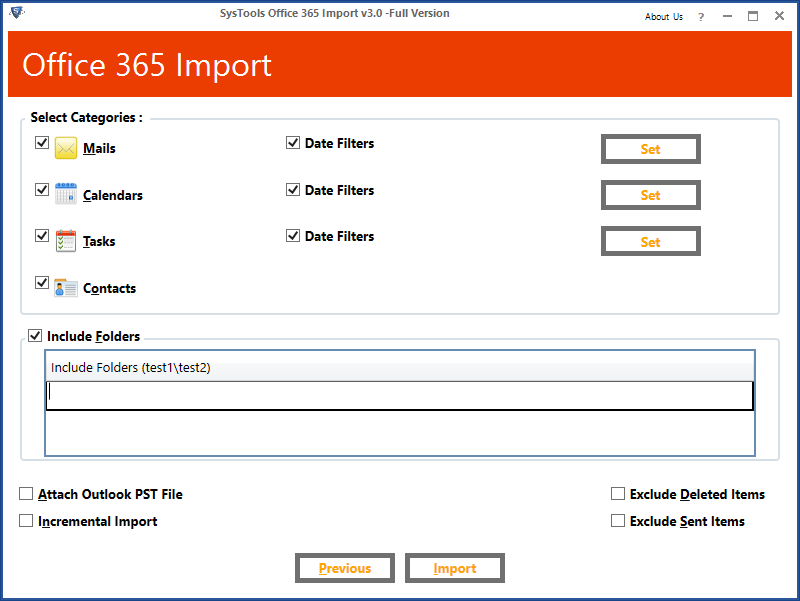 The simple and easy to use interface of this application makes the migration process simple. Users who are not technically sound can also use this software and transfer Outlook 2016, 2013, 2010 calendars to Office 365 online. Moreover, the top features of this tool provide it an edge over other applications.
1. Migrate Complete Outlook Mailbox – Using this software, users can transfer entire Outlook mailbox data in few steps unlike manual method which requires technical expertise and efforts. It enables users to export Outlook calendar, contacts, emails and other mailbox items.
2. Apply Category Filters – Although the software offers users to migrate complete data, it has the option to select a particular category that a user wants to move. In this case, users can use category-based filter and choose a specific category which they want to move.
3. Pause & Resume Feature – Another useful feature of this utility is its pause and resume option. It allows users to pause the process in between and then it can be resumed from the point you left. This is very useful feature in scenarios when internet bandwidth is required for some other task and in many scenarios.
Manually Migrate Outlook Calendar into Office 365
The manual procedure consists of two step process. Go through the following section where both these steps are explained in detail:
Step 1 – Extract ICS File from Outlook
Open Microsoft Outlook and click on "Calendar" icon placed at left bottom.
Click on "File" button. Then hit "Save Calendar" option.
Now, select the destination location to save ICS file and you can change the name of that file.
Step 2 – Import Outlook Calendar to Office 365 Online
Login into your O365 account and open Calendar from Outlook Web App.
Click on "Import Calendar" option from the Calendar window.
Select "From file" option and then browse the ICS file that you saved from Outlook.
Click on "Import" button after selecting ICS file.
Limitations of Manual Process
The above-mentioned method is quite lengthy and time-consuming. Moreover, if users have multiple ICS file to be uploaded in several accounts then it might take so much time. Another drawback of manual procedure is that it does not support ICS file more than 10 MB. It means if a user has ICS file larger than 10 MB then this method fails to transfer calendar items.
Conclusion
In this article, I have discussed both manual as well as third-party application to import Outlook calendar to Office 365 online account. Users can select any method which best fits their requirements. But I will recommend the users to go for automated solution instead of manual process as the latter one has some associated limitations.
You May Also Like: