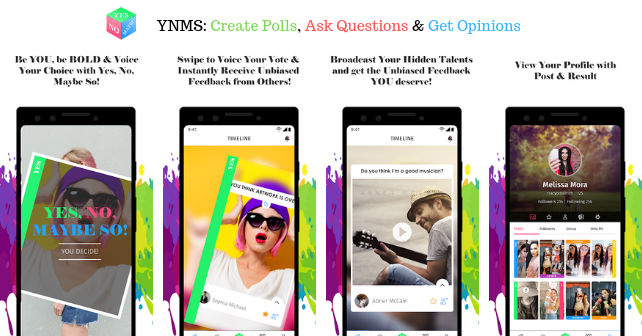 Gathering crowd-sourced information has become a hot trend in app development. Being able to ask your community opinions, questions, and get answers can be fun and enlightening! The YNMS app allows you to ask questions, create polls, and get answers!
Users can post image and video polls for other users to cast their vote on. You can cast your vote by swiping to give your opinion. Yes, No, or Maybe So! You can create your own polls, or vote on other community polls. You can vote on such subjects as entertainment, sports, technology, fashion, and much more!
You will also be able to compare and contrast images by voting This, That, Either or Neither. You can cast your vote, and show how you have voted to your community. Your personal network insures that you can control the types of polls you see. You never have to be loaded down with topics and images that have no interest to you!
You use the app by simply following the profiles of other YNMS users who have similar interests to you. Then you will be able to view in your feed image polls where you can answer Yes, No, or Maybe So.
On compare image polls you have the option to vote This, That, Either or Neither. Users can also click on images to see more information on the image to better make your decisions and cast your vote.
The polls on the YNMS app are separated into three categories:
Single Image Polls.
Comparison Image Polls.
Video Polls.
With the ability for you to view other community member's polls, you have the chance to learn a lot more about new topics! You can get to learn about other cultures, people, and subjects through the crowd sourced polls you will find. In addition, you can find answers to any questions you may have, from a huge community of willing survey participants.
You can filter your desired polls through hashtag filtration. So the polls you view are totally within your control and interests. This will also insure that those who vote on your polls, will have interest in the same things as you. You can use the YNMS app to gather data, educate yourself, and have fun!
So download the YNMS app and begin crowdsourcing your questions today, the answers are out there!
Link to the YNMS iOS app:
https://apps.apple.com/us/app/ynms-polls-questions-opinions/id1448693798
You Might Also Like: