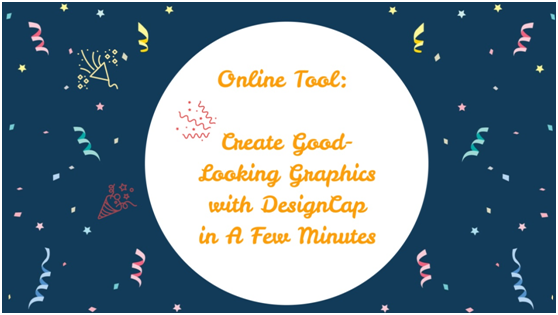 Have not to be a trained designer, you can also create impressive graphics such as cards for Christmas, New Year, birthday, flyers, posters, invitations, etc. with an individual touch. The online graphic editor DesignCap makes it possible with numerous templates, icons, fonts and more. DesignCap can be used free of charge. Besides, for more features, you can subscribe to its paid plans.
Graphic designs for companies, events, social media and more.
For you who may share interesting images to share on your social media, or use visual content for your blog or website driving more traffic, or to build your brand, to hold an event, excellent graphics design tool would do you a lot. DesignCap is a user-friendly tool for you, without no design experience and installation, you can manage your projects effortless.
What key features DesignCap has?
In addition to an extensive number of attractive templates that can be customized, DesignCap also has a lot of stock photos and illustrations to offer that can be used and changed for your designs. According to DesignCap, over 1 million high-resolution images and more than 220,000 pictures are available for your own works.
You can also import your photos. Over 100 fonts are available for the appearance of the texts. There are also a lot of clipart, shapes and backgrounds with which you can play creatively, which is very easy with the graphic design editor DesignCap. This makes it easy to add effects and crop and arrange objects. This creates an attractive retouch possible.
To be able to use this online graphic editor directly in the browser, you first have to register on the DesignCap website, which is free of charge. After registration, one of the many templates for the desired project is then selected. In the next step, the design is individually adapted using the tools for processing. Finally, the result is saved, printed or shared online.
How to use DesignCap to start your works?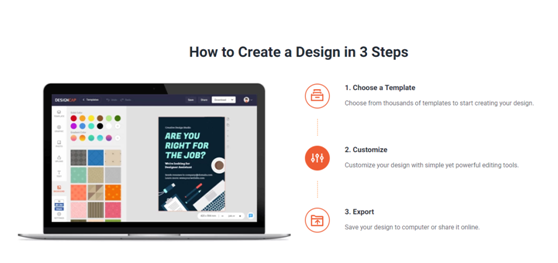 To register your DesignCap account.
After logging into DesignCap, numerous design template designs are displayed, which are summarized in categories such as marketing, social media header, event, etc. Particularly popular templates are shown at the top. Also, this online service prepares a template searcher so you can enter your keywords and then find the related templates to search. In the left column, you can manage your account, start a new design and call up and manage design projects that have already been created.
And then to select a template to customize.
To get started, you can now click on a template. However, this is not yet selected. Only the editor opens with an empty editing area in the right area. In the left area are all tools and the templates, which can be sorted by category using a drop-down menu. If you click on the desired template, it will appear in the area on the canvas for further processing.
The display size can be set below the editing window. Depending on the design, corresponding areas can be activated with the mouse and then, for example, rotated, moved or changed text. In the left column, lines, shapes, photos, diagrams, even uploaded images in JPG or PNG, fonts for headings and text, backgrounds and finished modules can be selected and assigned to the design with one click. For example, the modules already offer finishing processes such as timelines, comparisons, statistics and more.
Above the canvas are the tools for colors and gradients, reflections, opacity, frames, align, layers, duplicate and delete. Of course, the machines only affect the currently active element in the design. This makes it possible to insert a wide variety of objects and position them at the back or front as desired. To the right of the editing window, it is also possible to add, copy, move up or down and delete pages.
Download your works to share.
After the design is complete, it can be saved at DesignCap or downloaded to your own computer. And sharing on social media is also possible. In the free version, the download only works in JPG format and a small resolution.
The best of best, this program allows you to share with your friends and invite them to edit your project. So this function would be useful for teamwork, like marketing people to manage their project. Besides, the sharing could be set if you want them just to know your graphic and then you can make it public view; otherwise, you could set it to be "public view and edit."
Final thought:
The DesignCap editor is absolutely self-explanatory so that anyone who has nothing else to do with design really gets along with it. Though the Christmas season is going to pass, making a Christmas card would be great to express your feeling.
Additional reading: