With such degradation in the environment, there is a need for us to take measures for the same. Yes, indeed, we can't just change the whole scenario, but we can contribute our efforts towards gaining a sustainable environment. How about saving electricity by using solar power banks?
These solar power banks are continually proving to be a blessing for the earth, and we should start using them extensively. If you are thinking about what a solar power bank is, we are here to explain! Solar Power Bank refers to the equipment that provides charge to the batteries with the help of solar energy. They are way too useful and simultaneously efficient also. The majority of these are considered to be portable, and they hail with an ability to generate 48 volts of electricity.
Now that you have made up your mind to buy these solar power banks, you might be thinking about the best out of them. Don't worry! We have come up with information about the top 5 best solar power banks. Let's know more about it here.
#1.

BEARTWO 10000mAh Solar Power Bank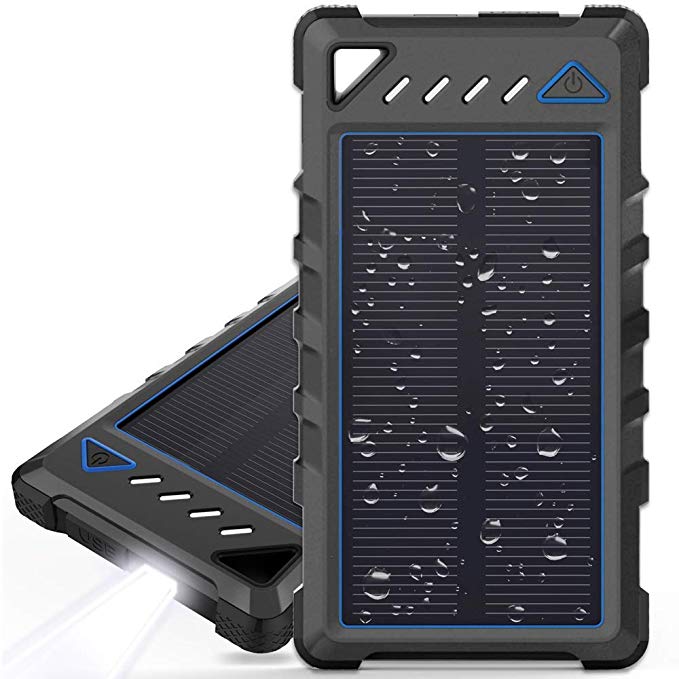 On mentioning about the best solar power banks and not discussing Beartwo stands unjustified. It is because this product has a good number of plus points and an array of advantages that declare it as the best. This portable solar charger is the best choice if you are looking forward to participating in a backpacking trip. Also, if you are indulging in any outdoor activity, you have to carry Beartwo and use it accordingly.
Pros:
It comprises of a dual USB Port since it can charge two devices simultaneously.
It takes not more than 4-5 hours for this solar power bank to get charged.
Irrespective of the cell phone you have, it can charge every kind.
#2.

Hiluckey 24000mAh Solar Power Bank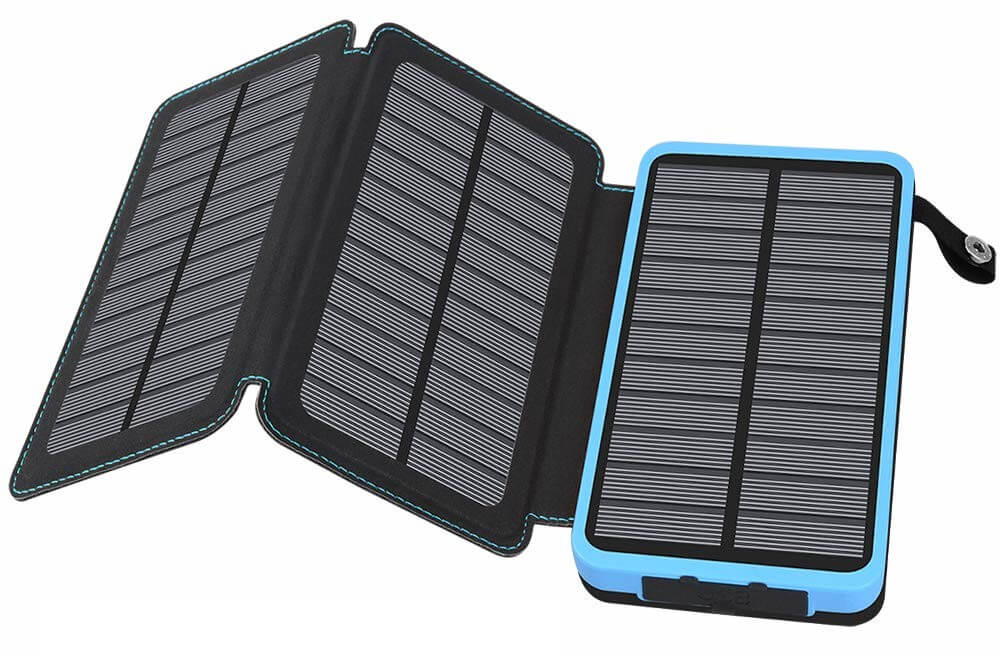 Well, this is not the first product that is produced by the Hiluckey brand. This company is known to produce a good number of products that function with the help of solar energy. This power bank can easily fit into your small pockets since it hails with a small size along with a lightweight. It is entailed that Hiluckey Solar Power Bank has three foldable solar panels. The capacity of this equipment is based on lithium polymer technology.
Pros:
It has the ability to not only charge your mobile phones but other prevalent electrical gadgets as well.
It has waterproof protection on each of its two USB ports.
It can charge your iPhone for more than 8-10 times.
#3.

OUTXE 20000mAh Solar Power Bank
The OUTXE solar power bank is known to include a lithium battery that is considered as a reliable energy source for every gadget. It's quite noteworthy that you can even charge your laptop with the help of this solar power bank. Apart from that, it is also facilitated with IP67 waterproof as well as dust protection that would also protect it from bumps and shocks. Your devices shall charge quickly with the help of OUTXE.
Pros:
It is integrated with a feature of quick charging.
It is facilitated with 4A dual USB ports.
It can charge a device in around 6 hours.
#4.

Hobest Solar Charger 10000mAh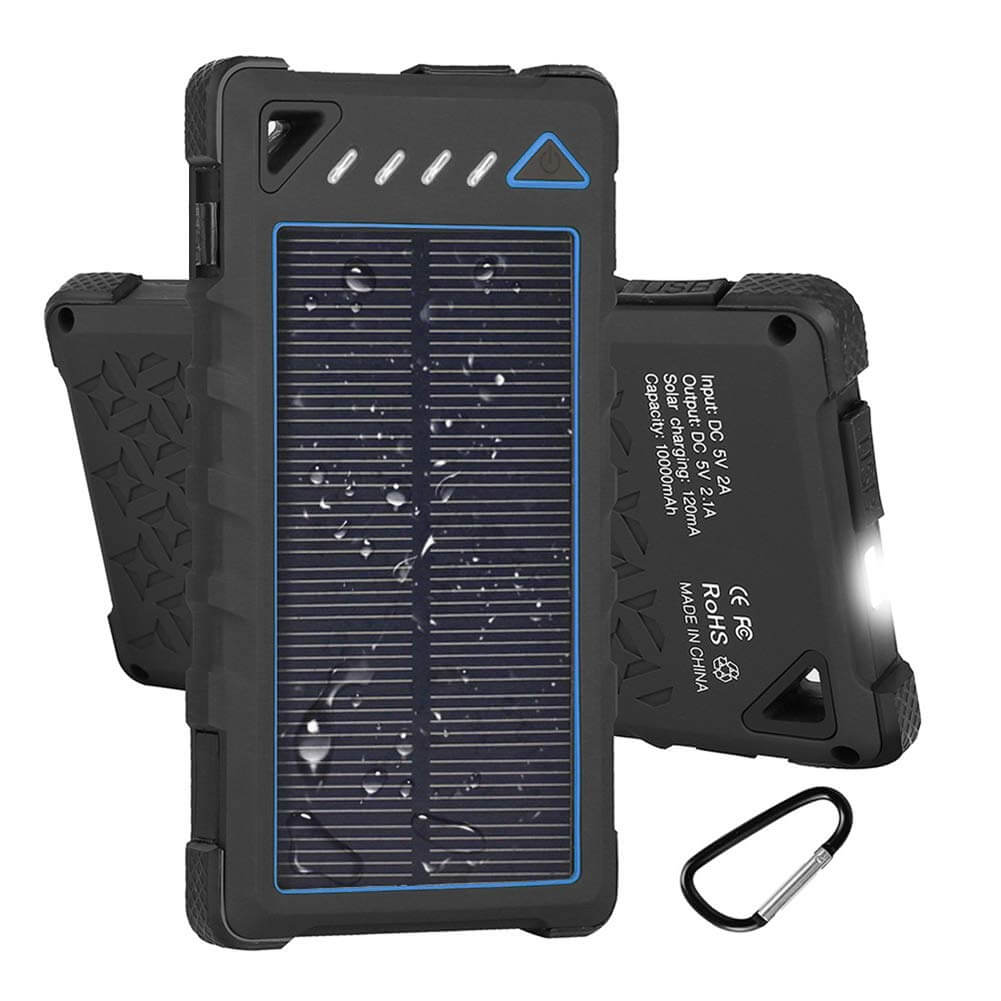 There are two methods in which the user can perform charging of his products with Hobest Solar Power Banks. The first one is using a 5V/2A input for increasing the charging speed. The other one is none other than using solar energy for charging your electric devices. Its dual USB output can charge two devices at a single point of time. There is a built-in LED flashlight in Hobest Solar Power Bank so that you are able to operate it even during the dark.
Pros:
You can make use of its amazing Compass whistle feature.
It is easy to keep and hails with ease to use.
It contains over-heating, over-discharging and over-charging protection along with smart IC technology.
#5.

Soluser 25000mAh Portable Solar Power Bank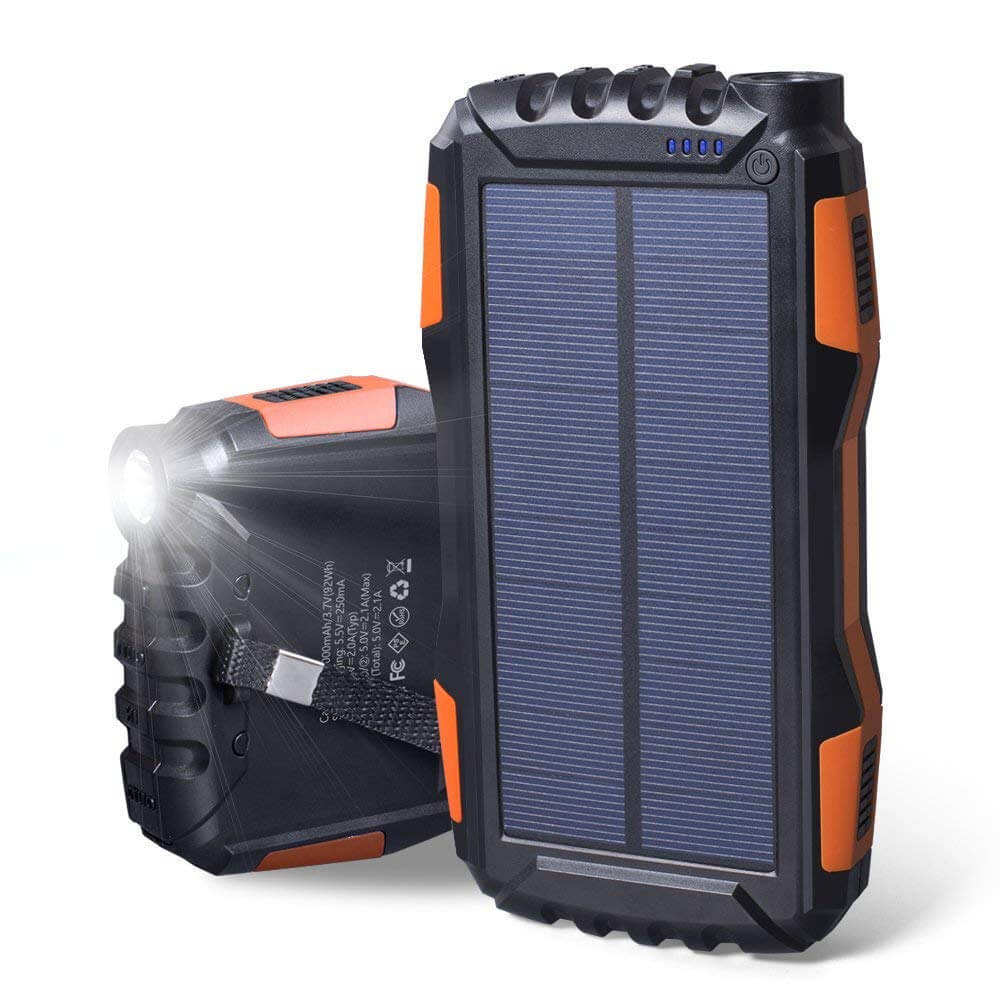 There are plenty of characteristics that are associated with Soluser 25000mAh Solar Power Bank. It is ease to carry, tough nature, durability, and dynamic body. Its inbuilt LED light has a dual form, and also it contains the steady light mode, stroboscopic mode, and SOS mode. Using this device is free from any kind of risk, and it can effectively charge iPads, cell phones, and laptops too.
Pros:
It has a commendable capacity of 25000mAh.
It hails with electronic protection for acting as a savior during loads.
Its intelligent protection system provides protection from short circuits.
In a nutshell:
There are many solar power banks present in the marketplace. It's you who needs to opt for the best out of these! You can have a look at the above-mentioned solar power banks, which you can try out.
You May Also Like