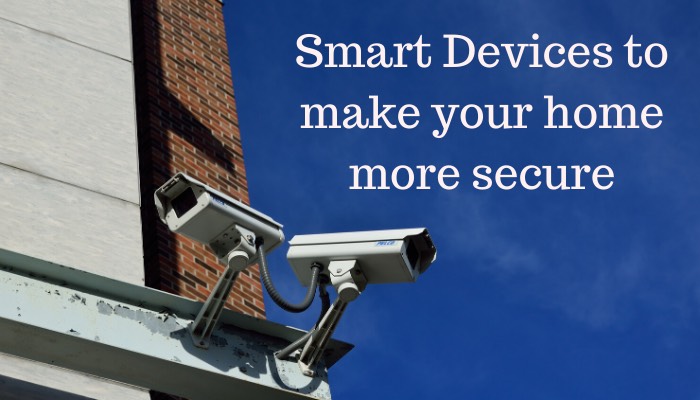 Home is where the heart is. And with our livelihoods revolving around our homes, it's no surprise that for centuries on end – people have sought after every possible way to protect their households.
From bolted doors to having your own personal security team, there's a range of options for practically every budget. And in today's digital age, there's a new means of securing your home that's gaining quite a bit of popularity as of late – smart devices.
However, with thousands of different devices and gadgets on the market that all claim to be the best security device out there, you've got a whole plethora of options to go through. And unfortunately, picking out the good from the bad and settling down on the ones that will safeguard you and your family can quickly turn into a pretty overwhelming quest.
That's exactly why we've decided to write a quick overview of the top smart devices that can help you make your home more secure.
Let's dive right in!
The LG Smart Home Security Solution
Starting off our list – we've got an all-in-one "digital security center". Made by LG and powered by ADT Home Security, this is a great option for people in the United States and Canada (where ADT operates).
This unique gadget is comparable to being the swiss army knife of home security gadgets. Featuring an internet-enabled camera, microphone, speaker, and even a motion detector – the LG Smart Home Security Solution can even help you keep tabs on your house when you're away or at work.
Unlike some of the other security solutions in this list, it's relatively easy to set up, and you can either mount it to the wall or simply place it on a shelf or stand that's in good view of your porch or front door.
However, you should keep in mind that as this unit is connected to ADT's monitoring network – they charge a monthly fee to keep your camera's recorded video accessible in the cloud.
The SkyBell Wi-Fi Video Doorbell
Are you tired of door-to-door salespeople? Jehovah's Witnesses giving you a few too many visits? No worries! The cool thing about this smart device is that rather than being a more "traditional" security camera – it acts somewhat like your own personal bouncer.
When someone rings the doorbell, you can immediately see who the person is, whether or not you're at home. You can also get notifications while you're away and even view the video feed.
Another cool feature is the fact that the Skybell can be easily hooked up to Alexa, which allows you to record the video feed or take a picture of the visitors using a voice command.
The Kwikset Kevo Smart Lock
While smart-locks aren't quite something new or revolutionary on the market (in fact, they've been around for a while) – this particular smart-lock definitely is. Unlike most other models where you can access only via a punch-code or key fob – the Kwikset Kevo gives you the option to also use your phone, or even a plain old key!
So whether you're someone a little more old-school, or are worried about forgetting any pins – this is definitely a gadget to look out for.
One of the coolest features is the fact that you're able to assign temporary one-time "passes" to friends, visitors, or whomever you choose to let into your home. All they have to do is bring their phone with them, and voila!
Unfortunately, the one big downside is the fact that you'd have to replace the lock you already have installed.
The August Smart Lock
As the runner-up after the Kwikset Kevo, the August Smart Lock is a great option if you don't want to go through the tedious work of replacing your locks. Possibly the coolest feature about the August smart-lock is the fact that it fits right over your deadbolt. And that's the whole installation – it's just that simple!
In terms of feature functionality, the August smart-lock is another Wi-Fi connective lock that uses your smartphone as the key. You also have the option to assign the keyless entry to friends and family, alongside temporary digital keys for visitors.
With such a simple installation process, it's pretty easy to see why this smart-lock is quickly becoming a popular entry-option for people who are still a little weary of smart-locks and smart home gadgets. It's probably one of the easiest-to-install and most convenient smart locks out there.
The Kuna Smart Security Light
If you've been thinking about getting some outdoor security enhancements for your home, this smart light might just be an interesting option to consider.
While this light fixture might not look all that from afar, it's the perfect device to spook uninvited night-guests and catch any would-be robbers in the act.
It comes with an HD camera that's mounted just below the light. As soon as the smart light's movement sensor is triggered, it will turn on the light, and the camera will be honed right in on whatever triggered the sensor. Just imagine an unsuspecting burglar or package thief running into this camera – like a deer caught in the headlights!
The Google Nest Protect – Fire and CO Detector
Let's face it – the old and dated fire/carbon monoxide detectors that most of us have installed in our homes are pretty lame! In fact, a good percentage of homeowners forget to replace them every couple of years – not to mention testing them to make sure they still work.
And if they ever go off when you burn some toast, you suddenly find yourself racing for the nearest chair and then doing a circus balancing act to try and switch it off before it annoys the whole neighborhood.
Thankfully, with a Google Nest Protect detector, you don't have to deal with any of those things. It's hooked right up to an app on your phone that will give you warnings right away. Whether your battery is getting low, or you forgot to turn the oven off – you'll get an instant notification letting you know about it before your house explodes in a chorus of beeping sirens.
And hey – if you burn some toast, you can just mute the alarms from your phone, before they even go off!

Closing Thoughts:
Well, there you have it – our top smart gadgets to help you make your home more secure. Whether you're trying to keep unwanted guests away, monitor your home from work, or make accessing your home a little easier after a bar night – these gadgets are sure to simplify your life and help you safeguard your valuable livelihood.
We hope that this post helped you learn a little more about some of the trending home security devices and even get a little bit of inspiration on your quest to secure your home with the smartest tech available.
You May Also Like